History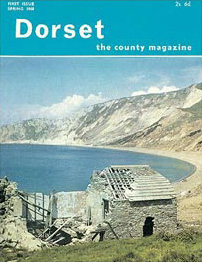 It was Rodney Legg who had the idea of starting a Dorset magazine in 1968. He was born in Bournemouth, which was then in Hampshire, but was proud to bear what he called 'one of the commonest names among the Dorset peasantry'. After leaving school, he went straight to a job in Essex as a reporter for the Basildon Standard, but he didn't lose touch with Dorset. Quite the opposite, in fact: his passion was (and remained throughout his life) the Dorset countryside. At that time he perceived it to be coming under threat from many angles, so he started a series of personal campaigns in Dorset which achieved, among other triumphs, access across ten square miles of the Army's Lulworth Ranges.
Campaigning for environmental issues wasn't as fashionable then as it is now and newspapers weren't as interested as they were to become in later years, so Rodney needed an outlet to publicise his causes. Out of this frustration was born Dorset — The County Magazine, but he realised that it would have limited appeal without being 'sugared' (his own verb!) with features about places in the county and — a relatively new idea — walks. He had 5000 copies of the first issue printed; to his surprise, every single copy was sold and a reprint was needed.
At first, the magazine (price 2s 6d — 12 ½p!) appeared quarterly, but so great was the interest of readers that it became a bi-monthly event and then a monthly one. But now, in addition to his campaigning, Rodney had ventured into writing and publishing books. Gradually this took over his life, so by the late 1980s, the magazine was appearing only irregularly — not because of Rodney's lack of interest, but because his enthusiasms were being channelled elsewhere. It might have folded completely had it not been for the presence in Dorset of a young publisher looking for something to publish.
John Newth knew of Dorset — The County Magazine and in 1987 he asked Rodney Legg out to lunch to find out if he ever had any intention of selling the title. Almost Rodney's first words were 'I wish someone would buy the magazine from me!', and it turned out that each was the answer to the other's prayer.
By then, the magazine was a mere 28 pages and there were only four advertisers. John set about the task of re-building. The magazine was expanded to 80 pages, 32 of them in colour, which was introduced for the first time. The changes proved popular enough to encourage John to publish the magazine monthly from April 1989, and it has appeared every month since then.
There was one more dramatic change to come. In the early 1980s, when Rodney's commitment to the magazine was waning and publication was irregular, Roy Smart, spotting a gap in the market, had started a magazine called Dorset Life. It was based in Crewkerne — hardly the ideal location for a Dorset magazine! — and after the re-launch of Dorset — The County Magazine, the competition became too much and the two magazines merged, the first joint issue appearing in December 1992.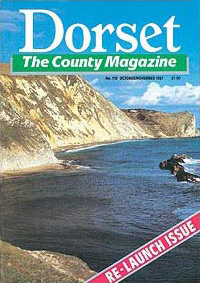 From that time its full title has been Dorset Life — The Dorset Magazine, but it remains in a direct line of succession from that first issue of Rodney's back in 1968, so the January 2011 issue, the first under the editorship of Joël Lacey following John Newth's retirement, is no. 382. Changes have been made since 1992, of course, but they have been more subtle: the magazine is now in full colour (except for historic photographs) and its size has gradually increased so that it now runs to 100 pages.
And so to the future: what does it hold? Rodney Legg thought that 'it would be a tragedy if it went back to being a campaigning magazine, because that would mean that the battles we've fought over the years hadn't been won!' John Newth agrees, although he doesn't like the idea of standing still. 'We shall continue to evolve, but there won't be any sudden overnight changes — it'll be evolution rather than revolution — and the basic philosophy will remain the same: we shall continue to celebrate the history, the nature, the landscape, the people, the buildings and all the other facets of the county in which we are so fortunate to live.'
Joël Lacey will be taking his cues from the county itself: 'In the minds of some people, Dorset never changes, but of course it does. Dorset Life – The Dorset Magazine is much the same. Like Dorset, the magazine will evolve to reflect the needs of the people of Dorset, but we will never lose sight of how lucky we are to live and work here, in a place of immense historical interest, of fascinating people and, of course, to be blessed with unparalleled natural wonders and beauty all around us.'