Far from the bidding crowd
Written by Mark Lewis; drawing by Becky Blake
Published in June '17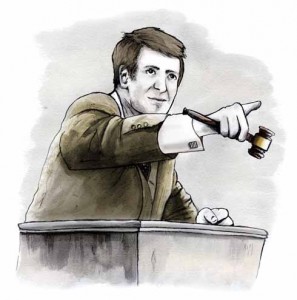 The June rain eased; it was now best described as a sweeping horizontal drizzle. As George Hayward tilted his head forward, water drained off his bowler hat and drifted back onto the notebook and bag of rosettes being held by his steward: 'Oh blimey, Jack, I'm so sorry. I should've known that would happen.'
Jack shook his papers and put them inside his jacket. 'What a way to spend a Sunday morning: on top of one of the most exposed parts of Dorset, getting soaked and staring at cattle. Have you decided who's won yet? The sooner you make up your mind, the sooner we can get into the beer tent.'
George had the unenviable duty of judging the cattle at a rare breed show. How to decide the best of a Belted Galloway steer, a White Park heifer, a British White bull and a Longhorn cow and calf? He stared as they were led around the show ring by their handlers. George turned to Jack. 'How the hell am I going to place them in the right order?' he asked.
'You're the flipping judge,' replied Jack unhelpfully. 'Have a chat with them and ask when they last showed and how they got on, but be quick about it. Everyone's had enough already.'
George followed the advice, but received a sharp rebuke from the owner of the Longhorns. 'You shouldn't be asking these questions, you should be judging the animals. You don't know what you're doing.' The woman was well known to George as being a fearsome and formidable breed champion. If she didn't get her own way, there was always a strong complaint and a rebuke. She was no picnic as a human being, but her husbandry skills were beyond reproach. George, though, decided to give first prize elsewhere.
Forty minutes later, Jack passed George a pint of beer as they waited for lunch. George slowly stroked his chin and thought about why he had snubbed her. Was it because he was wet, cold and would have preferred to be at home? Was it because she was so critical and bullying? Or was it because the owner of the Belted Galloway was a stunning brunette, her hair set in a pony-tail, with the most beautiful brown eyes and whose smile could light up the most inclement day? George had met her a few weeks earlier when he had visited her father's farm to carry out the annual stocktaking. She brought the coffee into the dining room and George felt he had been hit by a thunderbolt. Back in the office, George's secretary, Mary, asked how the valuation had gone. 'I suppose the daughter was trotted up and trotted back for your benefit?' she queried with an arch look.
George was woken from his reverie by a shrill voice: 'Where is that so-called judge?' He turned around to face the disappointed second-prize winner. Perhaps disappointed wasn't the right word: 'Right, you useless tool. I want to have a word with you,' she said, her eyes flashing as she poked her finger into his chest. 'I've shown cattle all over the country and I have never met such an inept and uneducated judge. You clearly don't have a clue what you're doing. How you can put yourself up as an auctioneer, God only knows.'
Jack sprang to George's defence. 'Judging is subjective and Mr Hayward gave the prizes as he saw it. A different day, a different judge, a different result. But beauty is in the eye of the beholder.'
George smiled to himself, thinking: 'Yes, and the winner was certainly more beautiful than the woman in front
of me.'
But that woman in front of him would not accept Jack's advocacy, saying to him: 'Rubbish! Any judge worth his salt would have given me first prize.' She then turned to George: 'You're crooked. You only gave first prize to her because her father is a client of yours. I wouldn't be surprised if you were sleeping with her.'
George had heard enough. 'How dare you impugn my integrity! I intend to become the most respected auctioneer and chartered surveyor in the area. Do you think I would throw all that away just to ingratiate myself with a client, and then destroy that relationship by trying to sleep with his daughter?'
He very slowly put his pint down. By now, the beer tent was silent; everyone was listening. 'Why don't you stand back and look at the bigger picture?' he asked, his face a picture of earnestness.
'Perhaps you might have won with another judge, but the average age of the owners at rare breed shows is fairly high and yet today we have encouraged a younger generation. A girl in her early twenties could be part of the showing scene for years to come. I suppose you are too narrow-minded and sour to think about that.'
Jack was not sure anyone had spoken to Mrs Longhorn like that before. She stood open-mouthed for a while and then threw the rosette on the ground and walked out. Onlookers let out the breath they had been holding, clapped George on the back and offered to buy him a drink.
When he got home, George ran a bath and then prepared supper. He was laying the table when he heard a car pull up outside the house. He looked out of the window and saw a girl with beautiful brown eyes and dark hair, set in a pony-tail, walk up the path. He opened the door and stepped back to let her in. He was right: her smile really was one to light up the most inclement day.