Blandford Forum's hidden treasure
Louise Bliss celebrates ten years of Blandford's Hidden Gardens
Published in June '17
Blandford Forum is known for its fascinating history and cohesive Georgian architecture, but there's more to the town than bricks and mortar. In 2007, a group of Blandford gardeners opened their gates to the public for the first time under the title of Blandford Forum's Hidden Gardens. David Rose, one of the event's co-founders, explains how it all began: 'The idea originally grew from the Clean Up Blandford project –  now run by the Blandford Stour Rotary – and it was about creating a community event, an event that would be easy for owners to be involved in. The rules are, there are no rules, no conditions, no judging; it is a chance for gardeners to showcase their piece of paradise.
'It was never about the money at the start. That was a bonus,' David goes on, although his records show that nearly £15,000 has been raised for local charities. Garden exhibitors have an opportunity to have their say in where the funds go, Dementia Care – Blandford, the Louis Ross Foundation, Blandford Environmental Trust and the Rotary Youth Leadership Award are just a few of the charities that have benefited from the money raised to date.
Support for the event comes from various local people, businesses and organisations, including the Tourist Information Centre and the Town Musuem. The ticket for the open day doubles up as a map and guide to all the gardens. Previous visitors have commented on how lovely it is to be able to walk around the town, taking in the sights and history as well as being able to visit gardens that are normally out of bounds.
There are no set categories; each garden has its own characteristics, from tiny courtyards, modern gardens, wild gardens to large formal gardens. Whilst the number of gardens that open varies from year to year, there are a couple that have been open from the very beginning.
Eastway House garden is one of them. The house displays the formal elegance of the Georgian period and the garden – with its Grade 2* listed wall – does not disappoint. A 'garden of three rooms' is how owner Debbie Streeter describes it. A pond occupies the formal room, the shape of which mirrors the windows at the back of the house, while an archway allows access to a lawn dominated by a magnificent Morello cherry tree, flanked by seasonally changing flower beds which lead nicely to a vegetable and fruit plot with a summer house that has been recently described as a folly. Visitors to this garden will also be treated to a sneaky peak inside a room of the house where they will be able to admire some outstanding plasterwork believed to have been the work of local architect and mason during the Georgian era, Francis Cartwright.
The garden is a labour of love for the family and this year Debbie is looking forward to displaying a small selection of her auricula collection. It was during the 16th century that auricula plants were first introduced to European gardens. Debbie said, 'I like growing them because of their delicate colours, their "farina" – the tell-tale silvery white powdery coating – and because of their link to the Georgian period, when growing and collecting them became a big trend.' One of her favourites is called Miss Fuzzy Bee.
The Cook family – with the support of Wyn Drennan and Thomas Bolt – have also opened their garden from the start. Breathtaking views of the Bryanston Deer Park (Crown Meadows) will be gained by wandering through the wrought iron gates of Bryanston Cottage. Neatly trimmed hedge arches produce interesting frames through which to view various angles of this magical garden. A beautifully sculpted box hedge is shelter to a treasure trove of various garden ornaments. The house and garden occupy approximately a one-acre site, on which the focal points include a rather special ha-ha and an architecturally fascinating Victorian greenhouse. While the ha-ha is a garden design feature, allowing the owner or visitor uninterrupted views of the landscape, it provides a practical way of keeping out unwanted livestock. Part of the 'STOP' line that ran from Stalbridge to Christchurch along the River Stour during World War 2, the ha-ha was converted to an anti-tank ditch (including a pillbox) as a component of the Blandford Forum anti-tank island created in 1940-41. The greatest challenge to Bryanston Cottage these days is not Panzers but rather, as with most large and mature gardens, the ongoing maintenance. Visitors who choose to include this on their garden route will be rewarded with the option of purchasing a good old-fashioned Dorset cream tea.
Blandford Forum's Town Museum Victorian Garden, which is a community project in every sense of the phrase, has been involved in Hidden Gardens for the past six years, as much by circumstance as design: 'I didn't know this was here' is a common comment from previous visitors on discovering the Victorian Garden, which is a multi-purpose community space that offers educational opportunities for schools and groups. Back in 2008, though, it was an overgrown patch covered in weeds and rubbish behind the museum. A team of dedicated volunteers gradually cleared the area by hand, resisting the urge to use power tools because their aim is to use traditional – in fact Victorian – gardening methods. The layout of the plot is based on a formal Victorian kitchen garden and focuses on growing heritage varieties. 'Melonie', 'Lady Christyl' and 'Allouette' are this year's potato varieties. The 'Cherokee Trail of Tears' and 'Lazy Housewife' are fascinating, if not instantly recognisable as Victorian, varieties of climbing French beans. Other vegetables that will be part of this year's plot are shallots, garlic and carrots, while the tomato display will include cherry varieties called 'Green Envy Oval' and 'Black Opal'.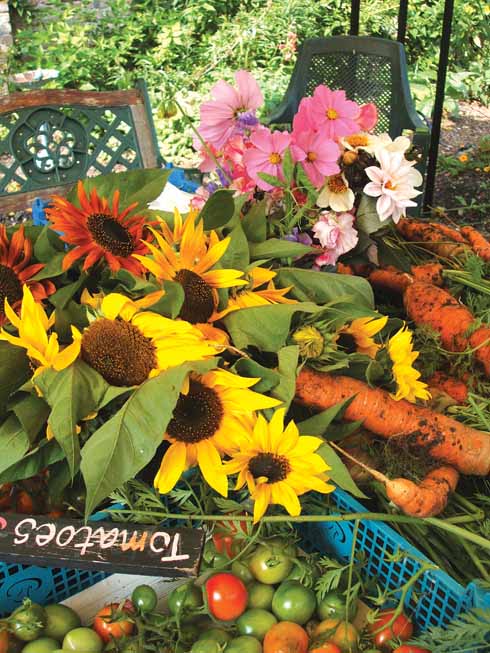 A red door, partially hidden up one of the town's many alleyways, is gateway to a charming courtyard which is the start of the Sapling Cottage garden experience. Elaine and Mike Lofthouse promised to open the garden should their purchase of the cottage go through; they kept their word and will be celebrating their second year of opening this month. The initial challenges of this enchanting country garden included tackling an out-of-control (whilst stunning in bloom) wisteria and the taming of the rampant honeysuckle and ivy. Rewards came later in the form of making home-made cider and elderflower cordial with produce from their new cottage garden. Visitors will be able to enjoy the garden's herbaceous borders, whose contents are both propagated and sourced by Elaine, including during visits to other open garden events and via her links with the Hardy Plant Society. The garden is situated on one of Blandford's few remaining private burgage plots (historically a house and long strip of land with a narrow street frontage rented from a king or lord) and it has a decorative boundary wall of brick, flint and stone with a marvellous view of the recently renovated church cupola. 'One of our favourite parts of the garden,' say Elaine and Mike, 'is the shady "glade" beneath the fruit trees with its patch of ferns, where we can enjoy the blossom and anticipate the harvest later in the year.'
Endellion, home to Hidden Gardens organiser David Rose, will be open this year, although David is honest enough to admit the garden display is not of his doing. His wife, Isabel, and mother-in-law, Pat Ashworth, are the gardeners. Pat says she enjoys being part of the annual event, as 'It's nice to meet new people and chat over a cup of tea; it's a lovely social occasion.' Gardening at Endellion has challenges from two towering beech trees and its sloping north-west facing view. The garden compromises by planting to suit these conditions, predominantly shrubs, with colour coming from a range of camellias, clematis and hydrangeas.
Moonstone is possibly the smallest garden on the circuit and Theresa Watson demonstrates what can be done with a few mirrors, pots and a sprinkling of imagination. Last year the small courtyard garden greeted over 180 visitors, which was no mean feat with only a handful being able to access the garden at any one time. One visitor was overheard saying 'She's even got room for a shed!' Wisteria, roses, honeysuckle and giant daisies will be just some of the flowers on display, and it isn't just the ground space that is utilised.
Blandford Forum's Hidden Gardens continues to be successful and celebrates its tenth anniversary thanks to the ongoing commitment of local people to open their gardens and to those who dedicate their time to organise the open day. This walkable garden tour has become an annual celebration for Blandford Forum and gives both local people and visitors to the area a chance to view some splendid and interesting gardens which, were it not for this event, would otherwise be hidden from view.
Blandford Forum's Hidden Gardens: 25 June 2017, 11.00-5.00. Tickets available from Blandford Tourist Information Centre: 01258 454770. For more information visit www.opengardens.co.uk or email cleanupblandford@hotmail.com