Unreserved passion for wildlife
Sally Welbourn looks at the history and geography of Dorset Wildlife Trust
Published in May '17
Within an area of about 1000 square miles, Dorset has one of the most biologically diverse areas for wildlife in the UK. For the last 56 years, Dorset Wildlife Trust (DWT) has championed everything the county has to offer its residents and visitors: it is a unique place, characterised by stunning marine and terrestrial natural beauty.
DWT has worked hard to create and nurture some of the most special wild spaces in the county, and the 44 nature reserves DWT now owns or manages have come a long way since the first one (Cranborne Common in east Dorset) was leased in February 1962, by what was then called the Dorset Naturalists' Trust. Land acquisitions early on in the history of DWT included Brackett's Coppice, Kingcombe Meadows nature reserve, and the DWT nature reserve on the iconic Brownsea Island. Those who founded the Dorset Naturalists' Trust in 1961, led by Helen Brotherton CBE, drove its early development. Their qualities of determination and enthusiasm, from Miss Brotherton in particular, still run through the core of DWT today.
Brownsea Island, DWT's flagship and first nature reserve, was hailed as a paradise for wildlife by Miss Brotherton, who lived nearby at Canford Cliffs and often explored the island, arriving by boat in secret. When the owner, Mrs Mary Bonham Christie, passed away in 1961, Miss Brotherton knew that the island had to be kept as a refuge for wildlife. Her quick action and her ability to organise people meant that she raised the £10,000 endowment needed to help save the island in just one week, securing it for the National Trust to complete the purchase for £100,000. As a result, the Dorset Naturalists' Trust was offered a 250-acre nature reserve on the island to manage for the special wildlife living there. This included the lagoon, an internationally important area for birds such as the black-tailed godwit. Fifty years later, Brownsea Island is teeming with wildlife and inspiring many new wildlife watchers. Today, a population of 200 rare red squirrels call the island their home, while migrating birds in their tens of thousands visit the lagoon every year.
Another major addition to the nature reserve portfolio of the Trust in the early days was the acquisition of Brackett's Coppice in west Dorset in 1961. Along with Miss Brotherton, it was made possible through the efforts and extreme passion of Ronald Good, Dorset's most famous botanist. While he and Miss Brotherton were travelling to west Dorset to see the site of the spring snowflake, they took a detour to Brackett's Coppice, an ancient woodland rich with wildlife. To their shock and dismay, a large area had been felled by the Forestry Commission, which had plans to plant conifers, indeed to fell all of Brackett's Coppice. Ronald was incensed and his strong reaction of disgust, so unlike his usual mild-mannered demeanour, immediately inspired Miss Brotherton to negotiate a short lease on the remaining area of the site from the Forestry Commission and the Corscombe Estate. A lease was agreed in 1966 for fourteen years, and the Trust purchased the reserve in 1985. Since being under the management of DWT, wildlife there has flourished. In 2015, year two of a butterfly transect at Brackett's Coppice recorded an annual index of 2,480 butterflies: an increase of 500 from the previous year. The site also supports a stable population of the rare, tree-dwelling Bechstein's bat.
In 1994, the Dorset Naturalists' Trust, which was part of the umbrella organisation, the Wildlife Trusts, changed its name to Dorset Wildlife Trust. Including Dorset, there are 47 Wildlife Trusts in the UK with a collective membership of more than 800,000.
As times have changed, so DWT has moved forward with its work, concentrating not just on land acquisition but also influencing planning in Dorset and encouraging more public engagement with the natural environment; it set its sights higher, never more so than in 2013 with the largest project embarked on to date: the Great Heath Living Landscape.
With donations of £2 million from the public and £2.7 million from the Heritage Lottery Fund, DWT led on this ground-breaking partnership project which saw the purchase of 1435 acres of land from the Canford Estate, comprising 13 sites to be managed by DWT and its partners. This was initiated by the very real concern that heathland has been in serious decline for many years due to changing land use, echoing the concerns about the sensitive urban heathland that initially united the founding members in 1961. The Great Heath project specifically concentrates on linking urban heathland from the Isle of Purbeck to the New Forest, managing it for the benefit of wildlife and the enjoyment of people.
The Great Heath project is an ideal candidate for the 'recovery plan', which defines the living landscape: an area that is inter-connected to allow a larger area to be managed correctly for wildlife to thrive. This is why nature reserves are such a large part of DWT's work; over 56 years, it has purchased and managed habitat-rich land including heathland, wildflower meadows, lowland grassland, woodland, rivers and wetland, coastal areas and farmland.
The national State of Nature Report in September 2016 found 56% of the species studied by scientists in decline in the UK. However, thanks to the existence of its nature reserves, DWT has celebrated many successes for some of the rarest and most threatened wildlife in the country, much of which is found only in Dorset or in just a few counties in the South West. Found only in Dorset, Surrey and Hampshire, the heath tiger beetle is one such example. DWT's nature reserve, Sopley Common in East Dorset, supports one of the largest populations of the heath tiger beetle, and DWT works with the Species Recovery Trust to ensure its long-term protection.
Another success for the intervention of conservation techniques on a nature reserve has seen a rise in Dorset's only colony of sandwich terns on Brownsea Island lagoon. A succession of poor breeding years for these charismatic little birds led to an experiment with new ways of protecting the colony. Fencing around the nesting island has proved successful, helping to prevent deer from trampling the eggs and chicks and providing some degree of protection from predation. 2015 saw 150 sandwich terns fledge, with 2016 also proving a productive year.
We can't leave wildlife to regulate itself; we have to give it a helping hand. DWT's band of incredible 3586 volunteers, 27,000 members and 80 staff are facing the problems, developing solutions and stopping the cycle of decline. The saying, 'You don't know what you've got until it's gone', has never been more appropriate.
DWT has evolved for the 21st century, accepting the challenges it faces and speaking up for wildlife at every opportunity it gets. There are challenges Miss Brotherton may not have imagined possible over 50 years ago, but DWT still shares the same concerns of its 300 founding members in 1961. The reason the Dorset Naturalists' Trust was created is the reason DWT still exists today: wildlife is essential to our happiness and health and it is our responsibility to care for it, for the next generations of humans and wildlife.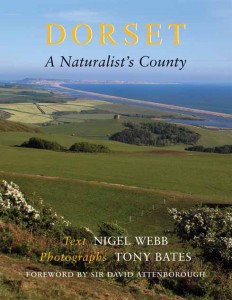 Read more about the history of DWT and wildlife in Dorset in Dorset – A Naturalist's County, by DWT President, Tony Bates MBE and DWT Chairman, Prof Nigel Webb. (www.dovecotepress.com).
Visit www.dorsetwildifetrust.org.uk/reserves or follow DWT on Twitter @dorsetwildlife or at facebook/dorsetwildlife.