The Guttridge files: Year of the Flood
Roger Guttridge recalls a flooding triple whammy in 1979
Published in May '17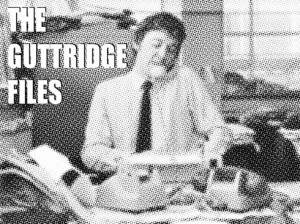 May is a month associated with spring, sunshine and new life. But not May 1979. That was the year of a flooding triple whammy in Dorset and beyond – and one of the three inundations was in May. It was not the first, though, as Portland had already experienced a localised flooding disaster. On 13 February, 60-foot waves crashed over Chesil Beach, flooding roads in Chesil village to a depth of five or six feet and turning the 'Isle of Portland' into a true island for a while. Sea water poured into dozens of homes and damaged a similar number of cars including those at Chesil Beach Motors. Wyke Regis resident Geoff Tizard described cars being 'thrown around like Dinky toys and piled up against houses…. The strength of the sea was incredible.'
The floods that followed later in 1979 were of a different kind. First torrential rain brought unseasonal flooding to low-lying parts of the Dorset and many other places at the end of May. Similar events followed seven months later. Both floods were among Dorset's worst in living memory, leaving thousands of acres of farmland, town and village centres and many roads and properties under water.
The spring flood resulted from a depression that moved north from Biscay on May 30, dropping vast quantities of rain on ground already saturated after weeks of wet weather. At Puddletown (Hardy's 'Weatherbury') more than 2½ inches of rain was measured. Poxwell, Winfrith, East Knighton and Symondsbury all had three feet of water, while at Charmouth dozens of caravans were tossed into the torrent. At Bournemouth's Hengistbury Head, a group of Girl Guides were partly buried by a landslip and had to be dug out.
The Stour valley was badly affected with floods at Sturminster Newton, Hammoon, Blandford, Shapwick, Sturminster Marshall, Wimborne, Longham and Iford among other places. Around the Crown Hotel at Blandford, the water was 18 inches deep. As Wimborne district reporter for the Bournemouth Evening Echo, I found myself knee-deep in water at Sturminster Marshall and later at Wimborne and Longham as the Stour spilled onto the floodplain.
That was bad enough, but what followed seven months later was significantly worse. Christmas was immediately followed by gale-force winds and on December 27 a slow-moving weather front deposited more than 3½ inches of rain on Dorset in 24 hours. It was even worse in some places, including South West England and Wales, where floodwater was five to six feet deep and reached rooftops in some places. Ten people lost their lives, either by drowning or in storm-related road accidents.
In Dorset, the floodwater was waist-deep along some stretches of the Stour valley, including low-lying parts of Sturminster Newton, Blandford and Christchurch. High-water marks from these and other floods can still be seen etched into the wall at Sturminster Newton Mill. At the nearby Bull Inn, the water level was above the bar-counter and up to the optics shelf.
As in May, I was reporting for the Echo on the floods in the Wimborne area, where as many as 70 properties were flooded. At Sturminster Marshall I saw cottages where water was flowing in through the back doors and creating mini-waterfalls as it cascaded down the steps at the front. At Wimborne, much of Poole Road, Poole Corner and a small section of Leigh Road were knee-deep in water. At Longham, the busy Ringwood Road was again closed due to flooding. I visited a cottage at Longham where large chunks of masonry had fallen out of internal walls due to water pressure. The building also included a lawnmower shop and the water had ruined 400 mowers. New Road at West Parley was under water, while at Christchurch a whole caravan park was flooded.
The 1979 floods were probably the worst in the Stour valley since 1915, when pictures taken at Wimborne show streets around Poole Corner knee-deep in water. At Blandford, West Street and East Street are traditionally the most vulnerable areas. An old photograph shows West Street flooded near the Crown in 1882 and there were similar episodes in 1891 and 1900.
Much of the property flooding that used to affect the Stour valley is now avoided thanks to flood prevention schemes, which aim to keep the water away from developed areas and move it downstream.