Service in every sense
In running Cerne Abbas Stores for 33 years, Andrew Farrow has played a crucial part in the life of the village. Alan Illingworth tells his story.
Published in April '17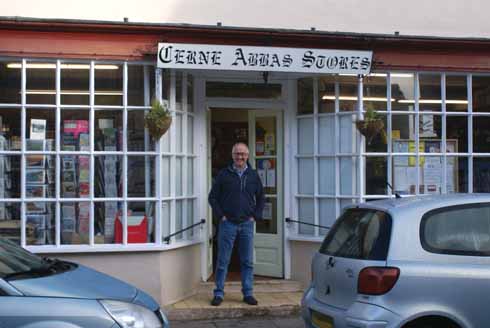 In 1984, a thirty-something accountant working for the hospitality giant, Trusthouse Forte, decided that it was time for a career change. The idea of running a village shop appealed to him, and he shrewdly looked for a business with potential for improvement in a location that would serve a good proportion of both retired people and holidaymakers. So it was that Andrew Farrow came to Cerne Abbas, his plan being to do up the building and get the shop on its feet before moving on after a couple of years. Not only is he still there, 33 years later, but his shop is as important to the village now as it has ever been.
His plans were dealt a devastating blow when his wife died very shortly after the move, leaving him daughters aged three, five and six to bring up on his own. He still talks with gratitude about how supportive the village was at that time, and four years later he met and married Geraldine, the mother of two children; they now have four grandchildren with another on the way. The shop's premises have indeed been improved, notably an increase in the selling area from 600 to 800 square feet by re-jigging the storage area and moving a staircase.
In 33 years, Andrew has inevitably seen many changes, not least in his clientele and their shopping patterns. The recently retired are more active than they were and more prepared to travel to shop, and they now have the incentive to do so. When Andrew started, there was barely a supermarket in today's sense of the word in Dorset, but now they are a major influence on his trade, particularly since they started home deliveries. The weapons with which a village shop can fight back are convenience, quality and sheer hard work: Cerne Abbas Stores is open from 8 am to 6 pm, seven days a week. Some customers might pop in four times in a day: as one of them says, 'I use the shop as my larder.' It is also a fallacy that supermarkets are always cheaper; it is true that over an average shopping basket they usually are, but the differential is not as great as many people think. And on some lines – Andrew quotes wine in particular, especially as he gives a discount of 10% on an order of six bottles – his prices match and often beat those in the supermarket.
The other key requirement is a readiness to adapt and Andrew is forever alert to opportunities that will help not to make his fortune – no-one runs a village shop with that ambition in mind – but to ensure his business's survival. He has seen trends come and go over his time in Cerne Abbas. For example, the National Lottery made a big difference when it started in 1994, but it is now less influential than it was. Remember renting videos and DVDs? They were a good source of income at one time but have now disappeared. In food, the shop still stocks a good range but now does best with the basics like bread, milk and eggs. Although home baking and the rise of the supermarkets mean that the days are gone when there was a queue of customers waiting for the bread to be delivered from the bakery, the shop still sells 40-odd loaves a day. Andrew has gone into baking himself with a range of baguettes, croissants, pies, pasties and so on which have proved extremely popular.
Another of the advantages that the village shop has over the supermarket is that it can offer more local produce. Andrew buys locally whenever he can, although he is puzzled that small local food producers sometimes seem unaware of the need to keep their prices competitive. However, all his bread comes from the Evershot Bakery and he is seeing something of a boom in bottled beer from local breweries, including the Cerne Valley Brewery, just up the hill. Immediately inside the door of the shop is a stand devoted to items from or about Dorset which is immensely popular, especially with visitors.
Like all good businessmen, Andrew knows that it is as important to cultivate his suppliers as his customers and he has a deserved reputation for staying loyal to a supplier for as long as he possibly can. As much as half his purchases are from a national wholesaler, Palmer & Harvey, and he encourages all his suppliers to work through them: it simplifies his paperwork and speeds up payment for the suppliers.
One of the biggest changes in the shop's history came in July 2006. The Post Office, which had rather limped along for some years in its premises at the other end of Long Street, closed and the facility was moved into Cerne Abbas Stores. Staff had to be trained and more found, since there must be at least two in the shop when the Post Office counter is open – there are seven part-time staff altogether as well as Andrew and one of his daughters, who sometimes helps out. But the Post Office operation has proved a success and Andrew now provides an 'outreach' service to five villages in North Dorset, setting up a mini Post Office weekly in the village hall or pub. The shop has also benefited from grants from the Post Office Community Fund.
Although Andrew took on the Post Office in the hard-headed expectation that it would earn its keep, he was also motivated by the fact that it is a community service, because he is keenly aware of what an important part his shop plays in the communal life of the village. Not only do its windows act as a village notice-board but along with the church, it is the social hub, and Andrew accepts that if two friends bump into each other in the shop, they may be nattering for half an hour without buying anything. Particularly for elderly people living on their own, this can be a lifeline.
Say to Andrew that he must hear some interesting village gossip and he diplomatically says that he is too busy to listen; the village shop owner and the priest in the confessional have more in common than one realises! Andrew makes a point of contacting anyone who moves into the village: a smart move to promote the shop, of course, but also an encouragement for them to feel part of the community. He has become such a feature of the village that one rarely hears it referred to as 'Cerne Abbas Stores' or even 'the shop'; it is usually 'I'm just popping along to Andrew's' or 'I heard it in Andrew's'.
Evidence of how much the village appreciates Andrew's contribution to the community came in 1990, when the shop ran into serious cash flow problems. The supermarkets were expanding hugely and interest rates were sky-high. Andrew could just about pay his overheads but had little left to replenish the stock, so turnover fell and he was trapped in a potentially fatal downward spiral. He was saved by the villagers getting together and setting up a trust which gave the shop a large enough loan to re-stock and carry on. So successful was the arrangement that the loan was repaid within two years. Andrew also pays tribute to the support he has received from Nat West once they saw that the shop was back on its feet.
No-one takes on a village shop for an easy life. Later this year, Andrew and Geraldine are taking a week's holiday: the longest since his first wife died. He does escape in the summer to Weymouth, where he has a share in a racing sailing boat at Castle Cove, and he has done two degree courses with the Open University. Geraldine has retired from her job as a teacher and Andrew is thinking along the same lines, although the idea of Cerne Abbas without him is as odd as the idea of him without his shop. If he does retire, he would like to write a book; if it is his autobiography, it will be the story of a vanishing way of life but one which he has proved can be rewarding in every sense and of immense value to the community.
For more information please visit www.cerneabbasstores.co.uk