Jess of the dairy fields
By Jessica Miller; the illustration is by Becky Blake
Published in March '17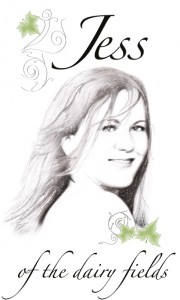 We bought Lily a pony for her first birthday. A friend had heard we were looking for something small and kind-natured and told us about a sweet miniature Shetland mare named Tilly, who was looking for a home. Two days later, Tilly (who isn't much larger than a Labrador) was ensconced in the kitchen, where she quickly learnt how to open the fridge and pull out the crisper drawer to help herself to carrots. She would join Lily at the table for breakfast, hoovering up toast crusts and apple peelings.
I would lead Tilly along the lanes with Lily on board. We would wander for miles along the bridleways and over the Roman bridge at Fifehead Neville and stop for a picnic on the Wessex Ridgeway. When Lily was three, they went to the Hazelbury Bryan Show, where they came third in the Lead Rein Pony Class. There was a lap of honour and a photograph for posterity of an ecstatic Lily smiling at Tilly, from whose bridle fluttered a big yellow rosette.
However, all good things come to an end. Lily is tall for her age, and by the time she turned four, she had outgrown Tilly. We found her a loan home with a lovely local family whose two little girls dote on her. A stable was built for her at the bottom of the garden, but old habits die hard and she spends most of her time in the kitchen, watching quietly over her young charges as they eat their breakfast and play together.
Lily's enthusiasm for ponies waned dramatically when Tilly left. We assumed that her sudden lack of interest was prompted by Tilly's departure, a grief of sorts. Our niece's first pony, Alice, came back to the farm a few months later having been on a long-term loan. She was the perfect size for Lily and we were happy to see her enthusiasm return. Euphoria was short-lived, however. By now, Alice was the equine equivalent of an OAP and had become set in her ways. She made it clear very quickly that she had no truck with being ridden and would plant herself in the lane and refuse to move. Even a grooming session would elicit a wrinkled nose expression of abject disgust. She had also perfected the art of deliberately standing on little toes.
Lily became utterly dejected and missed Tilly desperately. We found a home for Alice as a companion and started in earnest to find Lily her second pony. We were still looking a year later. The Perfect Pony eluded us. We enquired about dozens of ponies, but our efforts were in vain and we became disheartened and exasperated. I became convinced that fate was conspiring against us. They were invariably too old, too young, too expensive, too slow or too fast or would have been perfect if they didn't have an ailment requiring prohibitively expensive veterinary treatment. One pony advertised as 'bomb-proof' came out of its stable on its hind legs. Countless times, I phoned up about an advert posted that day, to be told that the pony was already sold.
It was 6 February 2016 and we were about to drive to Toller Porcorum to look at a 'mother's dream' when the phone rang. It was the owner, calling to grimly inform us that the mother's dream had just dropped dead. It was the final straw. 'That's it. No more looking for a pony. If it's meant to be, it will be,' I told Jasper. I reminded myself of the old adage that you never find mushrooms when you're looking for them, and tried to forget about ponies.
Twelve months later to the day, Jasper and I were dozing in front of the fire. Yawning, I checked my Facebook account before going up to bed. I sat bolt upright and the hairs on the back of my neck prickled. An advert posted two minutes earlier with the title – 'One in a million pony. Still for sale.'
'Why are you panting?' Jasper asked.
'I've found Lily's pony. This is the one we've been waiting for,' I squeaked, showing him the advert.
'Where is it?'
'Not far.'
'Oh God. Please elaborate on "not far".'
'North Wales.'
'Are you mad? We're not going to North bloody Wales!'
I bolted up the stairs and started packing a suitcase while phoning the pony's owner. A journey that far would warrant an overnight stay. Lily wandered in, trailing her teddy.
'Daddy said you're bonkers. And I don't like ponies any more.'
'You'll love this one.'
The journey took us seven hours, towing a trailer up the M5 in gale-force winds and torrential rain, but I'd have happily driven 70 hours to see Lily's face when she met Asbo. It was love at first sight.
He really is a mother's dream: a smart 12.2 piebald cob with a workmanlike attitude and kind and gentle nature. He carries Lily as though she is precious treasure.
If she loses her balance, he stops and waits until she is back in the saddle. He takes her across huge open fields without attempting to break out of a walk. He walks past fearsomely noisy tractors without flinching and he follows Lily everywhere. They are best friends.
As for me, I'm now a fully fledged Pony Club Mum and loving every minute of it.
And Asbo? He is living proof that the best things come to those who wait.