Jess of the dairy fields
By Jessica Miller; the illustration is by Becky Blake
Published in January '17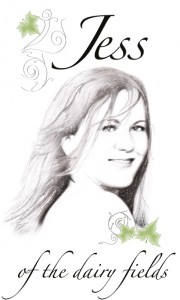 He came to us on the first of September 2014, a tiny scrap of black and tan, shivering in the cold.
We had been to see a litter of six puppies on a farm just outside Blandford, and this one made a bee line for me, smiling and wriggling with glee, he made his way towards me and I picked him up and held him close. He stopped shivering then, and sighed, and I knew he was the one. We named him Gordon.
All puppies are small, but Gordon seemed particularly minute.  A miniature Jack Russell with a black body, tan eye brows, white bib and beautiful tan markings  around permanently pricked ears.
He quickly became a member of the family, and during the early months, he was transported in my large hand bag.
He would snuggle across my chest at night on the sofa when I read a book, and curl up at my  feet when I was writing on my lap top. I listened to his pitiful crying in the kitchen on the first night for all of 5 minutes before creeping downstairs, scooping him up and taking him up to our bed, where he slept ever since.
One of his first excursions was to the Cinema in Yeovil where he took in a film with Lily, my two nieces and me. He was smuggled in, in my hand bag, and was rapt through the entire film which he watched with his own pair of 3 D glasses. After the film, we went to Frankie and Bennys where, from the cosy depths of my handbag, he enjoyed an impromptu supper of chicken nuggets. Especially as a puppy, his character far surpassed his size. He was a massive presence, full of fun and loved by all. Well almost all. On one occasion, I noticed a delivery driver searching the ground outside his van: 'My beef sandwich has disappeared; it was on my seat just a minute ago,' the driver assured me. Over his shoulder I could see Gordon digging briskly amongst the hollyhocks, before pushing the remains of the beef sandwich into the hole and covering it over with earth.
It can be lonely being a farmer's wife, but it's impossible to be lonely with Gordon around, whether companionably by my side while I weeded the garden, or riding shotgun beside me in the car, his head out of the window. His night-time routine always the same: nosing his way under the eiderdown, his slumber always precipitated by a deep and happy sigh. Just before 4.00 each day, he'd unfailingly remind me when it was time to collect Lily. Once parked, he would lean against the dashboard, his eyes searching for Lily.
He was something of a school mascot. When the girls streamed out of the art room with their merry laugh and chatter, Gordon would launch through the window of the car and rush to them sideways like a comma, wagging his tail ten to the dozen and grinning from ear to ear whilst his adoring fans squealed "GORDON!" and fell upon him, cooing rapturously.
He was a wonderful nurse. If Lily was unwell, he would not leave her side, but would curl up next to her offering silent sympathy. He stoically endured the ignominy of being dressed up as Santa's Elf at Christmas and thoroughly enjoyed the carol service, where he sat quietly throughout listening attentively to the sermon, earning a special mention from the Vicar. The ladies of the Parish always had a tit-bit for Gordon when he went to church on Sundays.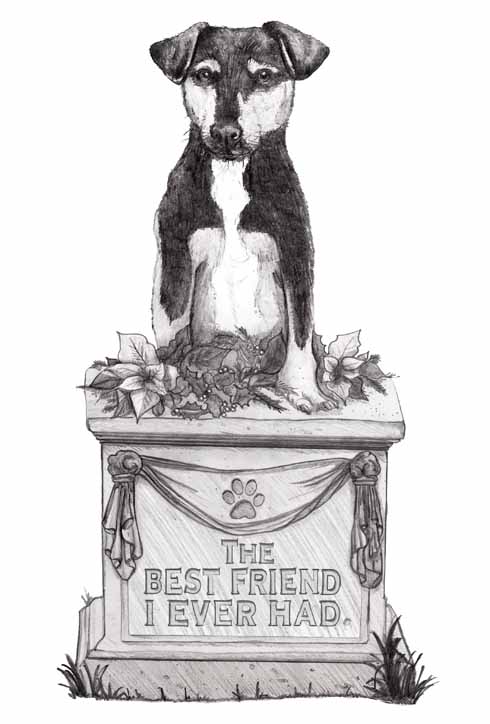 There's something ineluctably human about him; a preternatural ability to read my thoughts and peerless understanding of the nuances of social situations. On one occasion, we had a difficult B&B guest who, during breakfast one morning began expounding his theory that dogs are 'stupid dumb creatures'. Gordon caught my eye and to this day I swear he winked at me, before sauntering under the table and cocking his leg on the man's trousers. The man was none the wiser. Gordon was equally good at dealing with canine relations. A sausage fell out of the AGA once and Gordon shot forward and grabbed it, but quickly released it on account of its being too hot. Aware of the other dogs closing in, he growled a warning at them and proceeded to use his paw to roll the sausage to a safe place until it had cooled down enough to eat.
Sometimes in my peripheral vision I see a flash of black and tan streak across the lawn. He is everywhere and nowhere. My best friend's now at the top of the grassy bank – his favourite place to sit – for Gordon was hit and killed by a car on the lane last week.