Treasures of Dorset: Grange Arch
Photograph by Martin Dolan
Published in October '16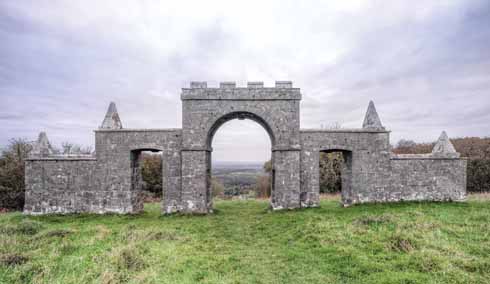 This piece could equally as well be entitled Creech Arch or Bond's Folly, since its subject is known by all three names. Come upon it as you walk east from Whiteway Hill along the inner ridge of the Purbeck Hills, and you may wonder what on earth its purpose is or was. It is effectively two-dimensional but its central arch is flanked by two smaller arches, the whole decorated with pinnacles and battlements.
If you approached Whiteway from the Wareham direction, you drove past the solution to the mystery: the exquisite Elizabethan house, Creech Grange. Before the trees of Big Wood grew up to obscure it, Grange Arch could be seen from the grand rooms on the south side of the house. Like all follies, the aim was more than just to amuse: it was to impress visitors with the extent of their host's land and with his cultural sophistication. From the house it must have looked as if the central arch was lassoing the sky, implying that there was nothing to which the owners of the house did not aspire.
The Bond after whom the folly is named was Denis, whose father had bought Creech Grange in 1691; it was to remain in the Bond family for almost three centuries. Denis spent £1300 (getting on for £1 million in today's money) on the restoration of the estate, with Grange Arch being the most conspicuous of his memorials. Later, the arch and the land around it became the first property in Purbeck to be owned by the National Trust.