A Dorset life for me
By Roger Guttridge; the illustration is by Becky Blake
Published in October '16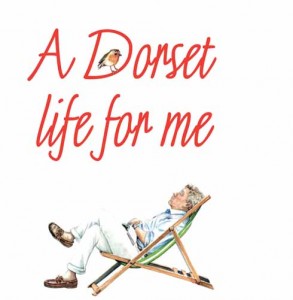 I was recently invited to tea at Wimborne Model Town and was pleased to accept, as the model and I go back a long way. We are of similar vintage (born 1950 and opened 1951 respectively) and I was about six or seven when I paid the first of my many visits during a Sunday school outing. We travelled to Wimborne in one of those brown Bere Regis buses that were ubiquitous on the roads of post-war Dorset. For a little boy from the Blackmore Vale, this was a bigger adventure than you might imagine. This was the mid-1950s, when the majority of families had yet to discover the motor car and other trappings of the later 20th century had yet to reach the backwater of civilisation that was Sturminster Newton. Which is perhaps why my standout memories of the day include a visit to Woolworths in Wimborne Square and scoffing sixpenn'orth of chips at Blandford on the way home.
Neither Woolworths nor fish and chips had made their debuts at Stur by then (and Woolworths would never do so), so these were rare and affordable treats. I have no idea what I bought from Woolies but I can still taste those chips, which came wrapped in newspaper and liberally doused with salt and vinegar.
I'm not sure they still fry chips like that today, and they certainly don't wrap them in yesterday's news feed. It wouldn't do much for your iPhone or tablet, would it? I think it was something to do with the printer's ink that changed that wrapping habit. It says much for the stability of fish and chips that they are still 'frying tonight' at the same East Street shop that served me sixty years ago and many times since. It's a shame that the same can't be said of Woolworths or Bere Regis buses, although I'm pleased to reveal that F W Woolworth and Co is alive and well in Wimborne, where Model Town manager Greg Hoar claims to have the newest branch in Britain (almost the only one, I suspect) following a 2016 rebuild of this particular miniature structure.
Like the Blandford chip shop, Wimborne Model Town is a survivor, although it did have a serious brush with oblivion. This was in 1983, when its original site off the Cornmarket was sold to make way for houses of the life-size kind. As the Bournemouth Echo's Wimborne reporter, it fell to me to break the news to an unsuspecting public along with rumours that it could be sold to America. Thinking that there could perhaps be a campaign to save the attraction, I rang newly elected district councillor Pat Hymers to ask what she thought and quoted her reply. It was my only contribution but an inspired move that was to earn me my tea and cake thirty-three years later. The dynamic Mrs H not only picked up the baton but became the driving force of the rescue bid and most things since. Four years later, with the model looking like a bomb site, volunteers began the mammoth task of dismantling and moving the models, storing them and eventually re-assembling them at the new King Street site. Roy Castle officially opened the new site in 1991 and the tea and cake was to mark the twenty-fifth anniversary of that for those who helped.
The bigger site offered space for additional attractions, such as gardens, teashop, gift shop and model railway. It continues to enable children to be 'giants for a day' as they scurry around, clipboards in hand. But as I joined them six decades after my first visit, it struck me that this was most of all a 1950s time capsule and a commentary on the shift in shopping habits since that time.
As I studied the shopfronts, I could find only one estate agent (Gordon Wentworth and Partners in East Street), no travel agents and no charity shops. I don't have anything against these people but, well, you know…. But I could also see why Napoleon, speaking 150 years earlier, described Britain as a 'nation of shopkeepers'. With a supermarket on a cricket pitch not even a twinkle in a Waitrose director's eye, Wimborne's shoppers had an army of independent shopkeepers to supply their every need. There was a pet shop, a cosmetics shop, a shoe shop, two toy shops, two ironmongers, two bookshops, three electrical shops, three chemists, three banks, four hairdressers, six gents' or ladies' outfitters, not to mention a women's hat shop and much more besides. Most noticeable, though, was the number of food shops – I counted seven grocers and greengrocers, five butchers, five confectioners and tobacconists and two fishmongers.
Most of these are long gone but a handful of businesses have survived and prospered. Holmans electrical shop has taken over three adjoining shops, Dacombe's (cycles and electrical) and outfitter L A Bartlett have also expanded, while Tice's Garage has moved from town centre to
edge-of-town site. Pubs and hotels have also fared well with eight out of eleven surviving, all with the same names. And towering above all is the one-tenth scale Minster – still in the shadow of its gigantic original, as it has been for sixty-five years.