A Dorset life for me
by Roger Guttridge; the illustration is by Becky Blake
Published in August '16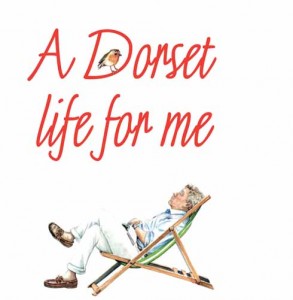 It remains the hottest British summer on record and for parts of Dorset it was also the most dramatic since World War 2. There were no bombers, Spitfires or D-Day landing craft – just a good old heatwave. And the drama reached a sizzling climax forty years ago this month, when the county's south-east corner blazed and smouldered as never before. And hopefully never again.
There were warning signs in the spring of 1976. Across the country a dry summer and autumn had been followed by an exceptionally dry winter. Spring followed suit. The heaths and forests were tinder-dry and fires were breaking out. By the end of June, temperatures were over 30°C every day, peaking at 35.9° on 3 July. Two days later, burning bales falling from a trailer set light to thatched roofs at Sturminster Marshall, wrecking eight 400-year-old cottages. This fire was not directly weather-related but the dryness of the thatch didn't help.
There were some lighter moments. At Chalbury, Sparky, a hot-and-bothered pony, did a runner from his paddock, plunged into a garden swimming pool and had to be rescued by firemen. As the Bournemouth Echo's Wimborne reporter, I was dispatched to ask people what they thought of government advice to save water by sharing a bath. A friend who had just returned from his honeymoon told me: 'Don't put this in the Echo but we do already.' On the front page next day, ruthless Rog reported: 'Newly-wed Wimborne butcher Malcolm Budden said: "Don't put this in the Echo but we do already."' I'm not sure the new Mrs Budden ever forgave me.
Meanwhile, back on the fire grounds, much worse was to come. For 45 days not a drop of rain fell in Dorset. The fires became more frequent and more severe. In August, not a day passed without writing at least one fire story. It was far worse for the firemen, especially Ferndown's so-called part-timers. They told me they had 'forgotten how to sleep' after attending 376 fires in 146 days.
One fire a mile wide swept across 300 acres of Horton Heath. On 17 August, 'Dorset's fifth major fire in a week' licked through 250 acres at St Ives, jumping the A31 dual-carriageway, reducing a bungalow to charcoal and consuming six vehicles, five sheds and a garage.
And then came the week beginning 22 August. For me, it began like many other 1970s Sundays with a pre-lunch drink and a game of bar billiards at Ferndown's Whincroft Hotel. As I drove home to Colehill, a couple of fire engines raced past. Once home, I called Dorset Fire HQ to check it was nothing to get my notebook out for. It wasn't. Just a little heath fire near Matchams, they said. Such fires were two-a-penny.     After a relaxing, fire-free afternoon, the phone rang. 'You might want to get out to Ferndown,' said the fire officer. 'They're evacuating St Leonards Hospital.' Flames were racing from the A338 spur road towards St Leonards and looked unstoppable.
Ferndown was gridlocked. Hot August Sundays are a challenge at the best of times as people head home from the beaches. Now the A31 was closed with traffic diverted via West Moors and Three Legged Cross. As I sat in the queue, wondering how I was going to get to the hospital, I noticed that any unmarked car with its headlights on was being waved through on the wrong side of the road, no questions asked. These were emergency workers answering a plea for help. I was hardly an emergency worker but I had a job to do so I switched my lights on, pulled out and sailed serenely past the stationary traffic.
The scene outside the hospital was surreal as medics and volunteers used stretchers, beds, wheelchairs and armchairs to evacuate 350 elderly patients, many of them seriously ill. Many were parked on the road for up to an hour as 25 ambulances ran a shuttle service to a Ferndown school. Once the evacuation was complete, the same ambulances took them to other hospitals. It was the first time Dorset had used its well-rehearsed Civil Emergency Plan, involving all the statutory and voluntary organisations working under a central co-ordinator. The story made headline news on national television.
The flames never did reach the hospital and patients began to return the next day. But there was more to come. On 26 August, six major fires swept along a six-mile front. One killed nineteen great Danes at Avonmoor Kennels, Matchams. Another threatened 30,000-gallon fuel tanks at the army's West Moors petrol depot and prompted the evacuation of dozens of homes. At a bizarre press conference a month later, the army told us rabbits running with their fur on fire had spread the flames and they had now hired a rabbit-catcher to prevent a repeat. Forty years on, I conclude that it has worked.
Something else that worked was the government's belated appointment of a Minister for Drought. Days after Dennis Howell first waved his magic wand in the last week in August, the heavens opened and the heaths and forests were spared further destruction. What was left of them.