A Tyneham sapper
Before David Greville-Heygate joined the RAF, he was an army officer. This record of his time in Tyneham was written by his daughter Sally.
Published in July '16
In September 1939, my father, David Greville-Heygate, noted the following in his diary: 'A black day. Today we are at war with Germany.' Under this he wrote a Herodotus quote: 'There is no man so foolish as to desire war rather than peace. For in peace the sons bury their fathers, in war, fathers their sons.'
The 'Phoney War' had begun and for many British people the pace of life hardly seemed to change. After a posting to 400 Company 50th Northants Regiment, Anti Aircraft (Searchlight) Battalion until May 1940, then training and passing out as an officer at Sandhurst in September 1940, 2nd Lt David Greville-Heygate was attached to the Loyal North Lancashire Regiment, who were based in Portsmouth, soon to be second only to London in the regular pounding it received from the Luftwaffe.
His entry for Monday 13 January 1941 read: 'Clearing up after the raid took several days. We cleared the streets and helped the homeless. One publican, holding a smashed bottle of whisky, looked at the wreck of his pub and said, "They can break our spirits, but they won't break our hearts!"
'There is still no news from the RAF, even though there is now a desperate need for pilots, but I am still hopeful of success. Mother and Father dread having all three sons in the Air Force, but I told them that if I get a transfer I'll go like a shot. I have decided that to fight well I need to fight alone. I must get an aeroplane and fight in it no matter what stands in my way, even if I have to resign my commission or desert.'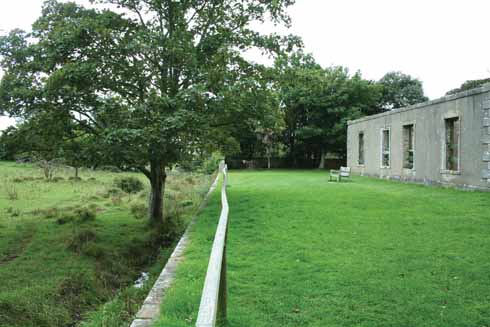 On 1 February 1941, the company was moved to Tyneham. Rising early, everyone was packed into lorries and blacked-out buses. The weather was fine as they drove in convoy through the New Forest; however, when they reached Poole, it had begun snowing hard and turned extremely cold. By the time they arrived at Tyneham, the wind and snow had developed into a full-scale blizzard; of the nineteen troop-carrying vehicles in the convoy, nine were stuck in snowdrifts or ditches and the hill road soon became impassable.
On arrival, David noted: 'The rectory was almost overflowing with The Queen's Own Royal West Kent, who are not moving out now until the morning, as well as our company, odd drivers and various other parties stranded by the snow. I was very pleased to see my car arrive several hours later, for all my goods and bedding were inside it. After unpacking, we had lunch with the West Kent officers. The hills are so steep and the snow is so bad that no-one can get in or out of the village. The troop-carrying lorries, which were meant to be back in Weston-super-Mare tonight, are still stuck in ditches.
The Army had requisitioned several of the larger houses in Tyneham and the officers were billeted with local residents. Company Commander Captain Allen, second-in-command Lieutenant Higgins and David were billeted at Gwyle Cottage, home to Harry and Marjorie Grant. They found the cottage charming and the furniture beautiful (it had come out of the Grand Hotel in Swanage), but they were the only men in the battalion without electric light, hot water or gas.
The following day, the West Kents marched off. The rectory that looked so bleak yesterday had improved on closer inspection: 'It is a square house, very large for the village, with a tennis court, and looks as if it must have been very jolly in peacetime. Battalion HQ at Home Farm is a lovely place, beautifully furnished. It has stables, its own electric light plant, central heating, a grand piano in the lounge and goodness knows what else.'
David's company was to defend the coastline from Lulworth Cove to Swanage. There was a small gun position, but at first they had very little in the way of weapons, being equipped only with Canadian .300 rifles with thirty rounds of ammo each and home-made hand grenades made from old bottles filled with spirit. From David's diary for Wednesday 5 February: 'I am working harder here than anywhere else I've been, from dawn until 11 pm, trying to get things straight. As I am president of the Mess Committee, I have to get the officers' food in. We can get fresh eggs but unfortunately, our cook can't make pastry or puddings so I'll have to get some instructions for him. In Gwyle Cottage, we had a Valor oil stove for cooking, but they asked for it back, so now we have a petrol stove and the taste of petrol seems to get into all our food.'
David met the Bond family who were still living at Tyneham House. Ralph Bond, 'the last Squire of Tyneham' was a local magistrate and Home Guard platoon commander, and had extended a permanent invitation to officers to drop into the house at any time if they wanted a bath.
On Sunday, David drove along a steep road to Brandy Bay and his car was nearly blown over a precipice by the wind, for the roads were solid ice. The Army had commandeered the Duke of Somerset's summer residence overlooking the bay. David was most envious of the luxury he found there. During the week Peter Williams, one of the platoon commanders, went on leave, so David moved down to his room in a small cottage overlooking Worbarrow Bay: 'I am billeted with a spinster and her two nieces. Miss Ellis is one of those slightly old-fashioned ladies whom children love to spend their holidays with. She is very kind and cheery and I believe was in the USA until about 15 years ago, Anne, her niece, is about 19, very jolly and a great country girl. Mary, the other niece, is nursing, but is on leave at present. I thought at first that three women in a house are two too many! But now I think it has done me good, I am beginning to find things to talk about and I am
not so shy.'
On 15 February, Private Norman Barnes of 'A' Company was accidentally shot dead on guard-mounting parade, so after giving his soldiers yet another lecture on weapons safety, David took the platoon for a run to Arish Mell, a popular bay for picnickers before the war: 'We found an invasion barge [never confirmed as such] on the beach. I love being down there as we can sometimes find shells, cornelian and amber in beautiful shades of red and brown. Revetting the trenches was the first task in both of the forward positions. Then we had live firing practice, we fired ten rounds from each weapon and threw one grenade. The coastline is grand and though it is only February, it seems like spring, but I never feel quite safe at my position as the officer from the Engineers was blown up with the plans of the mines, but they have been re-plotted and another map is on its way. I think I know where they are all now but it is rather amusing taking a pace and not knowing if you are going up in smoke each pace further; it lends interest to walking!'
Wednesday 19 February 1941: 'In spite of all my warnings, Private Huskin of my platoon let off a round in the guardroom; luckily this time no one was hurt. We went out on a training march and threw live grenades, several of which failed to explode, which didn't give us the greatest confidence in their use in the event of an attack. Still it was great fun. Less amusing, we found a human foot in an army sock on the beach, presumed to belong to the officer blown up while plotting the mines.'
Finally, in April 1941, David heard that he had been offered a transfer to the RAF and he spent the last few days in a maze of tunnels eight feet deep with underground kitchens and latrines.
Sadly for the inhabitants of Tyneham, they were given notice to leave in November 1943; initially it was meant to be until the end of the war, but the army decided to keep the whole area for training purposes and the inhabitants were not allowed to return. The church and schoolhouse remain intact but the beautiful Elizabethan manor, Tyneham House, was pulled down in 1967 and most of the cottages are in ruins.
From Sapper to Spitfire Spy by Sally-Anne Greville-Heygate, published by Pen and Sword Books. www.facebook.com/From.Sapper.to.Spitfire.Spy