Whatever happened to The Tilly Whim Inn?
Brian Cormack on the idiosyncratic hostelry that boasted a 'brick' car and a house camel
Published in April '16
A pet camel, a piano that played itself, a mirror launched out of a window, a brightly coloured London cab offering free rides to customers, life was anything but dull at the Tilly Whim Inn, Swanage.
It started life in 1870 as La Belle Vue, a clifftop restaurant designed by architect George Crickmay on Sentry Fields at the entrance to the Durlston Park Estate and was initially part of George Burt's ambitious plan for the area that was to have included terraced housing down to the Head. In the event, some shops and a market were built, as was St Aldhelm's Church in Grosvenor Road (demolished in 1972), before the mid-1880s when the newly-retired Burt decided to plough his energy into landscaping Durlston as a leisure attraction instead.
By the time draughtsman/engraver turned artist Hume Swaine sketched and engraved La Belle Vue for his 1894 publication Artist's Rambles Roundabout Swanage, the restaurant was owned by William Howe and, according to a notice of the time, offered 'Luncheons and Teas served on the Balcony. Luncheons (cold) at Moderate Charges. Chops and Steaks at short notice. Plain Teas 6d.'
A popular local landmark in 1950 it was bought by Phillip and Ruth Burridge who changed the name to the Tilly Whim Inn early in 1955 and placed an advert in the Town Guide that asked: 'Why not spend a pleasant evening at the bar of the Smugglers' Haunt?' It was an invitation that was enthusiastically accepted by many locals and visitors – including Enid Blyton and actor Wilfrid Brambell who were both regulars – and by the time Ruth sold up in 1972 she had become absolutely synonymous with the pub.
'Ruth was a great character and something of an eccentric,' remembers writer George Willey, a mainstay of Swanage life for more than 60 years. 'She was very well spoken, quite loud, and clearly had some educational distinction, a very colourful person. She was from a military background I believe.'
Indeed. Her father Brigadier Neil Charles Bannatyne held a series of senior posts with the British Army in India and was made a Companion of the Order of the Indian Empire in George V's 1932 Birthday Honours. She had a daughter Meryl and a son Barry, who took the surname Justice and forged a busy career as a television actor most notably in the BBC series The Doctors and The Pallisers, based on a series of novels by Anthony Trollope. He committed suicide in 1980.
'That was a terrible, terrible tragedy,' says George. 'There was always talk of a connection and I think he chose his professional name in homage to James Robertson Justice who I believe helped set him up.'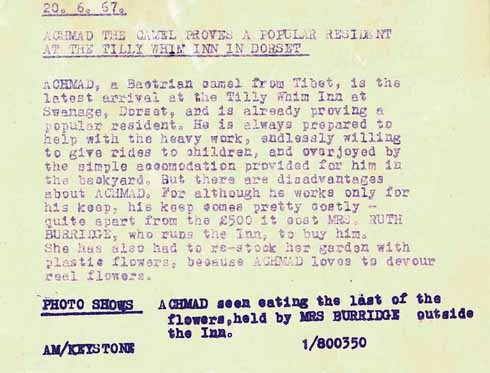 Ruth's energetic management of the Tilly Whim became as much of an attraction for regulars as the menagerie of animals she gathered during the 1960s. This included at various times a parrot, a llama and a donkey called Sweety, but the creature most readily associated with the Tilly Whim is Achmad, a Bactrian camel from Tibet. 'The big film at the time was Lawrence of Arabia and Ruth caused quite a stir when she rode the camel on Swanage beach draped only in a white sheet,' recalls Hugh Elmes, co-author (with Tim Edgell) of Dorset Pubs Through Time (Amberley Publishing). 'We were told she got hold of the camel from Lady Lees of Lytchett Minster, who had hired it from the Robert Brothers' circus to make one of her religious* films. Evidently, the camel had to go back in due course, but I don't think Ruth minded all that much as the damned thing ate all the flowers in the garden!'
Achmad was duly replaced by a London taxi painted with the pub name in clear and bright view.
'That became a familiar sight on the streets of Swanage and used to run a regular shuttle service between the Pier and the Tilly Whim,' says Hugh.
According to the book Swanage In Old Picture Postcards by David Haysom and John Patrick (and published by Europese Bibliotheek), the taxi was last seen lying derelict on the Victoria Avenue industrial estate. However, other attractions at the Tilly Whim included Kasbah Kim's Club, in the cellar, and the 'Stimulating Cabaret on Tuesdays'.
Some events though defied explanation, including the pub piano that would start playing of its own accord and a mirror that flew out of the window. Posting on the Ephemeral Thoughts blog, Ruth's daughter Meryl Tomblin remembers: 'While they were away there were two caretakers looking after the pub. One afternoon while they happened to be in the bedroom the large mirror became detached from the wall and as though by unseen hands threw itself out of a closed window.'
Fittingly, the pub's demise is also shrouded in mystery. Ruth sold the Tilly Whim in August 1972 and three months later it was engulfed by an unexplained fire. In March 1973 planning permission was granted for sixteen flats now known as Purbeck Heights. Ruth retired to West Sussex but hit the headlines in 2008 when she and Meryl lost their joint life savings in the Icelandic banking crash.
After Ruth passed away in 2012, her 92nd year, a funeral service in Swanage at a packed St Mary's Church saw her remembered exactly in accordance with her obituary notice in the Daily Telegraph with its quotation from the poet John Masefield: 'she will long be remembered affectionately by family and friends, who gratefully shared her long, varied and fruitful life. "And all I ask is… quiet sleep and a sweet dream when the long trick's over."' ◗
Lady Lees of Lytchett Minster and her films
* Lady Madeline Lees had established a Christian commune at South Lytchett Manor and set up the Lytchett Minster Gospel Film Association to pursue her avowed aim of 'World peace through religious drama'.
Its first production, Voice in the Wilderness, told the story of St John the Baptist in full Technicolour using local heathland and quarry areas to portray the Holy Land with a cast drawn from the communards and Lytchett locals wearing costumes brought back from the Orient by her late companion, the explorer and mystic Sir Francis Younghusband (buried at Lytchett Minster as he died while at the Manor).
'The film is in the language of modern youth,' Lady Lees told a reporter; its purpose 'to catch the Teddy boys by surprise.'     It was shown on ITV in 1957 and spawned a sequel, The Messiah.