Great Bus Journeys of Dorset – Christchurch to Lyme Regis
Published in February '16
X2 (Morebus): Sea corner, Highcliffe to Bournemouth Square via Mudeford, Christchurch, Christchurch and Bournemouth Hospitals, Holdenhurst Road and Bournemouth Square Departed 8.17, arrived 9.19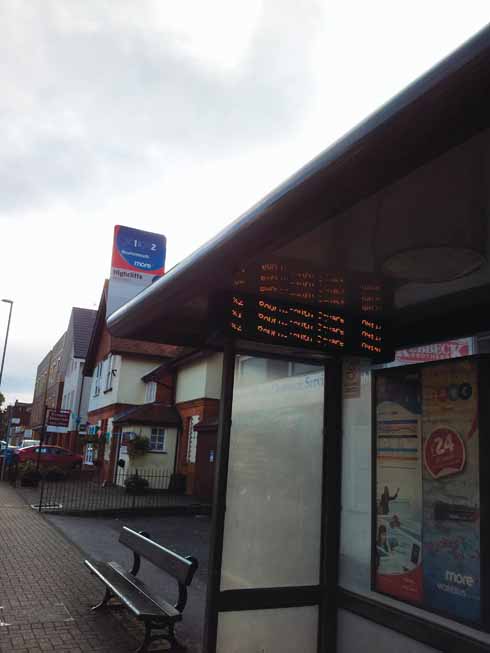 As someone whose daily commute to work for twelve years has involved stumbling down the stairs, it's easy to forget just how much happens between 7.45 and 8.15 in the real world. Arriving at Sea Corner, Highcliffe at 7.40 for the first leg of my journey, there was little activity to observe. A 45-minute wait for the bus gave me time to walk to the clifftop though and look west along the coastline in the direction of my journey's end. According to the AA route planner, if driving direct I would be travelling just over 65 miles but clearly more in bus miles. If I made all my connections, I should arrive in Lyme at around 14.40.
Once past eight in the morning, the previously deserted high street had come to life and for many the working day was beginning while, being 3 September, it was back to school for some.
The X2 came in on time and the driver informed me that an adult explorer ticket would allow me to travel on a Morebus in Dorset all day so I was on my way.
Most of my fellow passengers were on their way to work and included Pat, a Bournemouth Hospital worker who explained that the lack of parking at the hospital, meant bus was by far her best option for getting to work. 'It's quite relaxing and lets me catch up with my reading,' she says but expressed concern about the impact of the Spur Road contra flow due to begin later in the month. 'It will add too much time so I'll have to go back to driving and trying to find parking.'
As it was, on a normal traffic day, this represented by far the most stuttering leg of the journey, which is hardly surprising given the commuter traffic these roads carry. I also knew it wouldn't be the most picturesque of the four routes. That said, daily passengers are treated to a slice of history on their way to work in the shape of the 12th-century ruin of Christchurch Castle, while the ensuing High Street provided plenty of vignettes of 21st-century life that are part and parcel of an urban bus journey.
By the time we reached the Wessex Way, Gary, on his way to attend a course in central Bournemouth, became visibly stressed until a fellow passenger told him he was only a few minutes from the Lansdowne. I'd also become a little anxious about making my connection but ultimately my fears proved unfounded and we pulled into the Square just a few minutes late.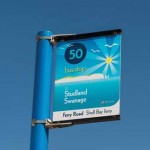 Breezer 50 (Morebus): Bournemouth Square to Swanage bus station via Westbourne, Canford Cliffs Parade, the Sandbanks Ferry, Shell Bay and Studland 9.45-10.45
I took my place upstairs on the Breezer 50 which would take me all the way to Swanage via the Sandbanks chain ferry. It was a bright but brisk September day so I took            the less hardy option of sitting in the covered section, which quickly filled up.
I found myself next to Marjorie, who had lived in Bournemouth for more than 30 years. As we pulled out of the square she voiced her displeasure at the construction work going on in Central Bournemouth. 'Look at it, too many big buildings going up. It's ugly,' she said but was happier to talk about the freedom that the bus service gave her to make a weekly Thursday visit to her friend. 'I'll be there just after ten. We'll have a cup of coffee and a chat then do some shopping and I'll get the quarter past two home in time to see my programmes.'
I knew each leg of the journey would have its highlights but the Breezer 50 route is blessed with many and as the bus travelled down Pinewood Road and into Branksome Chine, we were treated to the first: the beautiful sea vista that opens out in front of you. While it is easy to be mesmerised by the multi-million properties on the route (a tourist attraction in itself), looking seaward reminds you of the real reason the Sandbanks Peninsula is so unique.
As we approached the ferry I moved to the open-top area. I knew this would be one of the legs of the journey to savour and thought how some people are lucky enough to have this as part of their daily commute to work. Geoff, a visitor from Bedford had got on at Westbourne, and was planning to walk to Old Harry Rocks from Studland. 'My daughter and granddaughter live here so we are regular visitors and while they go shopping I go walking,' he said, explaining that the ferry bus provides an easy way for him to get into prime Purbeck rambling territory but still be back for tea with the family.
Once over the ferry on the Studland side I saw areas of Godlingston Heath from the top deck that I'd never seen in my 50-plus years. Geoff got off at Studland village to begin his walk while a mix of locals and visitors got on. The bus travelled on past Ballard Down before entering Swanage via Shore Road and another great view this time of Swanage Bay towards the pier came into site.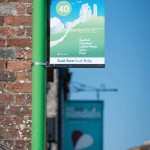 Breezer 40 (Morebus): Swanage bus station to Wareham via Herston, Langton Matravers, Kingston, Corfe Castle, Stoborough 11.05-11.36
While the school term had just begun for many, it looked like the height of the tourist season at Swanage Station and it is easy to see how the restored railway contributes £14 million a year to the local economy. I had enough time between trains to take a walk up and down the platform and thought of my father who worked as a railway porter in the 1940s and who told me about the day crammed-full troop trains had brought the GIs to Swanage in preparation for D-Day. There was little time to dwell on the past though as the number 40 was filling up fast.
Among the passengers was local lady Vera from Swanage who was on a shopping trip to Wareham. Today she was on her own but often she makes use of the bus with her walking chums, a group of ex-Swanage hoteliers who sometimes get the bus back from a walk. 'Last week we walked to Wareham. We had time for lunch and did the charity shops before getting the bus back,' she says. 'The buses mean we don't need to have a car at both ends of the walk.'
The 40 took the 'top' road out of Swanage, travelling through Langton Matravers to Kingston with spectacular views out towards Worth Matravers and St Aldhelm's Head on the left while on the right were snapshots of Purbeck's centuries' old quarrying industry. Eyes right also allows you to see one of Purbeck's most prized views of Corfe Castle positioned between the gap in the Purbeck Hills. Angus, Kerry and their young child Benjamin from Berkshire, who were staying at a local camp site had got on just past Langton.  As we passed through Kingston Kerry said: 'We have a car – and you need one down here – but we use the bus as well and love this route for going to Wareham.'
A few minutes later Corfe Castle loomed into view and I thought what an impact it must make seeing it for the first time. Before we knew it we passing through the village of Stoborough and on the South causeway into the Saxon town of Wareham.
X53 (First Group): Wareham post office to Lyme Regis Square via Wool, Osmington, Preston, Weymouth, Chickerell, Portesham, Abbotsbury, Burton Bradstock, West Bay, Chideock Bridge, Morecombelake and Charmouth 12.09-14.52 £9 return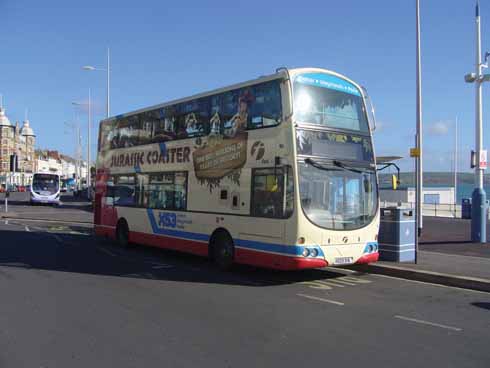 I'd got this far with my Morebus day explorer ticket but a change of bus company meant I had to get my purse out for the first time since boarding at Highcliffe. Knowing I'd be on the bus for some two hours, I settled on the top deck although disappointingly the front seats were already taken.
Boarding the bus at East Stoke, between Wool and Wareham, was Sue, on a shopping trip to Weymouth. She explained though that she sometimes travels the whole distance to Exeter although this entails her husband giving her a lift to Weymouth to pick up the early morning bus, which then allows for four hours in Exeter. 'It's a lovely day out. I've been retired around 10 years and the X53 has been running all that time,' she says (it was introduced in 2003). 'I wish more people would use it like me though.'
Sue disembarked at Weymouth along with most of the top deck leaving a front seat free next to Howard, who had journeyed by rail from Southampton to Poole and then picked up the X53 to go all the way to Exeter. 'I'm going to be on this bus for almost another four hours though,' he says, adding that after Exeter he was travelling on to Plymouth to see friends.
First Group reckons that the X53 Jurassic Coaster is one of the most picturesque bus routes in the UK while Morebus is similarly proud of its Breezer 50 route. On the scenic score, I'd call it a draw. The great thing about the X53 route is that, for those holidaying in the West of the county, it puts so many places of interest such as Chesil Bank, Portland, Abbotsbury Swannery, the Subtropical Gardens as well as villages like Burton Bradstock within easy reach even if you don't have a car. Trevor and Sylvia were holidaying from North Yorkshire and staying in Freshwater Beach Holiday Park in Burton Bradstock. They'd enjoyed a trip to Abbotsbury and a lunch and were on their way back to the park. 'We drive down but then we can leave the car most days on the site,' says Trevor.
The bus pulled into West Bay pretty much on time (I craned my neck to see Broadchurch's DI Hardy's little waterside house but couldn't) and then it was on to Bridport coach station. As we pulled out, I felt relieved that we were within 45 minutes of Lyme. As pretty as the route is, the Wareham-Lyme leg means I'd been sitting on the bus not far off three hours. Mind you, it should be pointed out that the journey also throws in (for free) 185 million years of the earth's history courtesy of its route alongside the Jurassic Coast World Heritage site.
Turning into Bridge Street my journey was almost at an end. Howard, meanwhile had almost another two hours to go and I wished my travelling companion well. While pleased to reach my destination I was also slightly envious of what I would miss on the remainder of the route.
Before heading for the Cobb (the endpoint I'd set in my mind when looking West from Highcliffe in the morning) I checked the timetable and decided to forfeit the last bus home to Wareham in favour of another 50 minutes in one of Dorset's jewels. I could catch the 17.10 from Lyme Post Office back to Weymouth and do the final part of my return leg on the train. It left just enough time for a walk along the parade and a drink to reflect on my journey. ◗
Total bus travelling time Highcliffe to Lyme Regis: approx. 5 hours
Total journey cost: £17.50
End to end journey time Highcliffe to Lyme and back home to Wareham, including waiting for buses and trains: 7.40-19.40: Exactly twelve hours