Going the extra mile
Sue Weekes on the huge variety of community transport schemes in Dorset
Published in February '16
'It gives you your independence back,' says Bere Regis resident Mary Fegan, when asked what the Bere Regis area NeighbourCar scheme means to her. Mary, 82, has impaired vision due to macular degeneration but thanks to the scheme still enjoys an active life. As well as trips to Dorchester Hospital, she uses the car service to take her shopping, attend Wareham Art Club, make trips to the Purbeck Workshop in Wool as well as to see plays at the Lighthouse arts centre in Poole.
'Pauline [Saywell], Diana [Fairhurst] and the others are so much more than drivers; Diana took me to Dorchester recently and she knew I was looking for a particular item of clothing. I sat on a bench while she checked out some of the shops and came back and said: "it's the Edinburgh Woollen Mill you want".'
Bere Regis area NeighbourCar is one of more than 60 voluntary car schemes, dial-a-rides and other community transport initiatives running across the county. Schemes run independently of the council but it does provide a toolkit to help provide guidance on how they could be run and the scheme has a dedicated community development worker in the shape of Erica Pretty. Sue Warr, service manager, early help and programme manager for Dorset POPP (Partnership for Older People Programme) at Dorset County Council, explains that those interested in setting up a scheme can apply for seed funding and get access to the toolkit. 'It is impossible to overstate the importance of these schemes to the county and the contribution those who run them make,' says Sue. And while many of the services are used for medical appointments and hospital visits, she emphasises their importance socially. 'Going to the hairdressers or visiting a sister can be as important as getting to a doctor's appointment in terms of reducing social isolation.'
Those who use such schemes often have mobility problems or health issues but, depending on eligibility criteria, the services can also be used by individuals without any transport themselves or for whom no public transport is available. 'When the bus to Poole was withdrawn from Bere Regis, we could see that many people would be stuck,' says Parish councillor Brenda House who runs the scheme in Bere, and she adds that the service could also be used by a young person trying to get to a job interview. 'Or they may be a widow/widower who has got no-one else and either can't drive or has perhaps lost confidence.'
In terms of fees, schemes typically work by users paying a small annual membership fee and/or a donation for the specific journey or a fee based on 45-50p a mile. Providers have different approaches to charging and also different eligibility criteria and the best central source of information is the Dorsetforyou.com website.
As well as car schemes, there are also a number of minibus services available in the county. Nordcat, based in Sturminster Newton was launched 14 years ago and has four wheelchair-accessible buses with another due to join the ranks shortly. Helen Reed, who was taken on to run the service, explains that it is used for shopping trips, medical appointments and visiting family while its days out to cities and towns such as Exeter, Street (the Clarks Centre) and Salisbury prove extremely popular. 'For some it is the only time they see other people,' she says, adding that firm friendships are often formed on the bus. 'We've even had a romance. We haven't seen the couple for a while as I think they may have gone on a world cruise.'
Nordcat also runs the Purbeck-assisted Shopping Scheme which takes people from Lytchett Minster and Matravers, Upton, Corfe Castle and Wool to Tesco at Tower Park. Sally Wellman, aged 70 who lives in Corfe Castle, is one of those who uses the service regularly. After her husband died it was difficult for her to get to Poole without changing buses and the service is important to her for practical but also social reasons. 'There is a group of us who've got to know each other,' she says. 'We often talk about our aches and pains but also have a laugh. When we pass the fire station, we say "eyes right now". The drivers are great, you get picked up at your door and they'll help you with your shopping.'
Meanwhile, serving Milborne St Andrew and surrounding villages as well as other areas is the door-to-door service, Bus2Go, the brainchild of Margot Kirk. She has her own mobility issues and when involved with an over-50s club saw how many people were excluded from trips out because of the lack of an appropriate vehicle. 'Our passengers range from aged two to 102,' says Margot. Bus2Go hires its buses from Dorset Community Transport (DCT) and takes passengers to shopping centres, garden centres, theatres, place of interest and events.
As well as organising its own trips, Margot believes there is much to be gained by networking with other community organisations so more opportunities can be extended to more people. Last year she was contacted by the local Royal Voluntary Service which wanted to organise a trip for some of its members on the Poole-based Dolphin boat, run by The Friends of Dolphin, a charitable trust formed by the Rotarians. 'I knew that some of our members had this on their bucket list so we organised it together,' says Margot.
As well as offering buses to hire, DCT, part of the national ECT Charity, also runs a number of services in the county including home-to-school, group services for not-for-profits and local bus services. It has around 45 buses in operation half of which are wheelchair accessible. 'Community transport fills the gaps,' says Tim Christian, responsible for operations in Dorset, who adds that DCT recently piloted a bus service from Slepe to Wareham. National charity Age UK also provides community transport options.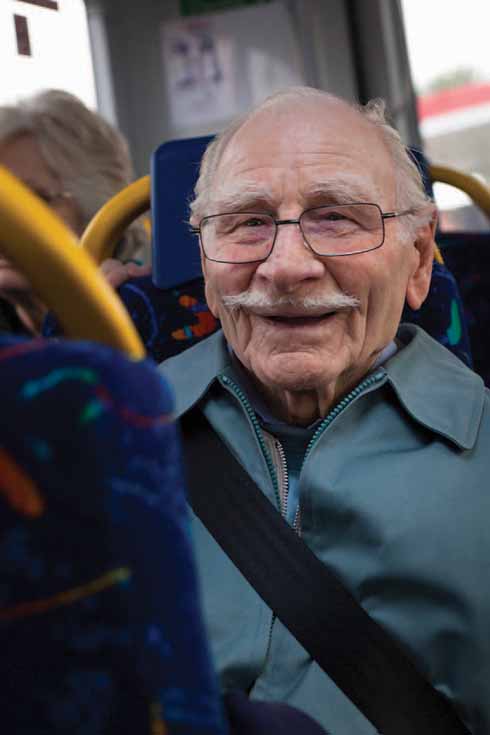 While the biggest users of community schemes tend to be the elderly or those with mobility issues, there are some which target younger people living in rural areas. The Bopper bus has ferried young people from outlying villages to Bridport Leisure Centre on Friday evenings since 2003. The Bopper came about after Chideock Parish council talked to the young people from the villages about what services they wanted. Among them were requests for an ice-cream van, recalls Kate. 'There is no bus service to the leisure centre and in some of the villages, such as around the Marshwood Vale, there aren't pavements so it just isn't safe for children to be on the country roads. It can be extremely isolating for young people.'
The cost is £2 (with discounts for more than one child) and youngsters are picked up and taken to the centre where they play games in the gym and then have a session in the swimming pool. 'Another benefit is that they are able to make friends with children from different schools,' says Kate, who adds that a lot of support and advice has been given by Dorset Community Action and Dorset Youth Association.
Those who currently use the service include Lily Peel, aged nine who attends Charminster Primary School. 'We play dodgeball, football and benchball which is really great,' says Lily, whose parents, Sharon and Tim, are also escorts on the bus. 'We're really pleased with the opportunity it gives Lily. At the end of the school week the children can run off some energy,' says Tim.
Meanwhile Troy Stork, 11, who lives in Morcombelake, has used the bus for the past three years. 'I enjoy the sports the best,' he says. Parents Trevor and Sharon similarly welcome the service. 'Our eldest son Gabriel also went on the Bopper,' says Sharon, who adds that the team behind the Bopper arranged a trip to Dorset Youth Association's 70th anniversary celebrations at Moreton Gardens which Prince Edward attended. 'Gabriel had such a lovely day,' says Sharon. 'My husband and I think the service is brilliant.'
All of the scheme providers we spoke to state that by far the biggest challenge is attracting enough volunteer drivers to meet the demand. Mike Bateman, a former John Lewis manager, runs Beaminster Country Cars, which is one of the biggest and longest running (20 years) car schemes in the county. The scheme did 1300 journeys last year which was more than a 10 per cent increase on the year before. Around 75 per cent of its trips are for hospital appointments. 'And because hospitals are becoming more specialised, the area we cover has expanded,' he says. 'We need more drivers to meet the need.' He says that ideally individuals need to be able to spare a day a week and should be 'sociable and professional'.
Eric Burton, who runs the Wimborne area NeighbourCar, similarly would like to hear from anyone who is interested in becoming a driver. Eric's partner Sue is a POPP champion and set up the scheme three years ago. She persuaded Eric, a retired farm manager to take on the role of co-ordinator and chairman. 'A continuous supply of drivers is required to operate this scheme with 200 clients as many of the volunteers are retired and lead busy lives. They also want to spend time holidaying when they are able to and, like me, they are often required to be on grandparenting duty,' says Eric, who adds: 'Working with older and vulnerable people means the drivers need to be sensitive and understanding.'
Those who run schemes and drive voluntarily are among the county's unsung heroes, helping improve the quality of life of others and combat social and rural isolation. Many are testimony to the old adage, if you want something done, ask the busiest person. Brenda House is a farmer as well as a parish councillor but knows how important it is to make time to run the NeighbourCar service. 'You see the difference it makes to people's lives and you meet really lovely people,' she says. 'We just need more volunteers.' ◗
❱ For details of the community transport schemes available in Dorset, go to https://www.dorsetforyou.com/travel-dorset/bus/community-transport