Weymouth Pavilion
Like a phoenix from the flames it has arisen, says Nick Churchill
Published in January '16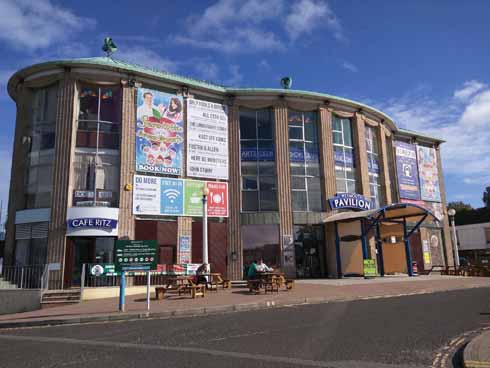 Although he has seen ticket sales more than double since taking over Weymouth Pavilion in July 2013, director Phil Say remains a reluctant figurehead for the entertainment venue's undeniably successful rebirth.
'It's not rocket science,' he declares, 'but if you put on shows people want to see, at prices they can afford, in a clean environment, with a pleasant atmosphere and friendly staff, then you're on the right lines.'
It's a simple enough formula and together with partner Louise Dominey, Phil has guided the Pavilion back into the heart of the community from a point where its demolition was a very real possibility. Their takeover of the building from the council followed protracted negotiations and by the time they signed the lease and got the keys the venue had been closed for six weeks.
'To do what they've done, to go from closed to a million pounds of ticket sales in the time they've done it has far exceeded even the most optimistic predictions, it's an incredible achievement,' says Weymouth & Portland Borough Council's events and promotions officer Steve Davies.
In the first year some 40,000 tickets were sold and this year sales are going so well the Pavilion is certain to pass the most conservative target of 85,000 sales. There's even some talk of topping 100,000.
When the Pavilion reopened there were seven full-time staff and a few part-timers. Today there's a full-time staff of 13, 19 part-time and more than 75 volunteers helping make the experience of visiting the Pavilion the best it can be. The people of Weymouth have returned to their local theatre in their droves with a number of sell-out successes this year including Russell Watson, Ken Dodd and Strictly Come Dancing star Pasha Kovalev; while Bournemouth Symphony Orchestra, Jasper Carrott, Jimmy Carr and the Grumpy Old Women tour all attracted large audiences. This season's pantomime, Snow White and the Seven Dwarfs, has sold well with tickets £3 cheaper than they were in 2013.
'We're incredibly conscious of what the Pavilion means to Weymouth as a whole,' says Phil. 'We have a responsibility not just to the staff that work here and their families, but to anyone involved in the local tourism industry. It's not the best-paid sector and most people don't have a lot of spare cash to spend on a night out so we do our best to provide best value. With the panto, if we can save a family £12 on their tickets then maybe they'll have the bit extra they need for a drink or a toy when they come.
'Then we have something like the South West Rotary Conference that's coming in March. That's 800 delegates for three days and two nights – an extra 1600 bed nights for Weymouth hotels and guest houses in the off-season – and that has to be welcome.'
Phil signed a ten-year lease to run the Pavilion as a not-for-profit Community Interest Company. The rent is fixed at just £1 a year, but the deal also included a £150,000 loan and a fixed annual contribution of £30,000 from the Council from Pavilion car parking income.
'Essentially the plan was to get up and running, steady the ship and start to grow with the loan repayments coming in at Year Five or Six,' explains Phil. 'What's happened is that the honeymoon period we hoped we would get when we reopened has turned into significant and on-going goodwill. People are being incredibly supportive so we are driving towards being able to open discussions on renewing the lease and paying back the loan.'
The Pavilion comprises the theatre with 1000 seats on two tiers, the Ocean Room venue, a café, piano bar, lounge areas and office space, it's a big building, expensive to run, but bursting with potential. The programme is deliberately eclectic and 'pretty much every show wipes its face' according to Phil. Artists and crews are well looked after and shows are settled quickly with fees disbursed and commissions paid.
'There's no reason not to. There are no hidden charges for electricity or what have you, we treat people the way we like to be treated so we'll get the Fijian water that Joan Armatrading requested because she notices that we can be bothered and then goes on stage in a warm, welcoming mood. There's a kettle put out for the crews with tea and coffee, it's the little things that can make the greatest difference, so the artists like coming here, we make it easy for the crew and the booking agents are happy to send shows here.'
Phil knows what it's like to be on the receiving end having taken the rough with the smooth in more than 25 years as a sound engineer working with the likes of David Bowie, The Prodigy and Squeeze. Louise is Weymouth born and bred, Phil started visiting regularly about 18 years ago – 'I think I'm just about accepted as a guest now,' he laughs – and together they set up a successful light and sound hire business when their son Alex was born five years ago.
'It's busy,' says Phil. 'The Pavilion occupies us for at least five full days a week, the other business takes up three days and Alex is a full-time job seven days a week, we have to stretch time to fit it all in but it's a lot of fun. I made a special point of being here recently to see the Moscow Ballet as I'd never seen ballet before. I thought I'd nip in to see the first ten minutes and get back home as Louise was alone with Alex, but I was transfixed by these incredible feats of strength performed with such grace and elegance. Moments like that make all the hard work worthwhile.
'One of Louise's big things is that we should work on the Pavilion, not work in it. So, while we can always nip behind the bar and pull a pint or two, we're most effective looking at how we do things and why we do things. For instance the council used to spend a fortune on plumbers to unblock the ladies' toilets which used to back up after very little use, so we got a builder in and found the waste pipe was running uphill!'
Under the direction of Phil and Louise rapid response to comments on social media platforms including Facebook and TripAdvisor has been made a priority and the policy has been vindicated by a rash of positive reactions to recent redecorations, part of a rolling programme of improvements that will also see the Ocean Room refreshed and a new lighting system installed.
'We love it when someone comes in with a ticket and asks where to go,' says Phil. 'That means they're newbies and it's our chance to show them what they've been missing so they'll go home and tell their friends then maybe they'll come back. It was our ambition to bring the Pavilion closer to the town, to somehow reduce the distance between our front door and the town centre because at times it felt like it was a million miles. I think we've made some progress.'
It's all about the footfall, getting people inside the building so they can see what's going on, making it a part of life in Weymouth once again. From weddings – 11 last year alone – and wakes, to conferences, exhibitions, public safety events and major sporting occasions including the Challenge Weymouth triathlon, not to mention fun runs like the Chase the Pudding Santa Dash, Weymouth Pavilion has provided venues, facilities and technical support where needed. Dorset Seafood Festival now stretches from the Harbourside to the Pavilion forecourt, which is also a venue for the annual Veterans' Weekend in June.
'Nobody can deny the Pavilion was in dire need of an injection of inspiration and entrepreneurial spirit, which is exactly what has happened with Phil and Louise and now the whole town is benefitting,' adds Steve Davies, forgetting the possible exception of the plumbers… ◗
To meet the demands of Edwardian tourists and the town's burgeoning population, the first Weymouth Pavilion opened on 21 December 1908 with curtain up on the first production, Mother Goose, two nights later. Its lavishly decorated auditorium had a promenade balcony and three boxes on either side with a total capacity of 1212. There was also a tearoom and a skating rink.
Initially run by Weymouth and Melcombe Regis Borough Council, in 1914 it was leased to Ernest Wheeler whose father had run the Theatre Royal in St Nicholas Street. He leased the building for 25 years, adapting it to show films in the 1930s.
World War 2 saw the Pavilion closed and requisitioned and although the authorities wanted to demolish the building, it survived only to be damaged in an air raid in April 1942 before being taken over by the Admiralty.
The armed forces proved to be poor tenants and it took two years from the end of the war for the Pavilion to be returned to Weymouth – even longer for it to extract compensation for the damage done while in the care of the nation – before being leased to the Buxton Theatre Circuit and reopened in May 1950 as the Ritz cinema. The following September it was taken on by Melcombe Productions and returned to use as a live theatre.
The revival was short-lived though and the original building was destroyed by fire on 13 April 1954.
Four years later work began on the new Pavilion to a design by Samuel Beverley, the partner of noted theatre architect Frank Verity. It included a maple dancefloor at a cost of £7000, which is still in use in the Ocean Room. The first performance in the new venue starred Benny Hill in Let's Make a Night of It on 15 July 1960.
In common with many seaside entertainment venues the Pavilion has enjoyed mixed fortunes over the decades, with the council's axe casting its shadow on several occasions – as far back as 2001 suggestions were made that a private company or trust could run the building.