Whatever happened to… The Shell House, Southbourne
Linsday Neal on the enduring appeal and ignominious end of a beloved landmark
Published in December '15
A Bournemouth landmark for more than 50 years, it's now almost 15 years since work began that culminated in the demolition of the famous Shell House at Southbourne to make way for a modern apartment block.
Started in 1948 (in memory of his son Michael who died at the age of 14 from meningitis), the garden of the family home on Overcliff Drive of former hotelier George Howard and his wife Sarah was transformed with seashells to create a unique tourist attraction of vignettes including two grottos, a statue of Saint George and the Dragon, a church, lucky fountain, several shrines and a wishing well.
George was reported to have once said he created his uniquely charming artworks because: 'shells are the only things in this world that grow more beautiful after death.'
As well as thousands of shells collected on nearby Southbourne beach, the extravagantly imaginative scenes also incorporated lava rock from Iceland, coral from the Red Sea, Porto Cristo rocks from Majorca, South African quartz and giant clams from the South Pacific. A long held local rumour persisted for years that some highly collectable and no doubt extremely valuable William Morris and William de Morgan tiles were also embedded in the concrete.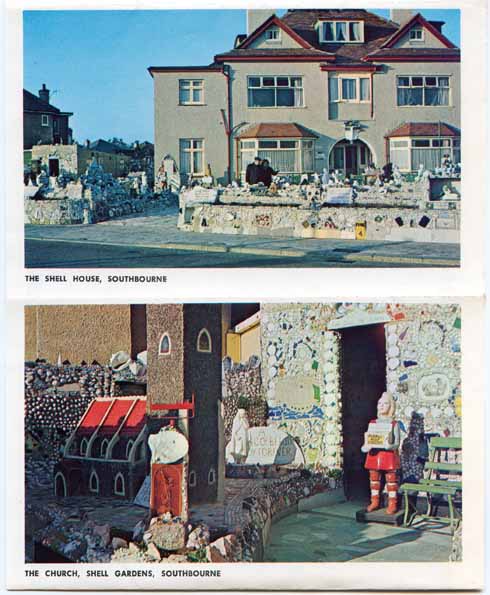 Inevitably the Shell House attracted its share of media attention including an early BBC Radio Solent feature by then cub reporter Peter White, now a regular presenter of Radio 4's You and Yours and the BBC's Disability Affairs Correspondent.
Elsewhere, according to Shell Garden, a 1965 short film by British Pathé, part of the Pathé Pictorial 'English Eccentrics' series, George was a coal miner from South Wales who ran away to sea. Back on dry land and having retired to live by the sea at Southbourne, he started collecting shells and when he had 100,000 of them he started to build his garden. The commentary claims that seventeen years after he began the project he had more than a million shells from all over the world on the half-acre site, including the biggest shell in Britain – a colossal clam from the Philippines that had cost him £50 to transport back to Southbourne.
In later years the giant shell had a sign beneath it inviting visitors to 'Please take a photo of your wee one sitting in shell'.
The garden featured two grottos, the largest about the size of a small garage. On entering visitors were treated to yet more shell decorations as well as further exhibits including records of donations made to charity and a series of framed letters from visitors. The smaller grotto was accessed by a few steps that lead down into a tiny room decorated with Victorian tiles and the inevitable arrangements of seashells.
Outside, all manner of odds and ends were incorporated into the displays, from broken plates and bits of old
china, to stained glass windows and even a piece of fossilised tree.
George never made a penny out of the garden, but the lucky fountain and the wishing well were there to encourage visitors to donate spare change to a range of charitable causes including the PDSA, old people's dinners, Cancer Research and the forerunner of what is now known as Scope. Before long the Shell House had a highly successful fund-raising function and over the years George and his family were able to donate thousands of pounds to charity, including Christchurch Hospital League of Friends, which named the patients' activity centre after George in 1988, two years after his death.
Commenting on an old home movie shared on YouTube, Jean Batty said: 'I spent all my holidays during the late 50s and 60s at Boscombe and would visit the Shell House a few times every year. It was a special magical place for a little girl and I loved it. I tried to find it with my grandchildren a few years ago now I see it's been demolished, sad but unsurprising.'
In a letter published online in 2007, George Howard's granddaughter Carol Mason wrote: 'It was a very special place for many locals, tourists and friends and family of George and Sarah Howard. I myself spent many childhood years at the House and garden, even clearing the wishing well of coins, cleaning and helping to distribute the money to so many worthy charities.
'But during the late eighties and nineties, the garden was constantly vandalised, money boxes that were bolted down [were] broken into weekly and the famous wishing wells emptied of their coins. Statues that grandad had lovingly placed were either smashed or stolen, one being a huge bronze of a man on horseback killing a lion, set in concrete.
'My father [Ray Howard] and the family spent many years after George and Sarah had died trying to keep the garden alive [but] everything in life has a time span. The spirit of the Shell House and my grandfather had been slowly eroded. Believe me, it took incredible strength on behalf of the whole family to end the Garden.
'Maybe we should have made public our intentions to demolish the Garden, but it was hard enough without all the adverse comments and publicity that would have ensued if it had been made known. We made the decision as a family and grieved as a family. It is so heartwarming that even now the public still remembers the Shell House with fondness.'
Carol's father Raymond started to dismantle the house and most of the shells in February 2001. Two years later the house was finally demolished and a block of flats now stands on the site. ◗
❱ Thanks to Andy Foot and the unashamedly nostalgic content of his website www.andyfoot.com for his help with this article.
Credits:
pic 1 and 3 – Alwyn Ladell
pic 2, 4 and 5 – Ann Davey