Wake up Poole!
Katie Carpenter looks at the life and work of Granny Cousins, famous Poole knocker-upper
Published in December '15
If between the summer and autumn of the last 18 years you have found yourself walking through Poole near the Guildhall, at around seven in the evening, you might have rounded a corner to see a group of people standing silently in thrall to a lady dressed in Edwardian clothes. If, like me, you subsequently leapt back in shock with an exclamation, the group will have howled laughing. As you regain your composure, the lady in costume starts regaling the group with tales of Old Poole as she leads them on a ghost walk.
That lady in costume (pictured above) is actress Michele O'Brien and the lady she is portraying is 'Granny Cousins', a very real person in the history of the Old Town. Hers was an occupation that existed for a limited period in late Victorian and early Edwardian times – between the dawn of the industrial revolution when the concept of shift work in artificially lit factories had taken hold, and around the end of the first decade of the 20th century when affordable (to the working man) alarm clocks came into being – the knocker-upper. As a largely rural county, Dorset was perhaps a little slower to let go its traditions and knocker-uppers lasted until after the end of World War 1.
As her name indicates, Granny Cousins was not in the first flush of youth when she was a knocker-upper in Poole, she was approaching what is now retirement age, but which was then simply old age. Her full name was Caroline Jane Cousins, and her working area ran from the Quay to the Gas Works, with her route including Lagland Street, Thames Street, Stand Street, Taylor's Buildings, Emerson Road and the High Street.
The job was as it sounds: in return for a fee (threepence a week in Granny Cousins's case) she woke up workers by tapping on their bedroom window with a stick. It was by definition a rather anti-social job as few were around at that time of day. In some towns it was the lamp lighters and snuffers who would incorporate their work with a little additional income, in others it might be a policeman or a baker's boy looking for extra income.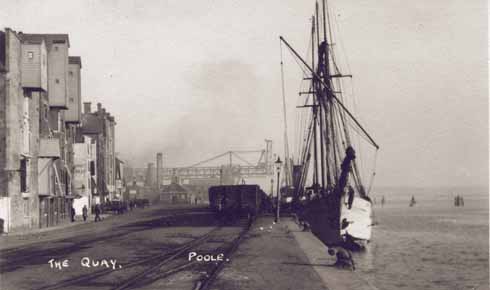 In Poole, though, where work in most of the factories started at 6 in the morning, they would be woken by Granny Cousins. In winter she would start her rounds well before daybreak, winter and summer, dressed in all black with a white bonnet atop her head and a long white apron in front. Granny Cousins also had a lantern with which to light her way and a long pole with which to tap the slumbering workers' windows.
In other towns, methods differed in terms of tools and indeed in subtlety. A famous knocker upper in London in late Victorian times used split peas with a pea shooter to tap of the window, but others used bamboo canes, and long-handled brooms to make an artificial sound on the window pane. Others simply used clubs or coshes to bash on the door. These last had the added benefit of being useful for self defence, although one suspects the neighbours of the people being knocked-up in that way were not pleased. Granny Cousins used to carry a whistle with which she could hail the police if anyone tried to interfere with her.
The honorific 'Granny' was most likely simple a reference to her age in a simpler time when physical appearance was the usual reason for a nick-name and Granny Cousins was in her sixties when she was a knocker upper. There are mixed reports as to her demeanour. Some say she kept herself to herself, but there is documentary evidence that she and local photographer Harrie Belbin – who had a studio in North Street, Poole – used to share the proceeds of postcards of her that were sold as souvenirs to tourists, which is hardly the act of an introvert.
In later life there is no doubt that she had good reason to be melancholy, if not indeed miserable, but she seems to avoided that, despite the travails she suffered over a long and not always comfortable life.
She was the daughter of Benjamin and Sarah (Lovell) Bartlett and baptised Caroline Jane at St. Mary's church, Morden, on New Year's Day 1837, so was presumably born in 1836. Her parents hailed from Lytchett Matravers and had been married for 16 years when Caroline was born. Her mother died when Caroline was ten and five years later Caroline was living with her father, her older (and as yet unmarried) sister Diana, and niece Elizabeth in Morden. Ten years on, at 25 years of age Caroline is lodging with Isaac and Martha Lovell at White Field, Morden where she is described as a nurse and house servant.
She married Joseph Cousins – her senior by three and a half decades – in the early months of 1863. Eight years later, Joseph then 69 and Caroline (35) are living in East Morden, with their six children. Joseph Cousins died aged 78 in 1880 and left Caroline in pretty straightened circumstances. She moved into the Union Workhouse at Wareham, taking sons Thomas and Soloman and daughter Dinah Fanny with her. By the time of the next decennial census in 1891 Caroline had left the workhouse and Wareham, and was living at Scaplins Yard in Salisbury Street in Poole with a daughter, Dinah, and sons Solomon and Owen, the latter a married bricklayer's labourer.
According to the Dorset Ancestors website, Granny Cousins's time as a knocker-upper started around 1901 and lasted a good decade continuing perhaps until as late as after the end of World War I, when she also gave up working at the local twine factory. After her retirement she joined the Salvation Army, a cause she remained faithful to until her death in 1927. She received no old-age pension and she was looked after by the parish and lived in the humble lodgings she had acquired with a friend.
She had enjoyed good health for most of her life, something she put down to always drinking the water she cooked her vegetables in. This was her top tip: 'You put yer piece o'bacon in pot and then when he've a-cooked a bit, put in yer cabbage, then whack up yer dough enough for the family and put he in on top. Tha's Skiver Cake, that is, an' good for'ee, too. But, don'ee drow away the water 'tis biled in. You drink that there an' twill keep away all manner o' diseases.'
At the age of 89, even following her own culinary advice, her strength failed her and she was taken to the local infirmary where she died. Her possessions included a battered alarm clock, which had no doubt accompanied her on her morning rounds.
Granny Cousins is remembered as a colourful Poole character, but hers was a hard if not untypical life. As she was long-lived, she suffered in the most habitual manner for that ailment: she outlived all of her children. If ever she were to have been grumpy, then combine that rather sad fact with the fifteen years of getting up in time to knock up people who had to be at work at six in the morning, and it is not wholly surprising if she did not always come across to strangers as the epitome of joy. Rest in Peace, Granny Cousins, no need to get up tomorrow.
❱ www.micheleobrien.co.uk/granny-cousins.html
❱ http://dorset-ancestors.com/?p=1697