A Dorset life for me
By Roger Guttridge; the illustration is by Becky Blake
Published in December '15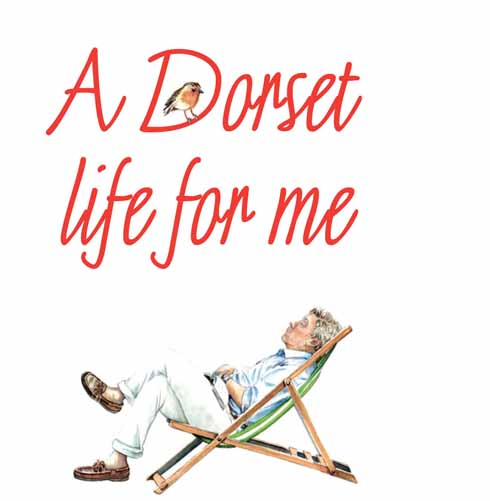 I've drunk there, dined there, celebrated there, even given blood there, but recently I did something else there that I've been meaning to do for forty years. By turning up at Blandford's Crown Hotel at eight-something one Saturday morning, I was following in the steps of hundreds of fellow past-pupils of Blandford Grammar School (BGS) and its successor The Blandford School.
The Crown is, of course, most famous for its days as a coaching inn in Georgian and Victorian times. In its 19th-century heyday, it doubled as a 'general posting establishment', Inland Revenue office and a wine and spirits merchant. It boasted a 'commodious yard and excellent stabling with loose boxes and lock up coach houses', not to mention a 'very superior stud of horses, carriages and private omnibuses'.
The Crown was an official agent for the Somerset and Dorset Railway with an omnibus attending the arrival and departure of every train. And in the unlikely event that your visit ended more abruptly than planned, it even offered hearse and mourning coaches to aid your departure.
It's almost 50 years since the last train stopped at Blandford station. Horses and carriages are in short supply, too, although there is no shortage of fancy horsepower in the car park. But there is one tradition that has survived more than sixty years and that was the purpose of my mission when I made my Saturday morning visit.
When he first took his wife for a cuppa at the Crown one Saturday in September 1952, the month that he started as a PE teacher at BGS, John Paulley cannot have imagined he would still be doing much the same there 3,290 Saturdays later.
The Saturday morning visits became a regular thing, although not always weekly in those days. 'Sometimes it was weekly, sometimes monthly,' says John, now 88. 'It seemed a natural thing on a Saturday morning.'
As word got around back in the 1950s, others began to join him and the remarkable tradition was born. As months turned into years, it became the thing for John's former pupils to do whenever they were back in town. 'Many had moved abroad, were returning to visit relatives and knew I would be in the Crown on a Saturday morning,' he tells me. 'They included people from New Zealand, Australia, South Africa and America. It just went on from there and eventually it was common knowledge that I'll be in the Crown from 8 to 9.30. I intend to keep doing it as long as I can.'
On an average Saturday, there will be three or four visitors, usually ex-pupils but also sometimes others who happen to know John. 'Many times I don't know their names,' he admits. 'And they don't just talk to me but to each other.'
'Has there ever been a time when no-one has turned up?' I ask.
'Very rarely,' was the reply.
I was at BGS from 1961-68 but during my visit I met two pupils from the 1950s, a headmaster from the 1970s and someone from John's home village. In each case we got talking and soon discovered things in common. And in each case the catalyst for this social interaction insisted on paying for the tea or coffee.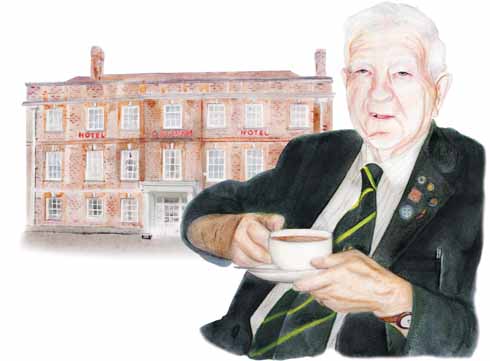 As well as entertaining hundreds of former pupils, John – who spent 19 years as a school counsellor after giving up PE teaching following BGS's closure in 1968 – has also seen generations of Crown Hotel staff come and go. None of the present staff was even born when he first sipped tea in their hotel but the 'staff have always been extremely friendly, helpful and courteous,' he says. Three years ago, to mark the sixtieth anniversary of his visits, the Crown presented him with a teapot and a card promising him a free pot of tea forever.
John usually arrives sporting his favourite blazer with a selection of badges on the lapel. They include the MBE (awarded in 2003 for services to education), a dolphin (presented by a Mayor of Poole for his work with the Education Appeals Committee) and the full FA coaching badge (for which he was examined by Walter Winterbottom, later England football manager).
Despite advancing years and health issues, this remarkable Dorset native (he was born at Holywell and schooled at Bradford Abbas and Sherborne) is possibly the county's busiest octogenarian. While he has eased back on some of his commitments, he remains a member of thirty-two committees and societies including the governors of two schools, Durweston Parish Council (which he joined 58 years ago), the Society of Dorset Men and the Paulley Charitable Trust (which he founded to support Blandford area schools and individuals in need). 'I have to write a lot of letters of apology for absence,' he jokes, referring to the inevitable date clashes between various meetings.
I know few people who have touched more lives than John Paulley, all of them touched for the better. It won't be forty years before I next join him for coffee. Or tea. ◗