Down my way: Apprenticed as a Wareham smith
Hugh Elmes looks at his grandfather's indenture of apprenticeship papers
Published in November '15
My granddad was born in 1881 and died in 1952. When my father was helping to clear out Granddad's house he found his apprenticeship papers and took them home to look after them. When my father – Herbert George Elmes died in April 1993 I in turn was left to clear out his house and I found the apprenticeship and also brought them back home to put in a safe place. 21 years later I found them by accident and I started to wonder how long the Elmes family had lived in Wareham.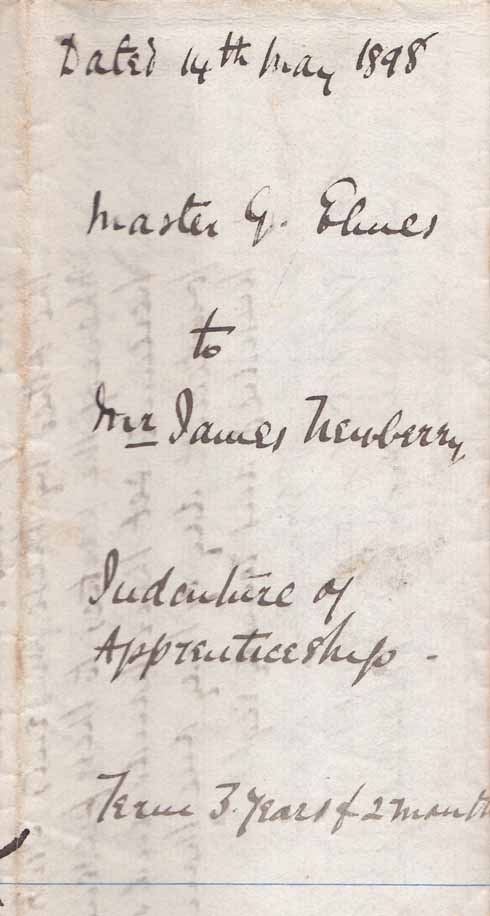 When we were children our parents used to take us for walks on a Sunday afternoon and my father would explain about various buildings. One was a large barn that stands on St John's Hill in Wareham. He said that once it belonged to a brewery and that his grandfather worked for them. As they got bigger they moved to Pound Lane.
He was employed as a Maltster which entailed spreading the barley on the floor. He had to keep raking it over until it started to sprout! Then it was ready to boil in the vats to start the process of making beer. To be a Maltster was quite a responsible job as you had to be prepared to work all hours because if you didn't catch the barley at the right time it could all be ruined!
The brewery sold to Strong & Co of Romsey in 1893. Strong's converted a lot of the property to flats and the yard to a storage depot, supplying ale to all the Strong's public houses in the south of Dorset. The barn on St John's Hill was taken over by Newbery & Sons Blacksmiths and General Engineers but Panton's still kept the top floor and carried on using it as the malthouse until finally closing it down and moving it all to Pound Lane. Charles Lander Elmes was recorded in the 1881 census as working as a brewery man in Pound Lane.
My granddad served a three-year apprenticeship with the Newberys then took a job with Strong & Co Brewery. Strong's closed the Brewery side of the business in 1899 but kept the storage depot at the yard open. Grandfather was then offered a position in Romsey as a blacksmith and decided to take up the offer. A couple of years later he learnt that there was a blacksmith's shop for rent in the courtyard of the Red Lion public house in Gillingham. He wanted to have the opportunity of working for himself and took up the challenge. Whilst in Gillingham he met his future wife Minnie Lilla Gough and married her in 1906. George's mother died in Wareham leaving his father a widower living in a large house at 16 East Street. Grandad and granny decided to move back to Wareham and he was offered a job back with Newbury's. They carried on living with my great-grandfather for a few more years. Then a blacksmith in Trinity Lane called John Prince retired so my grandfather purchased the business where he stayed there until his death in 1952. My father Herbert George Elmes did his apprenticeship under his father. I believe the only things that my grandfather made left in Wareham today is the bracket that holds the sign up for the Fish & Chip shop in South Street and the brackets that support the mast and fish on the top of Lady St Mary's Church. So granddad is still supporting Wareham! ◗