Dorchester Literary Festival
Eric Black on the two authors putting the art of writing at the heart of Dorset
Published in October '15
One of the things about Dorchester being the county town is that one expects pretty much everything to be available there. When authors Janet Gleason and Paul Atterbury sat down to discuss the fact that there wasn't a literature festival in the town most associated with Barnes and Hardy, it was more than idle talk, it was the beginning of a process that within a year would lead to this month's inaugural Dorchester Literary Festival.
Within a few months of their initial conversation, they had not only assembled some internationally heavyweight literary figures from Dorset and beyond to help them in their quest to bring a festival to town, but that had also secured some much needed sponsorship to underpin the financial viability of the continued existence of a festival after the first year, but also begun to elaborate on the basic idea of a 'festival'.
The festival's patron is the international best-selling novelist Tracy Chevalier, author of Girl with a Pearl Earring, who was inspired to write about Mary Anning in her book Remarkable Creatures after a visit to Dorchester's Dorset County Museum, where a number of the festival's events will take place and which is also a strong supporter of the festival.
Baron Kitchener-Fellowes of West Stafford (better known as Oscar-winning writer Julian Fellowes, creator of Downton Abbey) is another supporter, as are Purbeck-based Minette Walters and Dorset historical writer Jason Goodwin, whose On Foot to the Golden Horn  won him the John Llewellyn Rhys prize.
If the supporters are the crème de la crème of Dorset's literati, the various speakers lined up are if anything even better known.
Cerne Abbas's Kate Adie will be speaking about her book War on the Home Front, anarchic comedian Dom Joly will be discussing the felicitous happenstance that led to his being the bane of politicians trying to give serious interviews – as well as anyone trying to use a mobile phone in a train carriage – and a household name.
As a new and unheard-of author, Toby Vintcent's route to publication was rather more difficult than Dom's, but through his perseverance and acquired knowledge of the system he managed to work his way to publication and success. Toby will be talking about his motivation to write about his passion for Formula One, the spiritual guidance offered by his great uncle – who was Dick Francis's literary agent – Toby's dispiriting number of rejections by agents and publishers, his unorthodox route to publication and how, after all that, his book secured critical acclaim and an offer to publish his next two books set in Formula One.
The godfather and godmother of the book trade – Richard and Judy – appear in perhaps less familiar roles when Richard will be interviewing Judy about her second novel, I do not Sleep.
Katie Fforde and Natasha Solomons are in conversation with Thomas Hardy experts Dr Tony Fincham and Professor Barrie Bullen to discuss 'Love and the Literary Landscape: Exploring Thomas Hardy's legacy in fiction today'.     Katie Fforde's latest book, A Vintage Wedding, brings together her love of romance, the pursuit of happiness and the rural landscape. Natasha Solomons' The Song Collector tells with poignancy, lyricism and humour a tale of passion, music, nostalgia and family drama in which the power of song is central. Dr Tony Fincham is ex President of the Thomas Hardy Society and the author of Hardy's Landscape Revisited.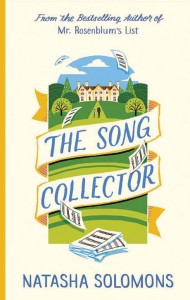 Professor Barrie Bullen is holder of the London Chair of English Literature and Culture in the Department of English Literature at Royal Holloway College and the author of The Expressive Eye: fiction and perception on the work of Thomas Hardy,  and  Thomas Hardy: The World of his Novels
In a rather more literal journey, Tom Fort, author of A303: Highway to the Sun talks about his new book Channel Shore, which follows the English coast from Kent to Cornwall.
In this year of World War 1 commemorations, Allan Mallinson – former soldier, author and The Times chronicler of the Great War – takes up the story from where his award-winning history 1914: Fight the Good Fight with October 1915, Why was victory so elusive?
It is far from doom and gloom, though. As is befitting the fact that festival director Paul Atterbury's mother reputedly based the look of Andy Pandy on him as a young child for Watch with Mother, there is a strong connection to children's literary efforts and this is epitomised by the Short Story Slam for young writers aged 11-16 to encourage children not just to read, but also to flex their writing muscles.  ◗