A Dorset life for me
By Roger Guttridge; the illustration is by Becky Blake
Published in October '15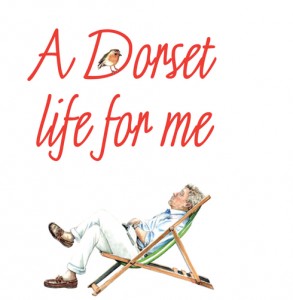 I can't speak for the present generation but in my heyday as a newshound, the emergency services were a helpful bunch, ready and willing to point reporters in the right direction so we could research our stories. So I was especially puzzled by the curtain of silence that was drawn across Dorset one November afternoon in 1974. Only later did I discover that this curtain was loosely linked to another – the Iron Curtain that bisected Europe in those Cold War days.
The tip-off that something big was kicking off came from an unlikely source – my mother-in-law. She worked in Wimborne and phoned to say that fourteen emergency vehicles had raced past the door, sirens blaring, blue lights flashing. I phoned the police expecting to be given details of whatever major incident was unfolding. That's what usually happened. But not this time.
'There's nothing happening that we know of,' said the officer.
'Oh, come on! The place is teeming with emergency vehicles,' I said.
The cop conferred with a colleague. 'We don't know about it,' he reiterated.
I tried the fire brigade. They were always keen to share news of their work. Then the ambulance service. But each time I drew a blank. Now my appetite was truly whetted. It was time for Plan B. I jumped in the car and had gone only a few hundred yards when a fire engine sped past, heading out of Wimborne on the Cranborne road. I followed. At Knowlton Church ruins, we turned left and down to Brockington, where the narrow lane was blocked by numerous emergency vehicles.
I parked in a gateway and wandered through the sea of emergency personnel trying to work out what was going on. The farm was intact and there was no sign of an accident. All eyes were focused on the middle of a field, where floodlights revealed a deep crater. What on earth was going on?
I soon found someone who was willing to tell me. An aircraft had crashed. But not just any aircraft. This was an RAF Jaguar, a brand new addition to the nation's armoury, loaded with technological secrets that were to be kept from the Russians at all costs. Hence the news blackout. And hence the fact that I was the only reporter on the scene.
Having established that the two test pilots had ejected safety, I donned my freelance hat and used the farmer's phone to file a story to the BBC and Southern Television in time for their early evening bulletins. I then cut a deal with a Bournemouth news agency, whose first reaction was: 'Plane crash? What plane crash?'
It was hot news but we never heard the full story. For the next thirty-four years I occasionally wondered about the unanswered questions. Then, in 2008, I received an email from a reader of my historical columns in the Blackmore Vale and Stour & Avon Magazines.
'I recently attended a lecture by a test pilot, who said he had to eject from a Jaguar jet when it went out of control,' wrote David Lanigan. 'It impacted the ground near Wimborne St Giles. Apparently it missed a building by only 50 yards and buried itself in soft ground up to its fin. If you are aware of any details – date, location etc – I would be grateful for any information.'
I could hardly believe my eyes. After more than a third of a century, I might at last get the answers. I sent David my memories of the incident and was put in touch with the pilot.
'The first time I was consciously aware I had been in a crash was in Poole Hospital,' Wing Commander Clive Rustin told me. 'I was still wearing my flying kit but had no memory of flying the previous day. I thought I was in a dream.'
Clive had just taken command of the RAF's A Squadron at Boscombe Down and was flight-testing a new configuration.
'Every time you hang something on an aeroplane externally, you change the way it flies,' he said. 'You have to make sure the aeroplane is fit for purpose and safe to fly at a range of heights and speeds.'
Clive and his co-pilot were flying Jaguar T2 XX136 and his logbook records a 30-minute flight carrying two 1,000lb dummy bombs.
'It was only my third flight in a Jaguar and this flight was to refresh me in the aeroplane and to be seen demonstrating the test techniques we were using. We were told: "Whatever you do, don't spin it!" It went very violently out of control and wasn't recoverable. We ejected at 1,500ft about four seconds before it hit the ground.'
The aircraft buried itself in its own crater, showering the farmer's wife with dirt and debris moments after she got out of her car. As she dialled 999, two parachutes appeared through the clouds. Clive was picked up by farmworkers, who thought he was a Russian, as he was talking gibberish and had a notepad and maps falling from his pockets. He sustained crushed vertebrae and spent a month in hospital. But at least he lived to tell the tale. As did I, albeit decades later. ◗