Dorset walk 2 – Hengistbury Head
Published in September '15
Hengistbury Head is situated on a windswept peninsula which juts out across the entrance to Christchurch Harbour, just before Dorset threatens to turn into Hampshire. When viewed on an Ordnance Survey map the headland and the dunes appear vulnerable, as though they could be washed away by the next storm which has very nearly happened in recent years. In fact Hengistbury Head can boast a remarkable period of endurance evidenced by an archaeological history dating back 12,500 years; hunter-gatherers camped here as they followed migrating herds of animals.
Archaeological digs have established evidence of human habitation throughout and excavations of the round barrows have produced interesting finds; it is believed that for some time the area may have been used as a burial ground, there are thirteen burial mounds around the headland. The large earth mound situated near the Barn Cottage Visitor Centre revealed a pottery urn which contained the cremated human remains of a woman of high status with amber beads and two small gold cones.
By about 4000 years ago, a large settlement had grown up on the headland, archaeological digs have unearthed stone tools and weapons including knives, borers and polished axes. It is believed that pottery was being manufactured on a large scale and some decorated examples called groove ware which are typical of the Stone Age have been found.
It was during the Iron Age when mankind really left a mark. The Iron Age people who settled here were attracted by the ironstone boulders or doggers. The iron ore was smelted in clay ovens and used to produce tools, weapons and ingots. Already an easily defended area, for as sea-levels rose the headland became bordered by water on three sides, Iron Age settlers further fortified the site by building a ramp and ditch defence in the form of a pair of ramparts known as the Double Dykes across the western end. There is evidence of several furnaces for smelting ironstone on top of the headland where strong winds could be drawn through the fires to create the high temperatures needed to smelt the ore. Iron was hammered into ingots, farm implements, nails, knives, swords and spears. The ingots were traded in exchange for food and pottery at nearby settlements along the River Avon and River Stour. Axes discovered at Hengistbury have been found to have originated from Brittany and a very rare design from Sicily. By the end of the Iron Age period Hengistbury had developed into one of Britain's most important trading ports with the continent.
There were settlements here up to the 5th century when the Saxons moved up river and founded Christchurch. Christchurch Harbour is the estuary of the confluence of the Avon and the Stour that meet at Christchurch and flow through the town and to the sea.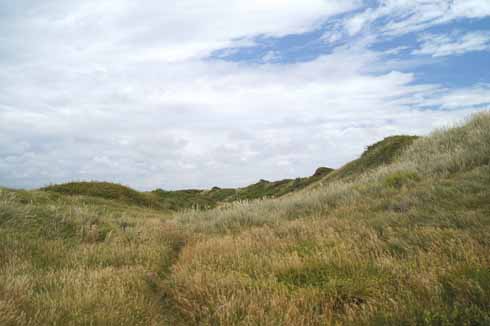 Victorian industrial activity at Hengistbury Head had a devastating impact on the headland. In 1848 Mr J E Holloway, a Southampton coal merchant, obtained a lease allowing him to remove ironstones from the shore and sea bed; tons of ironstone doggers were removed and shipped off to iron-smelting works in South Wales. Within 30 years approximately one third of the headland was lost; the area became exposed and, with the removal of the hard rocks that had formed a natural defence, was threatened by the erosive force of the sea. As local people began to notice significant changes to the shape of the headland, an enquiry led to the discontinuation of quarrying along the shoreline, instead a large opencast quarry was created on Warren Hill, this too ceased in 1870. In the 1970s the quarry was dammed to create Quarry Lake.
Hengistbury Head, also known as Headnesbury, had been a private estate in the past and not always available for public access; at one stage it belonged to Sir George Meyrick before famously becoming the property of Harry Gordon Selfridge.
Mr Selfridge, born in Wisconsin, came on a visit to London in 1906 and quickly realised that the UK retail market was considerably behind the times and decided to bring the latest innovations from the US to Britain. Never one to approach projects on a small scale, Selfridge had his 50,000 square feet store on Oxford Street built and opened by 1909 at a cost of £400,000.
In 1916 at the height of his success, Selfridge took a long lease on Highcliffe Castle which he used to lavishly entertain his wealthy friends. Never a man for understatement, in 1919 Selfridge persuaded Sir George Meyrick to sell him Hengistbury Head and announced that he intended to build 'the largest castle in the world' and he employed the renowned architect Philip Tilden. Famed for various projects of work for prominent society figures such as Winston Churchill and Lloyd George, Tilden drew up plans for a house which included 250 guest suites of rooms, also studios, laboratories, observatories and libraries. He designed a central hall staircase which was to be topped by a dome which nearly matched the size of the dome on St Paul's.
Following the death of his beloved wife from influenza in 1918, Selfridge became increasingly reckless with his fortune and it suffered. It is alleged that during the decade after his wife's death he spent his £60 million fortune and by the time of the Wall Street Crash in 1929 he could no longer support his lavish lifestyle. In 1930 he sold Hengistbury Head to Bournemouth Corporation. Selfridge spent the remainder of his life in relative poverty and is buried next to his wife and mother in St Mark's Churchyard in Highcliffe.
Now owned and managed by Bournemouth Borough Council, Hengistbury Head is acclaimed for its wildlife and is protected as a Site of Special Scientific Interest, a Special Area of Conservation within Europe and the 12,500 years of settlement is protected as the headland is designated as a Scheduled Ancient Monument.
Distance:  1½ – 2 miles
Terrain:  Gravel & tarmac paths with one steady incline & some steps.  There is a Land Train available from the Hiker Cafe to Mudeford Sandspit daily 10am to 5pm.
How to get there: From A35 to Southbourne – follow B3059 and signs to Hengistbury Head.
Parking & Start:  (Grid Ref 163912) Park in the Hengistbury Head car park (Pay & Display).  Start by leaving the car park and walking south towards the sea and turn left at the Double Dykes.
Maps:  OS Landranger 195 Bournemouth and Purbeck, Wimborne Minster and Ringwood; OS Explorer Outdoor Leisure 22 New Forest – Southampton, Ringwood, Ferndown, Lymington, Christchurch, & Bournemouth.
Refreshments & Toilets: Hiker Cafe, also toilets at Hengistbury Head Visitor Centre.

THE WALK
1 Begin the walk at the Hengistbury Head cafe car park and follow the path towards to the sea – this gravel path is parallel to the Double Dykes walls. Turn left at the sea and follow the tarmac track which gradually ascends to a triangulation point at the top of Warren Hill. On the route up Warren Hill pass a small circular pond which is home to the Natterjack toad.
Also pass Quarry Lake, the old site of Holloway's ironstone quarry which was dammed and now attracts significant wildlife.
2 Continue across the summit, keep to the right path and pass the deserted coastguard station and continue to the end of the cliffs for a view across to the Needles. The path curves around the headland and then descends steps.
3 At the bottom of the steps the walk can be extended by walking along the sea-side of     the beach huts to the end of the spit – a small passenger ferry runs across to Mudeford Quay.
There are approximately 300 beach huts along the spit – famed for their high marketable value – currently one is on the market with a price guide of £200,000.
4 At the base of the steps follow the road as it curves to the right passing the freshwater marsh and lagoon.
The road passes next to the Visitor Centre containing interesting displays, a gift shop and a stunning wildlife garden.    Continue along the road to the car park. ◗