The Stour to the sea: part one
Dorset Life's very own Old Man River, Roger Guttridge, explores the upper reaches of Dorset's main watercourse from Bourton to Kings Mill
Published in August '15
Although it starts its meandering journey in Wiltshire, the Stour is in all other respects a Dorset river, although only since 1974, when local government reorganisation transferred its lower reaches – together with the boroughs of Bournemouth and Christchurch – from Hampshire. The river's source, of course, is in the glorious surroundings of Stourhead, but anyone expecting a comparably grand backdrop for its entrance into its true home county two or three miles to the south will be disappointed. As it crosses the county boundary at Bourton, the Stour is greeted by perhaps the greatest eyesore in the whole of Dorset – an unsightly 1.4 hectares of derelict industrial buildings, rubble and graffiti.
It wasn't always that way. Peering through the fencing and vegetation at the rear, I glimpsed the surviving millpond (more of a lake really) and imagined how contrastingly picturesque it might have been when there was traditional milling here in the distant past. By the mid-nineteenth century, it had become a flax and sack factory employing 200 people and powered by the biggest water-wheel in Dorset with a diameter of 60ft. On the gateposts of a nearby driveway, two hand-grenades carved in stone remind us that during the First World War, Bourton Foundry added three million Mills bombs to a production line that had also included boilers and engines.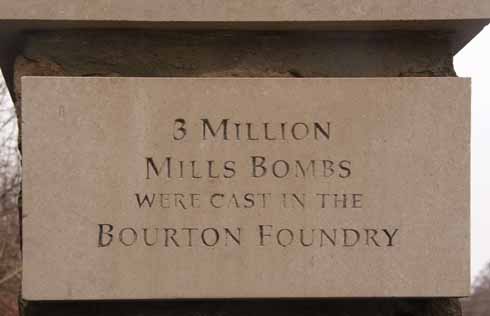 Production ended abruptly one night in June 1917, when eight inches of rain in twenty-four hours caused the upstream Gasper Lake dam to burst and unleashed a flash-flood that washed away bridges, farm animals, fields of freshly cut hay and hundreds of tons of foundry fuel and machinery. Although some riverside cottages at Bourton were flooded to roof level, there was – miraculously – no loss of human life, and even some pigs managed to swim to safety.
By the time Monica Hutchings made her 1950s journey from sea to source, the foundry had long since given way to a milk processing plant. In 'Dorset River', published in 1956, she describes the premises of Wilts United Dairies as a 'model affair, all chromium and concrete, with tennis courts for its employees and watercress beds as a sideline'. What's left of the concrete is now crumbling and defaced, the chromium rusted, and you'd be hard-pressed to find a tennis court or a sprig of watercress. Even the Stour itself takes some finding: it can be heard but not seen after taking to a culvert that runs under the old factory and beyond.
It's not a pretty sight but there is hope. In a 'small world' moment, my arrival at Bourton coincided with the visit of three developer-types, who eyed me suspiciously as I approached with notebook, pen and camera. They probably thought I was a local objector about to give them grief. When I explained my purpose, one said, 'Hello, Roger.' It was an old classmate from 1960s Blandford, who explained that there were plans to redevelop but that some people objected. I couldn't help but think that anything would be better than the present blot on the landscape.
From Bourton, our fledgling river trickles down to Silton, where its modest proportions can be observed from a little humpback bridge. Further downstream, there are tributaries carrying more water than the mother river does at Silton, where it has yet to feel the benefit of the Blackmore Vale's voluminous run-off. If you're familiar with the Stour's lower reaches, it's hard to believe that this is the same beast.
Silton the village is equally modest, but if you've ventured this far, it's worth continuing to the 15th-century church, especially on a clear day, as the churchyard offers fine views. In an adjoining field Judge Wyndham's Oak spreads its ancient branches. The judge was Sir Hugh Wyndham, a Justice of the Court of Common Pleas, who lived here and died in 1684. His oak, whose shade he enjoyed, has already survived him by 331 years, though even at the time of Sir Frederick Treves' visit for his Highways and Byways book a century ago, it was a 'battered and distorted giant over 30ft in circumference'. It survives today as the elder statesman amid a few dozen saplings of various deciduous species.
The fledgling Stour not only gives Milton-on-Stour its name but is perhaps the village's greatest asset as it divides and flows picturesquely through the gardens of elegant houses. A few fields away is Purns Mill (formerly Parham's after past owner Matthew Parham), which the great John Constable painted or sketched four times in 1823–24 while staying at Gillingham Vicarage with his friend, Archdeacon John Fisher. When the mill burned down two years later, Fisher told the artist it now existed 'only on your canvas'. Time has done little to mellow the old mill's 19th-century replacement, described by Fisher as 'a huge, misshapen, new, bright, brick, modern, improved, patent monster'. It is owned today by Philip Murray, a descendant of the Matthews family, who ran Wyke Brewery until they sold to Hall & Woodhouse in 1972 and used Purns Mill for the malting of their barley. Until 2003, it was also G B Matthews' animal feed factory. The buildings are now used mostly for storage.
Purns Mill sits not on the Stour but the first of its major tributaries, Shreen Water, which rises at Mere. Philip Murray told me the Shreen used to contain much more water but extraction has taken its toll. The two streams flow almost parallel until they meet behind Waitrose at Gillingham, where the slightly larger Shreen is often mistaken for its future partner as it passes the Town Mills site a few yards upstream.
Treves called Gillingham a 'sprawling, uninteresting town, with a drab church too large for it, and many new red brick houses which are elemental in their ugliness'. The royal surgeon appears not to have noticed the Town Mills which, to modern eyes, were the townscape's saving grace. Constable obviously thought so, as he painted both Town Mills and Town Bridge as well as Purns Mill. From 1769 until 1895, a silk mill adjoined the grist mill, the former employing scores of girl apprentices from the London workhouses to 'learn the art and mystery of a silk throwster'. The mill buildings were destroyed by fire in 1982 and the site redeveloped. A three-storey apartment block graces the site today, and could at first glance be mistaken for a prison, its residents protected from mishap by bars at their windows, its structure half-surrounded in moat-like fashion by the Shreen complete with artificial floodplain.
After Gillingham, the river gives its name to the next three villages – East Stour, West Stour and Stour Provost. In these parts there is or was a mill at almost every turn, though some have fared better than others. West Stour Mill (which is technically in East Stour, as the river forms the parish boundary) survives as a semi-derelict storehouse along with the remains of its wheelhouse. It's at least two generations since the wheel turned and it was a dairy farm until recently. Eighteenth century visitors no doubt included 'Tom Jones' author Henry Fielding, who lived at East Stour and based his character Parson Adams on local clergyman William Young.
Fifehead Mill at Fifehead Magdalen comprises three buildings in various stages of ruin. It's known locally as the 'silk mill', which it may have been, but from farmer Peter Wade, I learned that in the 18th century it was a fulling mill for a factory that made coarse woollen clothing. This was almost certainly swanskin, produced exclusively in the Blackmore Vale for the army, navy and Newfoundland fisheries until the early 1800s, when competition from the cotton mills 'up north' wrecked the industry. Peter's farm across the road is still called Factory Farm.
As the Stour curves towards Stalbridge and is joined by the Cale-Bow tributary system, we reach West Mill, geographically closer to Marnhull but called Stalbridge Mill in the earliest OS map in 1811. It's not only the Stour's most westerly mill but the only surviving full-time commercial mill on the entire river. Its wheel has not turned in anger since 1946, when land drainage for agriculture meant there was insufficient water to drive it year-round. The diesel engine installed then is still in use, powering the stones that grind grain for C C Moore Ltd, suppliers of animal feed, pet food and fish bait. A little of the grain is used to feed the resident swans and a flourishing fish population.
In peaceful contrast to both the wreckage of Fifehead Mill and West Mill's busy working environment is Kings Mill beside the Stalbridge-Marnhull road, redundant but perfectly preserved, along with its equipment, as a grade II listed building. The present building dates from 1830 but there's been a mill here since at least 1250, when a scribe at Glastonbury Abbey referred to 'Robertus of Kingesmulun' – Robert of Kings Mill. Nearby Kings Mill Bridge is equally historic and retains the plaque threatening transportation for life to anyone 'wilfully injuring' it. Beyond the bridge, yet another substantial tributary, the Lydden, further swells the flow as the Stour heads for its next port of call, Cut Mill at Hinton St Mary. ◗