Taste of Dorset – Woolsery cheese
Jess Thompson visits Up Sydling to talk goats with Woolsery Cheese
Published in July '15
Annette Lee can be quite serious about the business of cheese making. After all, it's a vocation requiring great skill, drive and tenacity. But ask her about the goats who provide the milk and she visibly melts. 'They're like naughty children, very intelligent; they can be affectionate. Lots of different characters really. The naughtiest are the brown British Toggenburgs. They'll watch you and learn how to undo knots, let other goats out and generally get things totally muddled up.'
Annette is indisputably an expert. For although she no longer has her own 500-strong herd, she's one of the stars of cheese making in Dorset, where, despite originating from Birmingham, she's been working in her three-roomed dairy nearly 20 years. In 2013 a new soft goats cheese she'd invented, 'her Nanette' as she fondly calls it, won Gold at the British Cheese Awards. When I visit her she proudly shows me the trophy: a small cheese iron sticking out of a beautifully honed piece of wood.
'I didn't actually get to go to the ceremony though,' she says, rather wistfully. 'I hadn't booked to attend the event and they phoned me about 5pm to see if I could get to somewhere in Oxfordshire that evening. There was no way I could do it in such a short time.' She pauses, then grins, 'so I received it by post.'
It's a modest way to receive such a prestigious award, and entirely indicative of Annette's nature. Petite and quietly spoken, her dark hair tied in a ponytail under a blue hair net, she carefully considers each point she makes, the difficult issues she's faced made lighter by her frequent giggles.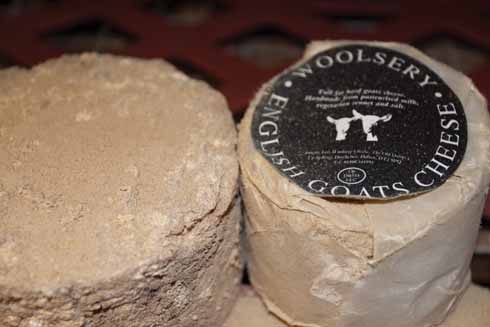 Woolsery Cheese began in 1996 when she decided to make the move from breeding and running her herd to making her own cheese. 'A customer cancelled a huge order and, because I'm naturally a problem solver, I decided that the way to stop that happening again was to use the milk myself.' So she sold her goats and within a few years had moved from Devon to Dorset, establishing her dairy in a tiny hamlet at the head of Sydling Water, ten miles north of Dorchester. 'When I arrived there was also a farm shop, including a butcher, a celebrity chef and two vegetable growers who rented land to farm. Now it's just me.'
With her neighbours mostly gone I ask if she ever gets lonely, but she says no. 'I sell at farmer's markets and other local events, where I love meeting people, and I have loads of contact with the delis, farm shops and wholesalers I supply. I suppose some days at the dairy it can be quiet, but I quite like that. I'm also a member of the UK's Specialist Cheesemakers' Association and that's a little club that sticks together. We have meetings and farm visits. It's like a busman's holiday.'
Talking to her, you can tell she relishes the working life she has today. But at one stage things were very different. 'In 2002 I began supplying my cheese to supermarkets: Waitrose first, then Sainsbury's then Tesco. They sold what I could produce, so we started in just a few of shops, but over time expanded until Woolsery Cheese was available pretty much across the South West. By then I had six staff and we were making cheese every day of the week, producing over half a ton a month.'
I ask what her biggest order was. 'Waitrose once ordered 6000 of my mini goats cheeses,' she smiles. 'I managed it. But the problem with supermarkets is that they don't want to pay what an artisan product is worth. We worked very hard but in the end were only managing to break even. So after the recession I made the decision to start pulling out of multiples and not replace staff as they left.'
The decision to pare back her business was clearly a sensible one, not least because the industry is currently experiencing a shortage of goats' milk, meaning its price has rocketed. 'I still have a local supplier, which is great, but he also supplies others in the cheese-making business and they're prepared to fight and pay more for the milk, so it's become a bit of a nightmare.
'There were once lots of small goat farmers, but they were probably not earning enough money to stay afloat because the feed and everything has become very expensive. So they've had very attractive offers to sell from some of the big companies who've got their own herds they want to grow. These are the ones that turn out tons of goat cheese to supply into the supermarkets. Also lots of the milk is now going to China who are paying top whack for it.'
Today Annette produces about half a ton of cheese a quarter, roughly 100 two-kilo truckles. 'To make a batch takes a day: pasteurising the milk, carrying out all the procedures then getting it into a mould to press. After that it takes on average three months for the cheese to mature, although it can take longer.'
I ask if the skill of a cheese maker is akin to that of making wine. She laughs. 'The taste of your cheese is all down to your starter culture, your temperatures and your timings. The practical skill is in the making, knowing the milk and handling the curd. It's the way you cut it, chop it, mill it or not, squeeze it or press it. And I know what I like to taste and that's how I make my cheese.'
Given that Annette still works on average a 50-hour week, the life of an artisan cheese maker is not an easy one. 'But I love it,' she says. 'I've enjoyed the whole experience: the markets, the cheese making, the experimenting side of it: looking at different recipes, trying out different things. Once you get hooked, it's so interesting it's very hard to give up. It would only be ill health that made me.' When I ask her if she'll still be doing it in her seventies, she nods. Her eighties? 'I hope not,' and once again, there's that endearing giggle. 'I'd like to pass the business on to someone, one day, maybe. But not yet.'
We end by returning to her favourite subject, the goats. 'Yeah, I love goats. I used to miss them and it would be lovely to have some again, but it really was hard work. I've thought about having a couple, but decided, too much to do as it is.' ◗