Jess of the dairy fields
By Jessica Miller: the illustration is by Becky Blake
Published in July '15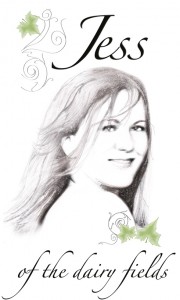 The glorious summer is in full swing. I am sitting on a sun lounger at the top of the garden, listening to the drone of blowsy bumble bees and enjoying a glass of iced Pimms. The horses are dozing in the shade of the oak tree, resting their hind legs and whisking their tails at the flies. Beyond them, Bulbarrow hill lies majestically shimmering in the heat of the afternoon sun. Hang gliders float dreamily across a cloudless sky of the deepest blue and a tractor engine turns over in a distant field.
The stunning cinema adaptation of Thomas Hardy's Far From The Madding Crowd, has prompted a surge in Bed and Breakfast bookings. We have had the busiest July on record. People from all over the country are visiting, to experience the unspoilt, timeless splendour of rural Dorset.
Carey Mulligan, who played protagonist Bathsheba Everdene, said that she found the countryside 'distractingly beautiful' during filming; I have to agree with her.
Last week, a family of four from London came to stay. Their travel itinerary was pre-planned with military precision, and included a pilgrimage of Hardy's birthplace, and all his old haunts.
On the first morning, they set off bright and early, fortified by a full farmhouse breakfast. They returned at dusk, by which time the two children, aged 7 and 10, were fast asleep in the back of the car.
Their parents, Marcus and Sarah, were in high spirits having spent the day visiting Hardy's Cottage at Higher Bockhampton and numerous other places on The Hardy Trail, including Beaminster, Bridport, Melbury Osmond, and finally passing through Marnhull, where they had supper at The Crown Inn (The PureDrop Inn in Tess Of The d'Urbervilles).
The weather forecast for the following day was glorious sunshine again and, mindful of the children's longing to go to the beach, they asked me to make a picnic to take with them.
I promptly donned my apron and made a cheese and bacon tart, chicken liver pate, and Scotch eggs.
I was up with the lark next morning, making sandwiches and cooking Kune Kune sausages. which I wrapped in foil to keep warm.
The children were besides themselves with excitement when they came down to breakfast.
Marcus and Sarah had promised to buy them buckets, spades and snorkels. Lily asked them if they had ever been crabbing. They hadn't, but they almost went into orbit when she told them what fun it was. Crabbing lines and bait were added to the list of beach essentials.
I gave Sarah my mobile number in case she wanted to call to book an evening meal, and we waved them off just after 9am. The sun was already high in the sky promising a scorching day. I decided to water the garden before I walked the dogs, as it would be too hot when I returned.
By the time I'd finished watering and put my trainers on, Frog and Bandit were hopping from foot to foot, desperate to set off, but Gordon the Jack Russell was no-where to be seen.
I walked to the top of the garden and called him, but alas, my efforts were in vain. Terriers' disobedience and flagrant disregard for authority is well documented and Gordon is the epitome of insubordination. Were he human, he would be a rambunctious, cockney wide-boy. He is constantly breaking the rules, feigning deafness, swearing at the cat, and cocking his leg in the kitchen. Along with these unappealing attributes, though, he is also possessed of the most extraordinary charm and has an unerring ability to coax a morsel of sausage from even the most flint-hearted guest.
His favourite new haunt is Whitmore Coppice, where I have found him chasing rabbits on several occasions, so I walked up there, calling his name, fully expecting to see his foxy black and tan face appear out of the undergrowth, but my voice echoed in the silent woods and I was assailed by a feeling of deep foreboding.
I remembered the recent article about dog-napping in the local newspaper. Gordon would be a prime candidate. He is almost indecently handsome and has charisma by the bucket load. I ran back to the house and phoned every household in the hamlet. No one had seen him. By the time Jasper came in for lunch I was in tears. I had phoned the Police and the dog warden to no avail.
'He's been stolen,' I sobbed, imagining the canine equivalent of the Child Catcher skulking in the hedgerow with a net, as dear, trusting Gordon trotted over to say hello. I imagined him stuffed into a crate, bewildered and terrified before being driven to Scotland and used as dog bait.
My phone pinged, signalling a text message. It was from an unknown number.
"WE HAVE GOT YOUR DOG!"
I knew it. He'd been dognapped.
There was another ping. Jasper picked up the phone. There was a second pause before he snorted with laughter and turned the screen to face me.
There was Gordon, sitting on a striped deck chair, smiling suavely at the camera. The cliffs of West Bay formed a stunning back drop.
Another text message appeared.
"HE WAS IN THE BOOT WITH THE PICNIC WHEN WE GOT TO THE BEACH. HE'S EATEN ALL THE SCOTCH EGGS AND SAUSAGES."
Oh Gord….. ◗