Dorset walk 2 – Ashley Chase
Teresa Rabbetts ventures into one of the prettiest areas in the county
Published in July '15
Amongst the noise and rapid pace of the 21st century it is hard to find space where you can be alone and experience real peace, but in a beautiful coppice, above a small ravine are the fragments of a small deserted chapel and this is just such a place to experience true silence away from the frantic world. Only the west gable-end wall of St Luke's Chapel remains standing and it has been open to the elements for many years, but the greenery and growth of the trees forms a lush canopy giving a living, green, atmospheric sensation of being in a natural place of worship. Although frequently visited, if you chose the right time to go (avoid weekends and Bank Holidays) you can find yourself entirely alone and far from the madding crowd in this ancient place.
On route to Chapel Coppice is Abbotsbury Castle, an Iron Age Hill Fort. The ramparts occupy a dominant position overlooking Chesil Beach and Portland but also have fine views in-land. There is evidence of occupation in the presence of circular hollows in the south-east area of the hill-fort which may have been platforms for circular huts but, although there have been various interpretations of the monument including the idea that some of the features in the south west section which cut into the Iron Age ramparts may have been a Roman signal station, none has yet been proved by excavation and to date interpretation of the site is based on comparison and excavations of other hill-forts.
Part of the joy in walking Dorset is in coming across the unexpected, and the lush vegetation of Ashley Chase has a profusion of the surprising and the beautiful. In springtime, orchids, despite their reputation for being rare and exotic, flourish through the Chase, along the banks of the pathways there are bright patches of the early purple orchid. Close by the woods are covered with a blue shimmering haze of English bluebells, thankfully isolated enough not to have been hybridised by the Spanish bluebell. The woods themselves are filled with strangely shaped trees which at first glance have the appearance of mythical beasts. The edges of the small stream that runs through a deep mossy clad cutting are covered in violets and primroses.
St Luke's Chapel, northwest of Abbotsbury, was built by monks from Netley Abbey on land given to them in 1246 by William of Litton, in exchange he asked that perpetual prayers be said for him. The Cistercian order was founded in 1239 near Southampton, they lived a simple life that was committed to manual labour and self-sufficiency, they were never a rich or influential establishment and Netley's brief history was ended by Henry VIII during the Dissolution of the Monasteries. As dedicated farmers and labourers it is likely that St Luke's was built for the use of a small Cistercian community who began to work a farm in Ashley as well as to serve the medieval village of Sterte (Sturthill). According to author C J Bailey in his book The Bride Valley: 'the chapel of St Luke was served by parsons from 1240 to 1545 when it became so impoverished that the living was left vacant. Whatever the reason, by approximately 1545, both Sterte and the Chapel were abandoned and St Luke's descended into ruin.'
Sir David Milne-Watson was a Scottish Industrialist and managing director of the Gas Light and Coke Company (now British Gas), he and his wife Lady Olga discovered and fell in love with the ruined chapel when they owned the Ashley Chase estate and they brought in workmen to conserve what little remained, commissioning the addition of an altar and cross. Sir David and his wife chose to be buried in the little chapel and their memorial stones can be found on the west wall.
In 1939 the Milne-Watsons played a notable role as benefactors to a Jewish family trying to flee Europe to travel to America; at this stage the general attitude of the British aristocracy toward Germany tended to be favourable and so the fact that the Milne-Watsons offered assistance was quite remarkable.
Gustav Broessler had been arrested on Kristallnacht but was released, so the family, realising that their lives were in danger, made plans to emigrate to safety. They began by sending their two daughters to friends in the Netherlands which had remained neutral in World War 1 and where they believed they would be safe; Gustav and his wife Thekla planned to join their daughters where they would all wait to obtain visas to travel to the United States. Before they could finalise their plans, the Dutch stopped further immigration and closed their borders leaving the family separated and stranded.
In England, the Broesslers' former housekeeper and nanny, Mitzi Ponlechner was working as a cook for the Milne-Watsons and when she learnt of her former employers' situation she asked the Milne-Watsons if they could assist the Broesslers to escape. They managed to obtain entry permits for Gustav and Thekla who left Austria and travelled to England as quickly as possible where they lived in a gardener's house on the Ashley estate. The Milne-Watsons attempted to use their influence to reunite the family by bringing the girls out of the Netherlands to England, but by now Poland had been invaded and this time they were unable to overcome the bureaucratic hurdles; it was not until 1947 that the Broessler family were finally brought back together.
Distance:  2½ miles
Terrain:  Mixed terrain – track, farmland and tarmac – some uneven areas with muddy stretches. Ends with long steady climb back to parking area.
Start:  Leave Abbotsbury towards Bridport on the B3157.  After approximately 1 mile at the top of the hill turn right, signposted Ashley Chase.  Passing through Abbotsbury Castle, the road descends; continue on this single track road for about ½ mile and park in the area (SY557872) just before the signs marked Private – Ashley Chase Only.  Walk begins on the track on the left – north.
Parking:  Limited parking for a few cars – be aware that farm vehicles need to pass by.
Maps:  OS Outdoor Leisure 15 – Purbeck and South Dorset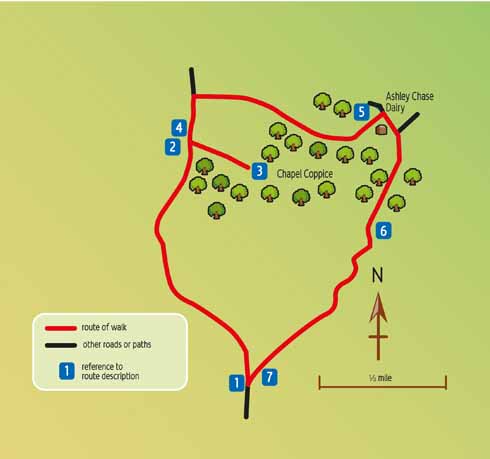 THE WALK
1 Leaving the parking area take the gravel track which goes in a north direction.  Follow the track downhill, gradually a wooded area, Chapel Coppice comes into sight on the right.
2 After approximately ¾ mile from the start there is a gate into Chapel Coppice – follow the footpath through the trees and alongside a small stream until the arch of the chapel comes into view.
3Return to the main gravel track along the same path.
4 Continue the walk along the track until it begins to drop downhill and reaches a junction of three gates – go through the gate on the right, which has a blue footpath marker on the gatepost, into a field.  Cross the field, keeping the hedge on the right, and continue straight on and through the next gate, now with the north side of Chapel Coppice on the right.
5After the next gateway the path becomes a concrete road which leads quite steeply downhill to Ashley Chase Dairy.  Pass through two gates and follow the concrete path to a junction between two cottages, turn right and follow the road to a 'Y' junction – turn right again, now walking south west direction.
6The path continues along the east side of Chapel Coppice, and there is a long steady climb uphill, passing cottages on the right before reaching a crossroads.
7 Continue straight on uphill at the crossroads to reach the car parking area. ◗