A Dorset life for me
By Roger Guttridge; the illustration is by Becky Blake
Published in June '15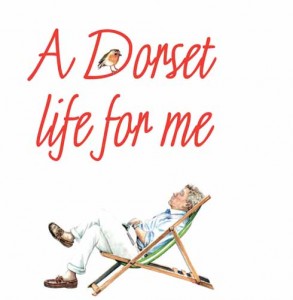 During a recent chat with retired Marnhull headmaster Christopher Gassmann, I heard an extraordinary story concerning the Pines Express, the passenger train that travelled daily from Manchester to Bournemouth West in the heyday of steam. Chris heard the story from the late Fred Grinnell, who happens to have been my own headmaster at Sturminster Newton Primary School from 1955-61.
'Fred told me that the Pines Express never stopped at Sturminster except when his mother came to visit,' said Chris. 'Then his friend the signalman would stop the train to allow her to get off or on. Those were the days.'
Weren't they just! Any signalman doing that today would find himself on a bullet train to the Job Centre.
I have my own memory of the legendary Pines, as I was one of the 1960s railway children. From 1961 until the equally legendary Dr Beeching wielded his infamous axe in 1966, I travelled to school at Blandford on the Somerset & Dorset Railway. If I remember rightly, our homebound train waited at Shillingstone station until the Pines flashed past, there being only single track between stations. Sadly, that ended in September 1962, when the Pines was given a different route – just one of many nails in the S&D coffin.
Fifty years on, extracts from the timetable are still imprinted on my brain. School finished at 3.55pm, giving us half-an-hour to kill before catching the 4.28 from Blandford. If you missed it, or had an after-school activity, or a Tuesday date with detention, the next train went at 6.18. Failing that, there was another at 7-something. During one spell in my mid-teens, I practically had a reserved seat on the Tuesday 6.18. I choose to believe I was misunderstood.
It was a fun way to travel to school, although you have to feel for the 'normal' passengers, forced to share their journey with hordes of boisterous school-kids, who behaved as if they owned the train. Mind you, I think we were angels compared to some of our forebears. My mother, who took the same journey in the 1930s, told me her cousin once climbed out of a carriage window, crawled along the roof and reappeared through a different window. Sounds like he'd been watching too many movies.
When I was fourteen, my family moved from Sturminster Newton to Fiddleford and I faced a daily cycle ride to Shillingstone. I was never early but I had an ally in the stacks of moss and mushrooms which had to be loaded on to the train before the guard waved his green flag. From New Cross, I could see the column of steam moving from Hammoon towards Shillingstone. I knew that if I began the descent down Cox's Hill (so-called after the farmer who lived at the bottom) before the train came to a halt, I would just have time to throw my wheels in the bike shed and sprint across the track. On the November day of my English O' level, there was a heavy frost, and as I turned on to the platform, my feet went from under me. There was no time for treatment and I took the exam with ripped trousers and a gritted, bloodied knee. And passed.
When Beeching had his wicked way, buses were provided but I took against them and discovered a more adventurous alternative. This was the heyday of the hitchhiker, and I hitched lifts by the thousand, most of them between Fiddleford and Blandford – invariably leaving after the bus and arriving before it. I particularly enjoyed clambering high into the cabs of lorries and tankers and seeing the world from a different vantage point. But the most memorable journey was with racing driver Paul Weldon. The Hinton St Mary speedster drove a Mini Marcos sports car with fibreglass body, seats bolted to the floor mere inches above the road and a top speed of 150mph.
As Paul accelerated up the A357 like a jet plane on the runway, I felt a trifle nervous, and I was little reassured as we overtook vehicles on Cox's Hill. We sped through Shillingstone, practically took off at Gains Cross and on to Enford Bottom – two steep hills with a sharp bend and farmhouse in the dip. As we overtook two cars going down, it wasn't just Enford Farm that flashed before my eyes. I expected to end up high in the field behind the farm. As we cut the corner (recommended maximum speed 35mph), I glanced at the speedo: 85. To my amazement, we were still on the road and heading for Durweston. At this point, I made a conscious decision to relax and enjoy the ride. 'If he can get round Enford Bottom at 85, he can do anything,' I remember thinking. The fastest was yet to come: 115 through Durweston, 120 on the A350 by France Farm.
'I have to be a bit careful – I've already got three endorsements for speeding,' Paul said at one point.
'Really?' I said, feigning surprise.
It was the most exciting ride of my life – something to tell my friends at school, and I've been telling it ever since. Even the S&D can't compete. ◗