For Ever Dorset – Rupert Brooke's Dorset connections
Rupert Brooke's poem 'The Soldier' evokes the spirit of England at the outbreak of World War 1 a century ago. He worked on it while he was in Dorset, a county he had known from a young age. Tony Burton-Page traces Brooke's Dorset connections.
Published in March '15
It is quite possible that the most quoted poem of last year, this year and indeed the next two, will be the one beginning 'If I should die, think only this of me; That there's some corner of a foreign field That is for ever England…' – Rupert Brooke's sonnet, 'The Soldier'. Its gently patriotic nostalgia has led to its being one of the most popular of war poems, although critics have tended to disparage Brooke's rose-tinted view of war. This is perhaps unfair, since the modesty of his war experience – one day of fairly limited military action in the evacuation of Antwerp – was due to his death, at the age of 27, from blood poisoning on the way to the Dardanelles, where he would certainly have been involved in the brutality of Gallipoli.
Brooke was born and brought up in Rugby, where his father was a housemaster at the public school, but he had connections with Dorset from an early age. His grandfather, Richard England Brooke, was an Anglican clergyman who moved to Bournemouth in 1895 when he retired as Rector of Bath Abbey. He took a house at 12 Littledown Road (now 48 Dean Park Road). He had two daughters and four sons, the second of these being Rupert's father, William Parker Brooke. The two daughters, Rupert's aunts Lizzie and Fanny, came to live with their father in Bournemouth; neither ever married. As a boy, Rupert often came to stay with them as an escape from the all-embracing school environment, particularly during the long summer holidays. The house was known as Grantchester Dene, a name that would have much resonance in Rupert's future.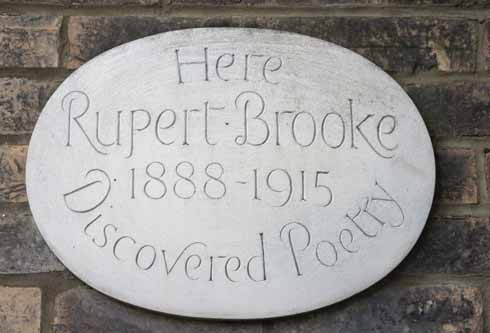 It was during one of his stays in Bournemouth that Brooke discovered poetry – possibly from having it read to him by his cultured relations or perhaps by peeping into one of their many books. The poet was Robert Browning, who became an early influence – one of his prizes at Rugby was a copy of Browning's complete works. A plaque on the wall of Granchester Dene commemorates this life-changing event; it also erroneously gives his date of birth as 1888 while he was actually born on 3 August 1887.
It was in Bournemouth that he read Wilde's 'De Profundis' during convalescence from one of many bouts of illness during his youth. His correspondence with schoolfriend Geoffrey Keynes during his stay in 1905 was so full of adolescent irreverence that Brooke had to chastise his friend: 'I am staying with two faded but religious aunts. They happened to be in when the post came, and one of them, chancing on your letter, received quite a severe shock. It's not as if she were young, either. You really must be careful!'
Brooke visited Bournemouth after he left Rugby in the summer of 1906, this time reading another 'unsuitable' book, Baudelaire's Les Fleurs du Mal, usually sitting between his aunts on the promenade. By this time he was a little weary of the town. He wrote to Keynes: 'I have been in this quiet place of invalids and gentlemanly sunsets for about a hundred years, ever since yesterday week.'
The following Easter he was in Bournemouth again, after his second term at King's College, Cambridge. By now, life with the evangelical aunts was becoming a little strained: he compared meal-time conversations with dialogue from an Ibsen play, complete with ten-minute silences. Wanting somewhere to go for a reading excursion with a friend or two, he studied his aunts' maps of the area and came across the name 'Mupe', which intrigued him enough to send him in search of it. He found Lulworth, which in turn delighted him so much that he booked rooms above the Post Office in the village of West Lulworth.
One day while reading on the rocks, his copy of Keats fell into the sea and had to be rescued. It was only later that he discovered, to his joy, that Lulworth was thought to be the last place in England that Keats had visited before returning to the ship that took him to Italy, where he died shortly afterwards.
By 1910 he was a member of the Fabian Society, and that summer he toured Dorset and Hampshire in a caravan, speaking in support of reform of the Poor Laws – although in Bournemouth he had to disguise himself… for fear of being recognised by his venerable aunts. Nowadays he was more at home in Grantchester, a village near Cambridge where he lodged in term-time. He does not mention if he was drawn to it by its name, but he must surely have made the connection with the family home in Bournemouth. Unusual names certainly appealed to him. On one of his walking tours in Dorset, he decided to stay in Cranborne solely on the strength of the exotic-sounding Fleur-de-Lys Inn. His inability to find it inspired a charming poem that lists the things he might have missed, like 'fine noppy ale and red firelight'.
Lulworth was still the place of choice for reading parties for Brooke and his ever-increasing circle of friends, which now included Katherine Cox, a fellow Fabian with whom he now had a relationship. That, though, turned sour during his January 1912 stay and Brooke, who had been working hard at his Fellowship dissertation and preparing Poems 1911 for publication, had a mental breakdown. He spent a day walking with James Strachey across the Purbeck Hills to Corfe Castle – but it was no good, and he fled to Cannes.
He spent much of the next years travelling, even visiting the South Seas; but the idyll was rudely broken by the outbreak of World War 1 in August 1914. 'If Armageddon is on,' he remarked to a friend, 'I suppose one should be there.'
He did not join the Army but the Navy: 'a more English thing to do, I think', he explained. In fact, it was the Royal Naval Division, a force created because the numbers of men reporting for duty in the Royal Navy far exceeded the Admiralty's requirements for the manning of ships. It was divided into eight battalions, all named after famous admirals. At first, Sub-Lieutenant Brooke joined Anson Battalion and went with it to stem the German advance on Antwerp. However, they were ordered to withdraw after a day and the battalion returned home, but not before Brooke had experienced shells and shrapnel bursting around him and seen 'ruined houses, dead men and horses'.
He then joined Hood Battalion, which came to the newly built Blandford Camp in November 1914 for training. It was run on naval lines: a ship's bell sounded the watches, and shopping in Blandford was 'going ashore'. Brooke shared a wooden hut with seven other officers, but despite this, it was here that he began writing 'The Soldier' (although its original title was 'The Recruit'). He worked on it while convalescing at Canford Manor with his friends Lord and Lady Wimborne, having developed a fever after his typhoid inoculation. The proofs arrived when he was back at Blandford and it was published along with four other 'war sonnets' in the 'December' issue of New Numbers, which was actually published in February 1915. It was an instant hit: the Times Literary Supplement included the poem in an enthusiastic review, and the Dean of St Paul's read it during his Easter Sunday sermon on 4 April 1915.
But by then Hood Battalion was on its way to Gallipoli. The 8000 soldiers of the division were inspected at Blandford by Winston Churchill and King George V on 25 February and two days later they marched from the camp to Shillingstone station, where they boarded trains to Avonmouth and, from there, boats to the Dardanelles.
The ten-mile march to Shillingstone has been the subject of much conjecture: why did they not use the much nearer station at Blandford itself? The rain was pouring down (bizarrely, the troops were wearing pith helmets) and they went across open country, avoiding main roads. It may have been an attempt to keep the army's movements secret – there was certainly a news blackout at the time, as the Dorset County Chronicle, which had mentioned on 25 February that the division was due to leave camp, was totally silent about the subject in the next issue.
Brooke's ill-health dogged him to the end: his resistance was so low that he died of an infected mosquito bite on a hospital ship in the Aegean Sea on 23 April that same year. But the poem he wrote in Dorset brought him immortality of a kind only true poets know. ◗