Dorset's Jurassic Park
Joël Lacey talks to Michael Hanlon, the man behind 'Jurassica' – a world-class visitor centre in a quarry on Portland.
Published in March '15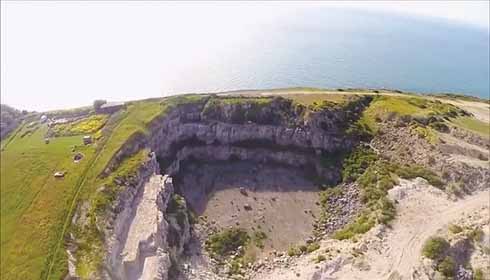 Dorset is a county of unparalleled beauty, with rolling chalk downs, ancient castles and, of course, a stunning World Heritage coastline. If all goes according to plan, in a few years Dorset will also be host to a new world-class heritage centre, a spectacular prehistoric visitor attraction located on the Jurassic Coast in an old limestone quarry on the Isle of Portland.
It will be called Jurassica, and it will showcase and bring to life more than 200 million years of prehistory.  Inside an incredible subterranean structure will be magnificent fossils and spectacular exhibitions, galleries and immersive environments that tell the story of deep time, our planet and the life that has evolved upon it.
The brainchild of Michael Hanlon, a national newspaper journalist and author who grew up in the county, Jurassica has parallels to Cornwall's Eden Project – but with dinosaurs instead of plants.
'Actually there will be plants,' Hanlon says. 'And although there will be dinosaurs, at the heart of Jurassica are the fantastical sea creatures of prehistoric Dorset – the beautiful ammonites and gargantuan, terrifying plesiosaurs and ichthyosaurs who swam through the Jurassic seas whose beaches and beds, in time, became the rocky cliffs of this lovely county.'
Jurassica's Chair of Trustees and the creator of the Eden Project, Sir Tim Smit, tells the tale of meeting Hanlon for the first time and 'recognising that familiar look in the eyes – that of a man who wants to pour a huge amount of money into an enormous hole in the ground.'
Jurassica was conceived more than three years ago, when Hanlon was covering a story about fossil collectors in Lyme Regis. Hanlon realised that although the Jurassic Coast had been declared a UNESCO World Heritage Site way back in 2001, it still lacks a central focus to tell the extraordinary story of the rocks here.
'Dorset can fairly claim to be the place where the natural sciences truly began,' Hanlon says. 'This is where scientists first realised that the world is very ancient, and that it used to be home to some very strange creatures indeed. This is a very, very special place. One of the intellectual cradles of the world'
Hanlon spent a lot of time as a child chiselling fossils out of the rocks of Purbeck, Portland and Lyme. He still has some of the ammonites and other fossils he found back then, 'although sadly I never found a dinosaur bone. Or even a bit of an ichthyosaur [a sort of Jurassic reptilian dolphin-like creature]. I still find things when I can, but I am no good at it any more (taller, eyes not so good, less time to fossick along the beach) although the fascination remains.
Jurassica has progressed at a pace, and is now a project of significant proportions, with a stellar cast of backers including the architect Renzo Piano and leading prehistoric immersive exhibit designer David Lazenby.  And not to mention the Greatest Living Briton, Sir David Attenborough, whom Hanlon persuaded to become Jurassica's patron around a camp fire in Africa. Hanlan  was writing a magazine article about the great man, whom he describes as 'a truly lovely man, brain the size of a planet, interested in everything and everyone, exactly the same in real life as he is on the telly'.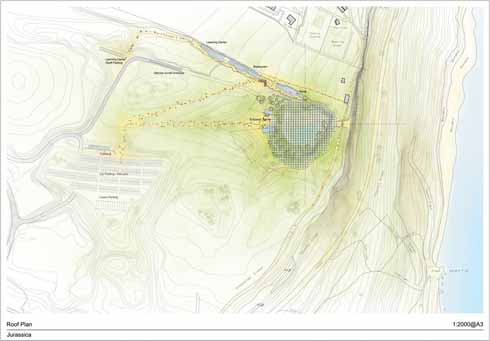 'He wasn't going to come on board at first; he must get asked every week to lend his support to one cause or other,' Hanlon says. 'I think it was the fact that Jurassica is about fossils – fossils are David's first love – that made him change his mind. Now he is fully committed. And he's not just a name on our letterhead. Today he spent a couple of hours going through our latest exhibit plans and giving advice.'
Jurassica, a registered not-for-profit educational charity, is to be sited in an old limestone quarry, under a spectacular translucent roof. If all goes according to plan it will open in about five years' time and attract upwards of half a million visitors a year. It is hoped Jurassica will help transform the economy of a part of Britain that is struggling far more economically than most people realise.
Jurassica will be no ordinary museum. Visitors will be able to see the great sea monsters of the Jurassic and Cretaceous sweeping past, in a large aquarium which will also contain live fish. 'We've got an extraordinary Japanese company that has offered to build us an animatronic ichthyosaur,' Hanlon says.
'It will be quite something. There will be fossil galleries and places where visitors can get their hands dirty with rocks and hammers. And the Jurassic Cove, a replica of a prehistoric beach will bring to the senses the sight, sounds, feel and even smell of the Jurassic – all under a beautifully vaulted roof.'
The project is now building up considerable momentum. In July, Jurassica was awarded £300,000 from the Dorset Local Enterprise Partnership as part of the government's Local Growth Deal.  In November, the project put in a first round application for a £16m Heritage Lottery Fund award. But if Jurassica – which will cost more than £75m to complete – is to become a reality then significant private sector backing must be secured.
'We secured government funding because Jurassica will be a catalyst for regeneration, creating jobs and growth but also has the potential to create something of global significance,' Hanlon says. 'China, for example. There is a substantial market in China for Jurassica.'
Portland receives more than 22,000 international cruise ship visitors a year, and growing – hardly any of which stay in Dorset, let alone Portland. 'It's a huge untapped market,' Hanlon says. 'We will be only ten minutes' from the place these ships dock. What would you rather do – come and see the world's greatest prehistoric attraction just up the hill? Or sit in a bus for three hours going to Stonehenge?'
Jurassica will bring jobs and put Dorset on the global map, Hanlon says. A real focus that will drive tourism upwards and pour more than £20m into the county's businesses every year.
The project is sustainable, and Hanlon stresses that Jurassica will pay its way. 'We will have to charge people to come in – as Eden does – and our business plan demonstrates that we will be able to invest in building a globally significant collection of specimens, adding new displays and new spectaculars. I want Jurassica to be as popular in 2053 as in 2023.'
What is perhaps most impressive about Jurassica is the number of big names that have already attached themselves to the project, from leading London law firm Withers, to the engineering giant Arup, Buro Four Project managers, management consultants Oliver Wyman, the world's best exhibit designers in the form of Yorkshire-based firm Azureus and Alinea Consulting, Jurassica's quantity surveyors.
'I have been staggered – and humbled – by the amount of work that has been done, essentially at-risk and even pro-bono,' Hanlon says. We've had firms like Savills not only handling our land purchase, but also becoming founder sponsors.
'We've got a dedicated team working day and night on Jurassica – because they believe in it. Hanlon has worked very hard to cement the project in the bedrock of Dorset figuratively as well as literally.
It has won the backing of both the County and Borough Councils, local schools, colleges, community organisations.  Jurassica promises an active volunteering programme, apprenticeships as well as the creation of more than 150 full-time skilled jobs in an area of the country that has not been able to reap the rewards of development and suffers with areas of very low employment and pockets of deprivation. Jurassica's first donors and strongest supporters have come forward at an early stage from the local business community.
Jurassica has also secured the backing of Bournemouth University, which in December hosted a private dinner for more than 90 civic and business leaders.
'The University has been extraordinary,' Hanlon says. 'I could never have expected the level of help and support they have given by allowing us to draw on their expertise in tourism, marketing and media production.' He adds, 'students have been involved right from the start, over 60 final year students engaged in a challenging live brief, producing incredibly professional work'.
Jurassica is at a pivotal time. The fundraising team is working towards the first fundraising target, a fairly modest £3m by June 2015.  In April, if Jurassica is also successful in its first round Heritage Lottery Fund application, an award of a further half a million pounds will enable the project to begin the next stage of development.  'Jurassica has the ability to capture people's imagination,' Hanlon says. 'It is a powerful concept. Funders are individuals and businesses who love the idea, or who see the potential for Dorset, the county where they live and work'.
'There was plenty of scepticism about Eden back in the day,' Hanlon says. 'A huge project. How will they do it? How will they get the money? Well, they did. There it is, the largest rainforest in captivity in the world. A modern wonder of the world. Eden got built because Tim believed in it so much he got everyone else to believe in it too.
That is my job now. I cannot let all these people – and Dorset – down.' ◗
❱ www.jurassica.org  ❱ www.facebook.com/jurassica.org