A Dorset life for me
Roger Guttridge catches the independence bug
Published in February '15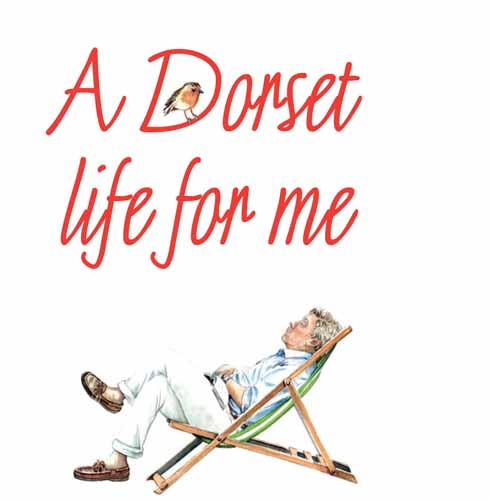 Scotland's wee bid for freedom is history now, at least for the moment, but what a right royal can of haggis it has opened. Queen Liz may be purring in her palace but across the realm her citizens are a-stirring. Dave of Downing Street seeks equal rights for England and power to the regions, the Welsh valleys echo to the songs of independence and there are rumblings too in Northern Ireland, Yorkshire and Cornwall.
Dorset, of course, merits ne'er a mention. Since that fateful day in AD 44, when our Durotrigean forebears came face to face with Vespasian and his Roman rotters, self-rule has never been an option. But perhaps it should be. Perhaps it's time for UDI in Dorset. For those too young to remember the Rhodesian crisis in 1965, UDI stands for Unilateral Declaration of Independence.
Before raising St Wite's flag atop the Hardy Monument, I sought advice from a man with some experience of this regional independence lark. I first met the Marquess of Bath forty years ago, although he was Viscount Weymouth then and only heir to a grand pile in south Wiltshire, and not just owner of a grand pile of lion poo. It was c1975 and the Lord and one of his early 'wifelets' (the name given to his seventy-odd mistresses) were in Dorset to open a Wimborne art gallery.
Already famous for painting erotic murals on the walls of his stately home, Viscount Weymouth was well qualified for the task, and arrived adventurously clad in something with suede tassels and a spectacular waistcoat featuring enough colours to make Joseph of the Technicolour Dreamcoat look like a drab dresser. 'He is known for his colourful style of dress, which he acquired during a period as an art student in Paris during the 1950s,' I read on Wikipedia. Lord Bath, that is.
As well as art, he and I talked about his newly formed Wessex Regionalist Party, and four decades on, the founder is beginning to look like a man ahead of his time. Although not that far ahead, judging by the result of the 2010 general election, when Colin Bex (Wessex Regional Party) attracted just sixty-two votes. On the plus side, the party leader's nine opponents at Witney included a formidable foe in Downing Street Dave, who topped the poll with 33,973. Nor was the WRP's only candidate in 2010 last in the poll: that dubious distinction belonged to the ever-popular Aaron Barschak with fifty-three votes. On the minus side, Howling Laud Hope of the Monster Raving Loony Party won almost four times as many votes as Colin, which is less than encouraging for those of us advocating a serious approach to regional democracy.
I digress and, even as I write, I can hear the editor bleating that this is a magazine about Dorset, not Wilts, Oxon or Wessex. As my approach to Lord Bath fell on ears deafened by the incessant roaring of lions, I am inclined to abandon Wessex and stick with home rule for Dorset.
There is every reason to think we can make a go of it. Few counties are strategically better placed for independence. We have army bases at Blandford, Bovington and West Moors (representing the British Army's best in Signals, Armour and Petroleum… as well as the future 1st Dorset Gurkhas!), and our stash of military hardware includes vintage tanks guaranteed to surprise any enemy. We could invite the Royal Marines to return to Hamworthy, to rejoin their special friends there, and we have the Lulworth Ranges for new recruits' shooting practice. We have harbours at Christchurch, Poole, Portland and Lyme Regis, and I propose reviving Portland's Royal Navy base, though I acknowledge that the 'Royal' prefix may have to go. The newly minted DAF could fly from Compton Abbas and Warmwell not to mention our fully-fledged international airport at Hurn, which, of course, is part of Christchurch and, along with Bournemouth, has only been part of Dorset since 1974. Some former hogs have never got over this and a Hampshire coup cannot be ruled out. But its tourism industry alone makes this south-east corner of our county worth defending, and this could be the first task for our fledgling forces. Once this is resolved, they could head west to reclaim the land west of Chard and north-west of Axminster, that were lost to Devon in a previous wave of boundary reorganisation in the 19th century.
As home rule develops, there is every prospect that Dorset can be self-sustaining. Home-mined coal and minerals may be in short supply but oil and gas are plentiful and the potential for wind- and wave-power is enormous. We have quarries for building stone and straw, manure and reed for a revival of traditional cob and thatch. The hills and vales would be Dorset's breadbasket and the fishermen along the coast could keep us in fish. We have brewers great and small and even our own wine and spirit producers. And while tourism could continue to aid our balance of payments, we could solve the housing crisis by 'nationalising' Dorset's holiday homes at a stroke.
Bring it on! ◗