Jess of the dairy fields
By Jessica Miller; the illustration is by Becky Blake
Published in January '15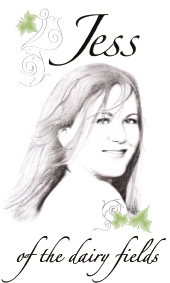 One of my New Year Resolutions is to have my hair cut regularly. Visiting the hair dressers has, thus far, been very low on my non-existent list of priorities and, even if I were so inclined, there would be little point in titivating my barnet every day when it's always being squashed under a riding hat or tied back with baler twine and decorated with straw. I only concede defeat when the roots are at about three inches and my hair resembles a bird's nest, at which point I grit my teeth and submit to the bi-annual cut and colour.
I can't sit down for five minutes, so to have to keep still in a chair, wincing in pain as my knotty hair is pulled and untangled is akin to torture, as is sitting in the window in full view of everyone who passes by, as I perspire beneath numerous layers of cloyingly hot tinfoil.
In the first week in January, having ridden both horses and cleaned out the hen house, I changed into clean clothes and drove into town.     During the obligatory hair brushing, the hairdresser gasped. Looking in the mirror I could see her frowning and peering closely at my scalp.
'Is something wrong?' I asked.
'There are loads of little things crawling in your hair.'
The ladies on either side of me turned to stare. With a thrill of horror I suddenly realised that I had forgotten to wear a shower cap when I cleaned out the hen house this morning.
'Are they head lice?' piped up another stylist from the other end of the room.
'No they don't look like head lice.'
By this time, everyone was openly staring at me.
'They're Red Mite. ' I said in a small voice.
'They're what?'
'RED MITE!' I said loudly, feeling myself turn crimson.
'Oh, gross! Do they bite?' she asked.
'They only bite chickens. They're harmless to humans. They just itch a bit.'
The manageress came over, then recoiled with a grimace:    'You'd better wash them all out before you put the colour on. They could have a nasty reaction to the chemicals.'
Ninety long and boring minutes later, the last wretched tinfoil was pressed into place and I was wheeled across to the mirror nearest the shop front where I regarded my beetroot face with considerable dismay and attempted to ignore the constant stream of passers by in my peripheral vision.
It occurred to me that I should be thankful it wasn't Market Day – at least I wouldn't see anyone I knew.
'JESS! JESS!' I jumped at a bang on the window.
Oh fickle fate! There was 'The Stage Whisperer' – AKA my mother-in-law – clutching a wicker basket full of veg and waving frantically at me with her free arm: 'HELLO DEAR,' she screamed, 'ARE YOU ALRIGHT DEAR? YOU LOOK A BIT FLUSHED… DO YOU WANT ANYTHING FROM THE CHEMIST?'
I slid down in my chair in mortification. Everyone inside and outside the hairdressers was staring.
Colonel Farquar appeared stage left with his springer spaniel in tow.
'OH HELLO! HOW ARE YOU? JUST TALKING TO MY DAUGHTER IN LAW. LOOK,… SHE'S HAVING HER HAIR DONE.'
His moustache waggled as he smiled and, I swear, winked at me through his non-monacled eye. Were I in better shape, I should expect him to say: 'Ding, Dong'.
At this point the hairdresser swivelled me ninety degrees, so that I was gazing straight out onto the high street.
'THAT'S BETTER! WE CAN SEE YOU PROPERLY NOW!'
'I need the loo,' I hissed in desperation at the hairdresser, looking for any opportunity to escape.
'There's someone in there at the moment.' She replied.
The traffic had stopped at the bottleneck outside the salon.
'OH THERE'S RUPERT AND OLIVIA! THEY'VE JUST MOVED INTO THE OLD RECTORY!' mother in law shrieked in excitement as a sleek new Bentley pulled up.
I sat, utterly aghast as the driver's window lowered to reveal an obscenely handsome dark-haired man, and his wife, a stunning blonde with cheek bones to die for and a peaches and cream complexion.
The beautiful people smiled politely at me as mother in law introduced us. I grimaced in return.
'THIS IS MY DAUGHTER IN LAW. SHE'S HAVING HER HAIR DONE! I'M SURE YOU'LL ALL GET ON REALLY WELL! YOU RIDE TOO DON'T YOU OLIVIA? PERHAPS YOU COULD GO RIDING TOGETHER!'
I could feel sweat trickling down my spine as Olivia said something I couldn't hear and gave me the bright smile of someone humouring a simpleton.
I gurned back at her and my hand waved impotently beneath the Crimplene robe; the net effect to onlookers was that a pet ferret had finally tired of captivity.
As they drove off I caught sight of two angelic looking children in the back seat, pointing at me out of the window and cackling with laughter.
I felt shell-shocked as mother in law and the colonel waved goodbye and walked off down the street. Before I am turned to face the mirror again, no fewer than four people I know have walked past the shop and seen me glowering helplessly out of the window, puce faced with shame.
Thank heavens for small mercies, I thought with grim relief. At least that's over with for another six months. Stuff my New Year's Resolution.
The stylist finally turned off the hair dryer and de-robed me:     'It would be a good idea to see you every six weeks from now on. We need to keep on top of your grey…. Oh and have a Happy New Year!'
'Oh yes,' I replied miserably, 'Happy New Year to you too'. ◗