Why I love Westbourne
Joël Lacey takes to the streets and arcade of Westbourne
Published in December '14
Bounded by the County Gates to the west, Clarendon Road to the east, Surrey Road to the north and the sea to the south, Westbourne became part of Bournemouth in 1884, but still, 130 years on, has a separate village-like feel to it. Its heart is the D-shaped shopping centre formed by the stub of Poole Road and Seamoor Road, the latter giving a glimpse of the past history of Westbourne as a stretch of Moorland, cut up by chines leading to the sea.
Robert Louis Stevenson lived and wrote here and the French poet Paul Verlaine – words from whose poem 'Chanson d'automne' were broadcast to the French Resistance as a signal to launch their pre-D-Day sabotage missions – described Westbourne from his time here thus: 'The long fir wood winds downwards to the shore, The narrow wood of firs, of laurels and of pines.'
These days it is a cosmopolitan area, with a monthly farmers' market, a population with a broad range of ages, a beautiful arcade, a slew of independent shops and the increasingly popular answer to the question 'Where shall we meet?' for many in the Poole and Bournemouth areas.
But let's find out more from the people who live, work and visit here to find out what it is that makes this place so special. ◗
Paul Read (and Mollie, visiting from Devon)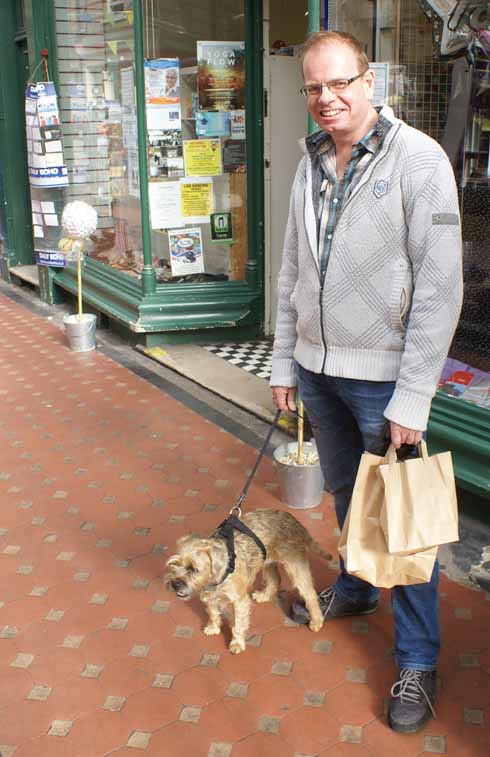 I live just up the road in Parkstone and have been there fifteen years or so. A few years ago I came across Westbourne, just driving through, and it was like discovering a new village. It's perfectly positioned for when I want to meet up with friends from Bournemouth and we always end up saying: "Let's meet in Westbourne."
Kirsty Robinson
'The bookshop's been here 17 years and I've had it for seven. The locals are really nice and are very loyal and the businesses are very supportive of one another. We're all getting together and on the first weekend in December we're having a big Christmas fair, and with the support of the Coastal BID (Business Improvement District) it should be a really good weekend.'
Beth Kendall & David Dwyer
'We've lived here three or four years and there's a really nice mix of coffee shops and bars as well as a butcher, a grocer and a good array of independent shops.'
Chantal Mutel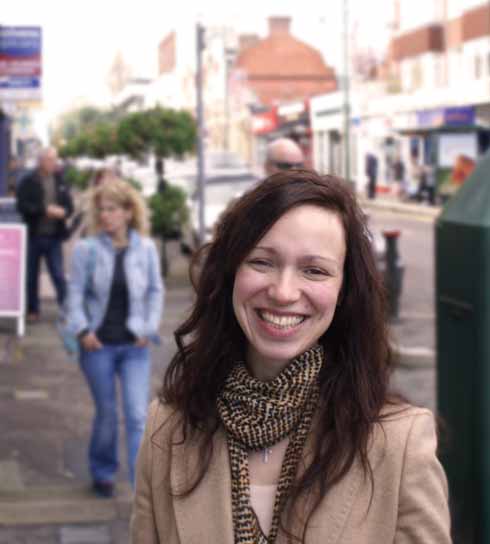 It's just a brilliant place to live. I've been here seven years and it's very cosmopolitan, it's a great place to shop and socialise and it always feels safe here. I moved away briefly to be with my fiancé, but we both moved back here as I really missed Westbourne.
William Rose
'I come here a few times a month, just to catch up with friends and at weekends to take a nice constitutional down through Alumhurst Chine to the beach. Westbourne is such a strange (in a good way) place as it's a mix of lots of young trendies and old-timers; there's a great array of shopping options and what I like is that it's almost all independents. It's close to Bournemouth, but not overwhelmed by it.'
Paul Whitehouse (owner of the UK's smallest cinema)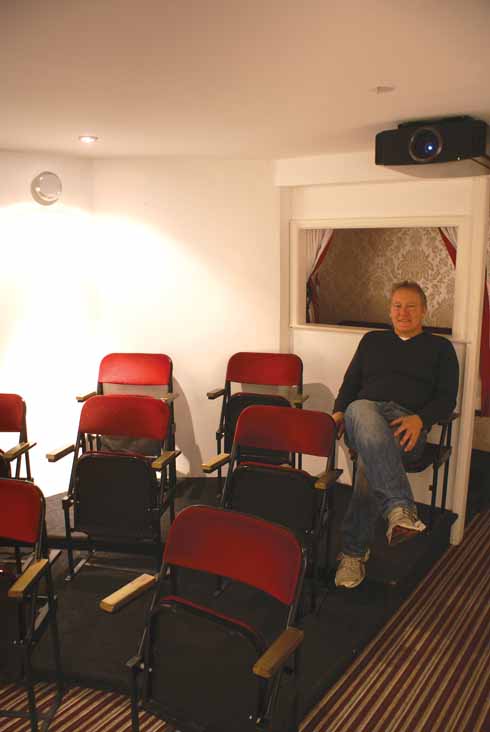 I set up the café and art gallery after a project I was working on came to a natural end, and then I saw a film about a community cinema in Wales and I thought: "We could have that here". According to the Independent Cinema Office, we're the smallest cinema in the UK [it has nineteen seats, two of which are in the "Royal box"]. We do Saturday morning pictures for the kids, themed weeks (like Halloween and Christmas) talks and presentations from people as varied as Anita Harris to a Patagonian gaucho giving talks along with selected films. It's great when people book the place out for parties as our lovely local Westbourne restaurants will deliver to us. It's just nice to be able to offer a cinema to those people who don't drive and who don't want to have to go into town, or out to an out of town entertainment complex; they can walk here and
walk home.
Gemma Slaymaker
The family moved to the area 22 years ago and when I left university I had a Saturday job working in a shop in Westbourne. When I wanted a change from working at the European Parliament, it just felt right to come back here. There's very definitely a village-y feel to Westbourne and when a friend of my mum's told us this shop was closing due to retirement, we (Gemma, along with her mum Anne and dad Peter) opened Gemma at Westbourne a couple of months ago.
The people in Westbourne are mixed in age, but they've got a sense of fashion about them and they expect good service and something a little bit different in terms of stock.
Bev (pictured) & May Strike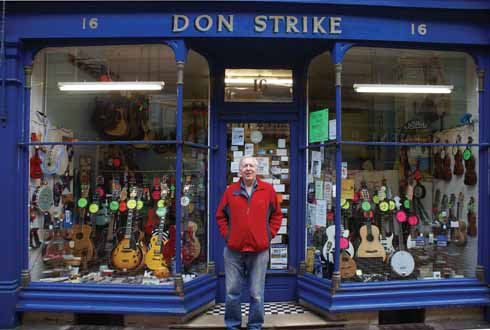 My family's had a shop here since the 1920s (my father was Don Strike) and it's really one of the most civilised places to be, especially in the arcade. There are plenty of really pleasant people and it's a good place to bring up children. The great thing about Westbourne as a shopping area is that once you're here, you can't get lost; it's not like one of those big shopping malls,… and if you can't find something that you want to eat in Westbourne, you've got a problem!