The Woodlanders
Thomas Hardy's The Woodlanders is set in the north-west of Dorset. Tony Burton-Page guides us through it with the help of David Bailey's photographs of the actual locations.
Published in December '14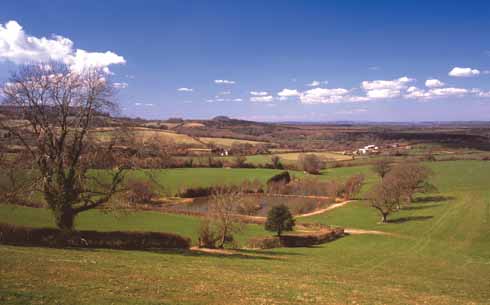 The Woodlanders, the eleventh novel published by Thomas Hardy, appeared in 1887, but its origins go back much further. After the great success of Far from the Madding Crowd in 1874, he had an idea for a novel with a woodland setting. However, the insistence of reviewers that his gift was for rural stories annoyed him sufficiently to put it aside and start a comedy of manners set mostly in London and partly in France. This was The Hand of Ethelberta, which turned out to be a failure with the public and is still one of Hardy's least-read novels.
He returned to his idea more than a decade later, by which time his 'Wessex' novels had achieved such success that their topography was a cause of great interest among his readers, who were soon demanding more information about it. The location of 'Little Hintock', the focal point of The Woodlanders, led to so much discussion that in his introduction to the 1912 edition, Hardy wrote that he did not himself know where it was and that he had 'once spent several hours on a bicycle with a friend in a serious attempt to discover the real spot; but the search ended in failure; though tourists assure me positively that they have found it without trouble' – even some of the fictional characters have difficulty finding it, notably Barber Percomb at the start of the novel.
In fact, Little Hintock is probably an amalgamation of two villages in the south-western corner of the Blackmore Vale, Stockwood and Hermitage. It is the home of the main characters, and most of them were born there. Giles Winterborne, a woodman with the sap of trees in his blood, has been promised his childhood sweetheart, Grace Melbury, the daughter of a well-to-do timber merchant, by way of reparation for an ancient wrong her father did to Winterborne's father. Despite this, however, her father has sent her away to an expensive finishing school to assure her of a future beyond the village, and when she returns to Little Hintock she is way beyond Giles. Instead, she becomes infatuated with Edred Fitzpiers, a young doctor who has recently moved to the area.
Fitzpiers, however, has an eye for the fair sex and is in turn infatuated with Felice Charmond, a rich widow living at 'Hintock House' (Turnworth House, in reality many miles away and now demolished). It transpires that she and Fitzpiers had a passionate but brief affair many years earlier, but by the time the two of them realise this, Fitzpiers has ensnared Grace as his wife, despite her lingering suspicions that he has been philandering with another village girl.
By now Grace is completely out of Giles's reach, for he has lost his house owing to the death of the old villager whose family had tenure of it, so that it now becomes part of the encompassing Hintock House estate.
But married life does not suit Fitzpiers: disillusion sinks in. He finds himself drawn towards Felice and begins an affair with her. When she stays for a few months in 'Middleton Abbey, near Shottsford' (Milton Abbey, near Blandford), his regular visits there to relieve the boredom of his new life arouse Grace's suspicions. The guilt-stricken Felice confesses all to Grace and decides to move to Europe, away from temptation and the 'handsome, coercive, irresistible' Fitzpiers.
When Fitzpiers hears of her plan he goes to visit her but falls off his horse, injuring himself. He crawls to Hintock House, where Felice takes pity on him, and after his recovery the two secretly leave for the continent. Fitzpiers sends Grace a letter saying he will not return for a long time.
Grace's father hears from local lawyer that there is a new law making divorce easier. He therefore encourages Grace to renew her relationship with Giles Winterborne. The two meet in 'Sherton Abbas' (Sherborne) and walk around the Abbey, and Grace realises that she loves Giles as much as ever. But the lawyer discovers that the new law does not go far enough to release her from her marriage, so she is tied to Fitzpiers. She withdraws into the existence of a 'self-constituted nun' until she receives a letter from her husband, declaring his intent to meet her at 'Budmouth' (Weymouth) and return to the continent with her.
On the evening of his return, Grace flees and shelters in Giles's hut in 'Delborough' (Chelborough). Giles honourably refuses to stay in the hut while she is there and sleeps in the woodshed. His already precarious health weakens in the winter weather and he dies.
Fitzpiers pursues Grace relentlessly and eventually persuades her to rejoin him. The last word is left to Marty South, a village girl who has always loved Giles and is left to mourn him alone.
◗