Dorset lives – Anna del Conte
Harry Bucknall meets Dorset's Italian kitchen deity
Published in December '14
Now living on the outskirts of Shaftesbury, the inspirational food writer, Anna Del Conte – beloved by Nigella Lawson and Delia Smith, opened the country's eyes to real Italian cooking with books like Portrait of Pasta and her encyclopaedic Gastronomy of Italy – has just returned from a trip to Holebrooks, the butchers in Sturminster Newton.
'At the moment, I am eating a lot of liver – good for the iron. Two meals for 91p, excellent value. Cut it thin, a clove of garlic, two minutes in a hot pan with oil, balsamic, a drop of water, but be careful not to over cook and it is delicious. Food,' she goes on, 'is not expensive if you know how to shop. In Italy, the food everywhere is better, but then we have the nourishment of the sunshine, that's why Sicilian tomatoes are so delicious.
It is all about flavour, and enjoyment. Like music, like art, you grow up with food and you have to be educated from birth to appreciate it.' Not surprisingly, Anna's mother back in her native Milan, was a good cook. I love to eat everything,' she announced in her melodic English accent, looking out of her kitchen window across the expanse of the Blackmore Vale. 'Except porridge, I don't know why, but there it is, I just don't like it.'
Anna, and her late husband, Oliver Waley, whom she met when she first came to England in 1949, originally moved to Fontmell Magna in 1998 to be close to their daughter, Julia. Arriving in Dorset, Anna's first impression was that the meat was very good and the fish in the markets, even better. 'You can tell a good fish counter by the smell. There shouldn't be one if the fish is fresh'.
'For me', she continued, 'food is everything, it's about wellbeing, civilization and love. If you don't eat together, when do you see the family? Watching the TV? You don't talk. Laying the table, it's a ritual and', she pauses, 'it's very important to have rituals in life. I always cook. I never buy prefabricated food. Cooking doesn't have to be complicated; simple meals like liver are a form of expression – further expression. And you have to criticize, otherwise no one learns. What is the point of saying something is delicious, if it is not? But then', she laughs, 'Italians are critical by nature, nothing is right for them.'
'It's all about balance. For example, we [in Italy as children] were taught never to eat more than 100 grams of red meat a day, maybe for veal a little more and only once a day ever. That's also a question of health too, and Italians, of course, are besotted with their health.
We complain the whole time and are forever going to see the doctor. The English, who never complain by comparison, put up with a lot before going to see a doctor. Italians wouldn't but then the balance is never right!'
A warm, enquiring character, Anna reminisces how, when she first came to work in England just after the war as an au pair: 'olive oil had hardly been heard of, salad cream ruled supreme and food was just something you ate. I worked for a family near Hampton Court. Kitty, my employer, was a very good cook; she could make something out of anything – even margarine. All butter was salted – that surprised me most – and there was a lot of fresh fish. In Soho, you could buy almost whatever; it was full of Italians. Everywhere else it was just carrots and cabbage. Oh, and meat was rationed so I would buy horse on the Fulham Road to make into meatballs', she fixes a stare.
'Yes, why not? In France, more people than ever eat horse nowadays. It's perfectly fine. It's a noble animal just like the lamb; if you eat one meat, then why not another? If you don't like it, then fine, but if you mix in salami or mortadella with eggs and Parmesan which were available, fry the meat balls and serve them in a tomato sauce, nobody ever knew what sort of meat it was. But, I never dared to tell people either, except my husband of course. Oliver would eat everything; he was my principal taster. '
'It took a generation to make people understand,' she said. It was a journey that started in 1976, when teaching Italian in London. It was Anna's brother, visiting at the time, who suggested she should write a book on pasta. She mentioned the idea to the parents of one of her students, who just happened to be publishers and owners of the Paddington Press. They loved it immediately and, along with the likes of Elizabeth David and Jane Grigson, Anna led the charge that made the British fall in love with food all over again. Nearly forty years later, eight books, countless revisions, reprints and new editions, there is no sign of a let up.
Talking of the food writers today, she says, 'Delia really put food on the scene though. She was the first. Oh, Fanny Craddock was great fun but it was Delia who taught that food should be good every day and not just for entertaining. My goodness we go back and she has all my respect. Nigella, on the other hand, has all my love. She is a wonderful person, full of humanity and kindness. I met her just after her mother died. I value her. She writes very well, I enjoy her recipes and like reading her books, as I do Rick Stein and the work of Tom Parker-Bowles. His 'Full English' I liked very much; it puts food in the context of society and the people who eat it.'
Anna's lurcher, Poppy, looks up from her bed and yawns loudly. 'Time for her walk, I think. She has a mind like clockwork you know', Anna says, as she goes to her desk and hands over a favourite recipe. ◗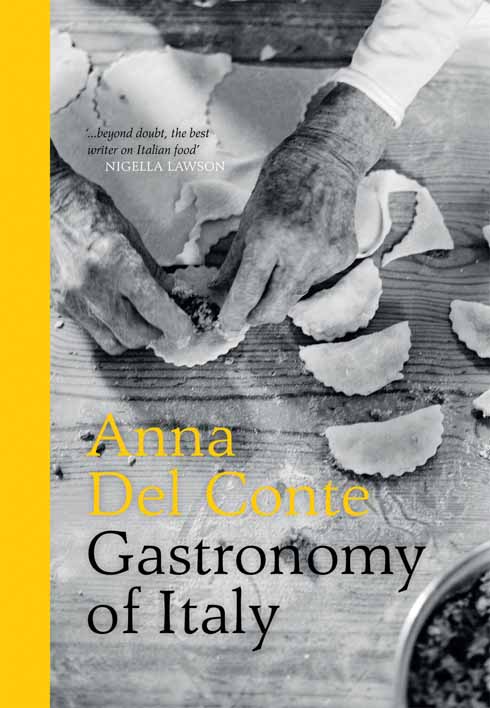 ❱ Gastronomy of Italy by Anna Del Conte is published by Pavilion at £30, ISBN 9-781-862059-580. Portrait of Pasta by Anna Del Conte will be republished by Pavilion in Autumn 2015.