Down my way: Tyneham Sketchbook
Billa Edwards on her unique access to the 'lost village' and its surroundings
Published in November '14
When Billa Edwards got a bound sketchbook, she little realised that it was to be the catalyst for a unique exercise in recording the afterlife of a village.
Tyneham was famously occupied by the Ministry of War with the promise that its residents would be allowed to return to live there.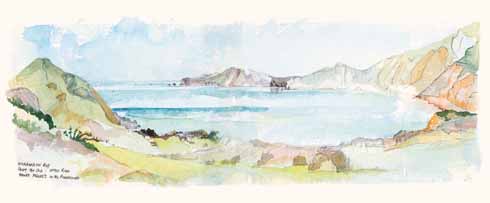 That promise was broken and the villagers never came back to live. Their village and its surroundings were part of an army range to which entry was prohibited until the current situation of days and weekends when the village is open to visitors was negotiated. There is, however, much of the range to which access is still completely denied to the public.
At least almost all the public. Billa Edwards negotiated access, under strict conditions and in specified locations, with the officer in charge of the ranges and set about recording what she saw of Tyneham village and the area around it. It is now (when the guns aren't firing) a peaceful place, gently going to rack and ruin in some places as nature seeks to reoccupy the village. Starting in 2009, Billa painted what she saw and wrote what she felt as she captured landscapes, ruined buildings and even abandoned military vehicles in Tyneham and Povington. She had no plan as to how long her project would last; she just sketched, painted and wrote until her sketchbook was full, three years later.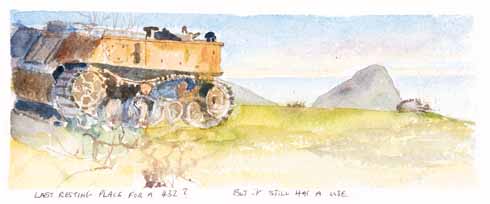 She showed it to the Adjudant of the Lulworth ranges and he suggested that she 'should do something with it'. The result is a book – My Tyneham Sketchbook – which faithfully reproduces her images, accompanied by some explanatory text.

It's almost 50 years since Billa first visited Tyneham, courtesy of her husband Simon, who was with the army at Lulworth when they moved to Purbeck in the early 1960s, and she has always considered Tyneham to be a magical place. Whilst she feels very strongly that the promise made should have been kept, unfettered access to the area makes her think that life would have been very hard living there and that the move to newer housing for the villagers was not a bad thing. Certainly the Tyneham area is uniquely unspoilt by progress, and Billa has forever captured those parts that we would not ordinarily otherwise see. ◗