The heights of Dorset
In a county of hills, downs and cliffs, Joël Lacey looks at some of the twenty most prominent
Published in October '14
Size, at least when it comes to hills and their views, is not everything. Topographers – those who measure the landscape's lumps and bumps – talk about a hill's prominence, which is defined as the hill's summit's height above the lowest contour line encircling it and no higher summit. In general terms, this means hills likely to have a decent view, with no larger hill obstructing it.
This is not universally true, though. Shaftesbury's 219m height affords it spectacular views on two sides, but its proximity to Melbury Beacon means it has a relatively low prominence; likewise, nearby Breeze Hill's 262m height (just 17m less than Dorset's highest point, Lewesdon Hill, has a prominence of just 50m, owing to the proximity of Wiltshire's Win Green (which is itself still 2m shy of Lewesdon). At the other end of the height scale, St Catherine's Hill in Christchurch may only be 53m high, but where trees do not interfere, it still offers some terrific views as it is the highest point around looking west for some distance.
In the main, though, the greater the prominence, the better the view, although photographers will tell you it's much easier to get a great picture of Lewesdon Hill than from it, owing to the tree coverage.
Dorset's twenty most prominent points

Rank
Name
Height(m)
Prominence(m)
1
Lewesdon Hill
279
185
2
Hardown Hill
207
154
3
Nine Barrow Down
199
152
4
Swyre Head
208
150
5
Bulbarrow Hill
274
141
6
The Verne
147
140
7
Hambledon Hill
192
131
8
Telegraph Hill
267
121
9
Lamberts Castle Hill
258
121
10
Eggardon Hill
252
117
11
Ridgeway Hill
199
107
12
Lyscombe Hill
262
100
13
Toller Down
252
96
14
Duncliffe Hill
210
96
15
Bindon Hill
168
94
16
Chaldon Down
178
90
17
Pilsdon Pen
277
83
18
Seaborough Hill
204
80
19
Black Down
242
78
20
Ball Hill
251
74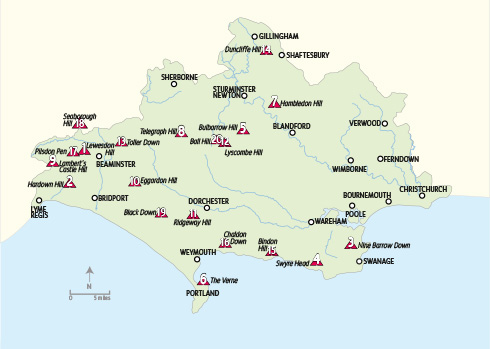 In terms of the most prominent hills for their height, the winner has to be The Verne on Portland; its prominence is 95% of its height (140/147m) and so it offers splendid views across a panorama in any direction. This prominence of course is no reflection on the attractiveness of what you are looking at from prominent hills.
For those living in the West, the sight of Colmer's Hill, which whilst it may not figure even in the top 30 most prominent hills in Dorset, is still visible and more importantly recognisable, means that they are nearly home.
For those in North Dorset, the same is true of the double-humped form of Duncliffe Hill. Indeed when Thomas Hardy wrote Jude the Obscure, he included the lines:
'Where Duncliffe is the traveller's mark, And cloty Stour's a-rolling dark'.
Being recognisable and attractive are likewise not synonymous. Some contend that the views from Okeford Hill (as you crest it on the Turnworth to Okeford Fitzpaine road), which has no prominence to speak of despite its 223m height, are the best in Dorset, but if you know of a better view, send your suggestions to us at the addresses on page 5; mark your letter/email 'Dorset's best view'. ◗