Treasures of Dorset: The Cobb at Lyme Regis
Joël Lacey on a Dorset icon made famous by book and film
Published in September '14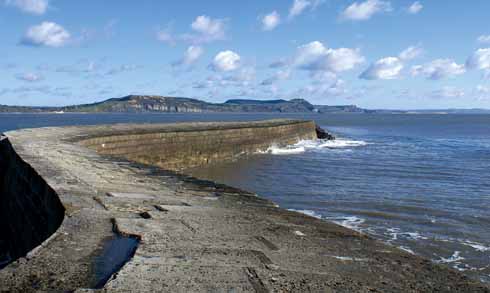 There are few places that, when describing them, one can justifiably include within that description the names Jane Austen, John Fowles and Tracy Chevalier. As evocative as Lyme Regis is, as a setting for their books Persuasion, The French Lieutenant's Woman and Remarkable Creatures, respectively, it is The Cobb which is the town's most iconic location.
One needn't be a star of page or screen to appreciate both the massive, reassuring bulk of the Cobb as it protects the harbour, but, from a distance, one can also appreciate the sinuously beautiful construction. Albeit, building the Cobb has been a process, not a single event as nature has inexorably attacked it with surge and storm, wind and wave, over a period of centuries.
Its Grade 1 listing gives bald details about it: 'Stone sea-wall of mediaeval origin; Cobb shown in C16 sketch. Before end of C18, wall was dry-built; a small section of this kind of walling remains in the east face of the Victoria Pier. Complete rebuilding took place between 1783 and 1829 especially after the great gales of 1824, which destroyed a great part of the walls. Victoria Pier added between 1842 and 1852. North Wall constructed in 1849.'
None of the above prepares one for the visceral impact of standing – Meryl Streep-like – at the far end of the Cobb, on the sloping surface (designed to direct water away from the protected harbour) in the teeth of a southwesterly gale.