In the footsteps of Treves: Bere Regis, Morden and Bloxworth
Steve White and Clive Hannay follow Sir Frederick Treves around Dorset's 'Great Heath'
Published in September '14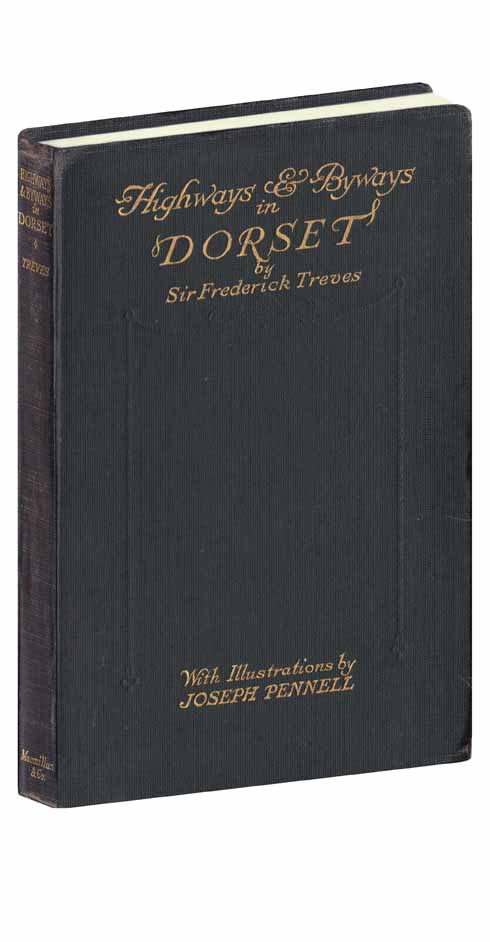 Researching for his famous book Highways and Byways in Dorset, first published in 1906, Sir Frederick Treves finds himself on the 'Great Heath'. Bere Regis, he surmises, has seen better days. It was, he observes: 'once the residence of kings as well as a bustling market town. It is now merely a dull village adrift in a duller country. Its long street, of Quaker simplicity, has been at pains to strip itself bare of all that is bright or picturesque. Bere would seem to be enacting a penance for its past frivolities, to have become a village of sackcloth, and to have taken upon itself the vow of silence'.
Bere Regis has grown significantly in size over the last 100 years with a very large housing estate built on land adjacent to the churchyard, as well as a good deal of new housing elsewhere in the village. The area called Shitterton retains a collection of older thatched properties that Bere Regis, with one or two exceptions, appears to have lost during fires suffered in previous centuries. Treves makes no reference to Shitterton; probably finding the name a little rustic, doubtless he would have appreciated those modern estate agents who refer to it as 'Sitterton!'
While he may have been uncomplimentary toward Bere Regis itself, Treves could only sing the praises of its church: 'The church is one of the most beautiful in the county. Built of flint and stone, it possesses a handsome pinnacled tower with exquisite belfry windows and canopied niches. It preserves evidences of many architectural periods, commencing with Transitional Norman. The Norman pillars in the south arcade are noteworthy by reason of the humorous carvings which some wag has graven on their capitals. One figure aims at displaying the horrors of toothache, while another represents such humour as may be evolved from headache. There is a magnificent Norman font. Bere Regis church is exceptional and other authorities have stated, like Treves, that this is one of Dorset's best. Nikolaus Pevnser for instance, states that the church roof is the 'finest in Dorset'.
The carved capitals are unusual by virtue of their subject matter; many churches have these atop their pillars, normally intricate carvings of foliage or flowers, but headache and toothache, which is what these 12th-century carvings appear to represent, are very unusual. A dozen or so of the pew ends are certainly 'of great antiquity', dating, as they do, from the mid-16th century.
Now, as if to make amends for his initial comments regarding Bere Regis, Treves continues by waxing lyrical about the inside of the church roof: 'The glory of the church is its timber roof, which is gorgeous with the most elaborate carvings, with brilliant colours, and much gilt. Conspicuous among the rafters and the profuse ornament of the beams are twelve uncomfortable human figures, nearly life size, representing bishops, cardinals and pilgrims, in the costumes of the time. These effigies are placed horizontally, like gargoyles, and project stiffly into the church with their faces turned downwards to the stone flags…. The roof and the tower were the gift of Cardinal Morton, Archbishop of Canterbury and Lord Chancellor to Henry VII, who was born at Milborne St. Andrew near by.'
It is difficult not to overuse superlatives when describing what one sees in the church of St John the Baptist; aside from the wealth of architectural features, the roof itself can only be described as magnificent. The twelve human figures actually represent the twelve apostles – Peter holding his mitre, keys and model church, Judas Iscariot with a bag of money etc. In Treves's time however, they were not believed to be such – hence his reference to bishops, cardinals and pilgrims. Among the other carvings in the roof are what is believed to be the face of Cardinal John Morton as well as the Tudor Rose, the very existence of which he helped to bring about by encouraging the marriage of Henry VII to Elizabeth of York, effectively ending the War of the Roses.
Bere Regis was once famous for its annual fair, people would travel many miles to come here. Treves says: 'Close to Bere is Woodbury Hill, crowned by ancient earthworks which take the form of a double rampart and fosse enclosing ten acres. Since the time of Henry III, a fair has been held on this hill, commencing on September 18th, near about the festival of the Nativity of the Blessed Virgin Mary. This fair was at one time the most important in the South of England…. it has now dwindled to an inconsiderable occasion which has long since ceased to dominate the markets of this part of the country.'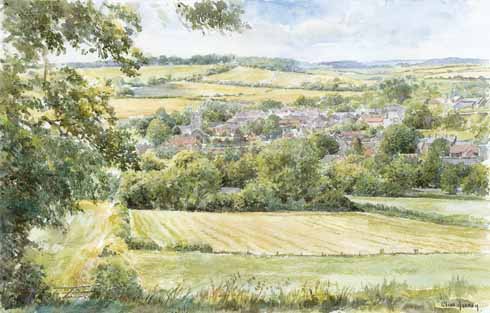 Henry III reigned from 1216 to 1272, but the fair is thought to originate well before 1200. By Treves's time, what had been a five-day event, where a huge range of products were sold, as well as sheep and other livestock, had become just two days of mainly amusements. The last Woodbury Hill Fair was held in 1951 having been a regular event for over 700 years. Treves now briefly calls at Morden's church: 'In the unlovely church of Morden is a monument to Thomas Earle – a solemn man kneeling in full armour – who died in March, 1597. There are busts also of two lads in costume, and of a girl with a ruffle about her neck. These represent certain of his children, of whom the inscription speaks as follows: "His sones wer 4 his daughters 2, of whome John, Thomas and Dorithe are desecid, and remayneth now levynge Waltar, Christopher and Elizabeth."'
Morden's parish church of St Mary was, aside from the base of the tower, completely rebuilt in 1873 – Treves was seeing a comparatively new church – although his term 'unlovely' does seem a little severe. The monuments Treves refers to can be found in the nave. The area around the church consists of old farmhouses and farm buildings, many preceding the church in date and making this part of Morden most attractive.
In Bloxworth, Treves finds not only a village he liked, but another church as well: 'A charming walk through Bere Wood leads from the Turbervilles' old town [Bere Regis] to Bloxworth, the daintiest hamlet on the fringe of the Heath. The church is a perfect village church, a little old building in grey, with a low, ivy-covered tower of sandstone. The ancient wooden shutters to the belfry windows, bolted as they are by immense bars of oak, are very remarkable. The church has a Norman doorway, and appears to have been rebuilt in both the fourteenth and the seventeenth centuries. The old manorial pew remains in all its exclusive glory, with its venerable woodwork, its comfortable fireplace, and its memorials to a long race of princely squires'.
The past one hundred years has seen many changes in Bloxworth. The church, surrounded now, by numerous modern buildings, has lost its ancient wooden shutters; these have been replaced by more conventional planks of wood. Naturally, the ivy has been removed. The impressive Norman doorway is in wonderful condition but the old manorial pew has lost both its woodwork and its fireplace; some older villagers remember the fireplace, but it seems to have been blocked up some decades ago. Treves, surprisingly, makes no mention of Bloxworth House, built in 1608 by George Savage; it was the first building in Dorset to be built predominately of brick. Purchased by Henry Trenchard (the same family that owned Poxwell Manor) in 1689 it remained in that family until 1964.
The last 100 years have seen the house derelict, vandalised, then completely restored. It was used as Bathsheba Everdene's house in the 1967 film of Far from the Madding Crowd.
An unusual object found in Bloxworth church warrants Treves's attention: 'A notable possession of the church is a Jacobean hour-glass and stand affixed to the pulpit. The stand is of wrought iron, decked with the fleur-de-lys. The frame of the glass is of roughly-cut wood, while the glass itself is in colour a faded green. This timepiece ran for one hour, and calls to memory the fact that, after the Reformation, preaching became obligatory, while the hour-glass was an assurance that the worshippers would not be robbed of their full due in the matter of exhortation.'
Treves goes on to say that some years before, the waist of the glass had been broken, the subsequent repair proving unsatisfactory insomuch as the sand ran in a 'very spasmodic manner'. Today an hourglass still graces the Jacobean pulpit of St. Andrew's church at Bloxworth, however, it was made and fitted onto the previous metal base in 2008 – five years after the original, dating from 1683 (classed therefore as 'Restoration' not 'Jacobean') was stolen from the church. An hourglass with its original stand is extremely rare and now, tragically, rarer still. ◗
❱ Thanks go to Ion Acland and Tony Blad for their help in researching this article and to Bere Regis's excellent website.