Living Treasures of Dorset – Hayley Foy, Farrier
Published in April '14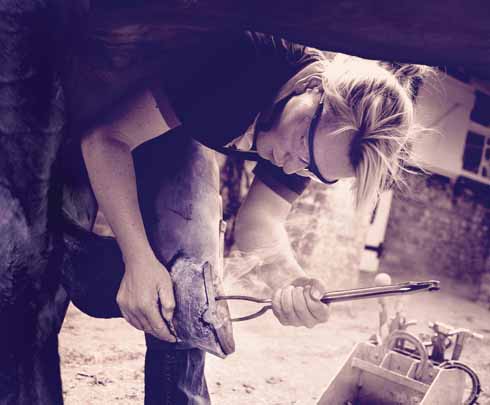 As a young child, still at primary school, Hayley Foy was petrified of horses and preferred to get about on her bicycle. However, when she got a puncture, she was persuaded by her sister to ride the latter's pony. Their father threatened to sell the pony if it wasn't being ridden, so Hayley rode more often,… and was soon hooked. Now Hayley's working life revolves round horses and she is out, in all weathers, rasping hooves, firing and moulding shoes and fitting them to her – not always compliant – equine clients.
On a busy day she will fit around 5-8 sets, re-using shoes where possible and always with a cheery smile. She worked as apprentice to Ian Marchant in Abbotsbury, when studying to be a farrier at college (she was the only girl in a class of 28). After four and half years she set up on her own and, six years on, is clearly loving it. Hayley doesn't need to advertise as she has plenty of work from her regular clients; she used to do the shire horses at Young's brewery every five or six weeks and also does eventers and hunters.
'I like the remedial side of it all: doing work with feet out of balance, mending problems, making lame horses sound; I enjoy doing that. It is,' she says with simple sincerity, 'good'. Hayley is often asked what she'd do if she weren't a farrier, but she says she simply can't imagine doing anything else.
Abridged from Great Faces by Millie Pilkington and Liz Pope. www.greatfaces.co.uk