Church Knowle 'A lovable little place'
That was Arthur Mee's opinion of Church Knowle, and after a pleasant village walk, Clive Hannay agrees
Published in April '14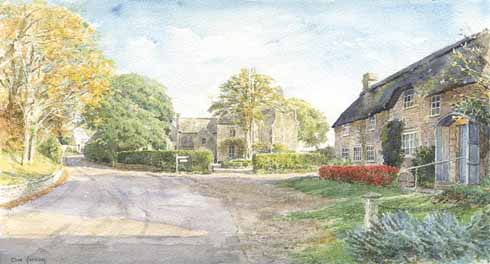 Barnston Manor, just to the west of Church Knowle, is one of several claimants to the title of oldest continuously inhabited dwelling in Dorset. Certainly it was originally a Saxon fortified house, but a Roman villa has been discovered nearby and the parish of Church Knowle is rich in prehistoric barrows, so it is safe to assume that human habitation of the area goes back to earliest times. Nor is that surprising as the village lies in the fertile Purbeck valley, sheltered to the north by the bulk of Knowle Hill and to the south by the outer Purbeck ridge. The second part of the village name comes from Old English 'cnoll', meaning 'hill', so the name of Knowle Hill is in fact repeating itself.
Barnston was the home of the Clavell family until they built nearby Smedmore in 1623. It is one of them who provides the most interesting feature of the parish church of St Peter, whose interior, in the opinion of many good judges, is the prettiest of any church in Purbeck. It is a 1572 memorial to John Clavell, MP for Corfe, and shows brasses of him in the middle, dressed in a knight's armour with his helmet and gauntlets beside him, and of his first wife, Millicent, and their four children to the left. On the right is his second wife, Susan, who at that time was childless but who was to bear him eight more children. For it was not unusual in those days for a memorial to be erected while its subject was still alive and John Clavell was to enjoy his for a further 37 years, dying in 1609.
The Clavell memorial is in the north transept, which was originally a chantry of Barnston, just as the south transept was a chantry of East Creech Manor; here masses would be said for members of the families. In Domesday there is mention of a church at 'Chenolle' with, unusually, a reference to a resident priest.
The list of known rectors dates back continuously to 1327, a century after the oldest parts of the present church were built. In 1740 the tower was re-built, using the old stone, and Victorian 'improvers' restored the chancel, moved the north wall and installed the gallery.
Nearby Bucknowle House was home to the Pike Brothers, John William and William Joseph, who were the leading entrepreneurs in the Purbeck ball clay industry and brought the first steam locomotive (named Primus) to Purbeck in 1866. They are buried in the churchyard with members of their families, including William Joseph's seven-year-old son, drowned in Studland Bay. Another brother, Warburton Pike, opted for academia and was the first person to translate Dante's Inferno into English.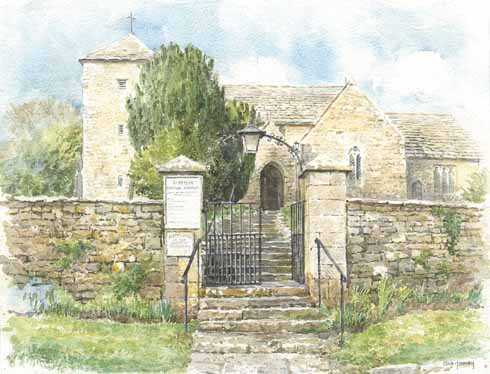 Parts of Church Knowle that date back centuries rub shoulders with modern additions, but the latter have for the most part been sensitively integrated into the village. Although it no longer supports a school or shop, the village has a pub, the New Inn; as in so many cases, this is a misnomer as it is actually 400 years old.
As well as being a popular 'destination pub', it received press attention some years ago when long-serving landlord Maurice Estop – only the fourth name on the licence in the last 150 years – invited a postmistress to set up shop there once a week to dispense pensions and other services.
In recent times, Church Knowle has perhaps become best known as the home of the Margaret Green Animal Sanctuary. Founded in 1965, the charity now cares for 1200 animals a year that have been abandoned or otherwise need looking after.     It is famous as a place to go to get a cat for re-homing, but it also looks after pigs, donkeys, horses, goats, rabbits – just about anything that is brought to its door, in fact. There is another centre between Bere Regis and Winterborne Kingston and a third in Devon. Margaret Green herself, who devoted her formidable energy and determination to building up the charity, died only some four years ago at the age of 94.
THE WALK
There is a natural temptation to suggest a walk up onto the ridge of Knowle Hill, the dominant landscape feature nearby, and it is certainly a good place from which to look down on the village. But Church Knowle is a valley village and our walk of a little under two miles stays in the valley bottom and, quite apart from avoiding a demanding climb, provides a view of how Church Knowle nestles under the ridge.
Park carefully on the road near St Peter's and walk towards the centre of the village. Within a few yards, as the road bends to the right, turn left on a track that leads down between The Old Rectory and Knowle Cottage. Stay on the track as it bears right then left and then descends, now with open fields on the left. At the bottom of the slope the track bends to the right to pass Russett Hollow on the right and continues to a gateway and stile. Ignore another gate on the right but go straight ahead to follow the right-hand field-edge downhill.
In the bottom corner, cross a stile, bridge and stile, and turn right to follow the field-edge for about 60 yards to where it passes under some power lines. Here turn right, down to a bridge and stile. In the next field, walk just to the left of the first power-line pole, then bear slightly left, away from the power lines, heading for a spot a few yards to the left of the tallest tree on the other side of the field, where there is a double stile. Bear left to a stile visible across the next field. Continue in the same direction across two more fields, and on the far side of the second one, turn right on the lane beyond the stile.
Walk down to a bridge, immediately after which turn right and enter an open field. Bear slightly left to go over the brow of the field and look for a well-hidden stile on the far side; if in doubt, bear more than slightly left and on reaching the far side, turn right until you find the stile. Cross it, turn left and follow the edge of two fields with the animals of the Margaret Green Sanctuary grazing contentedly on the right. Cross the next field diagonally to where a stile leads onto the road. Turn right and walk through the village back to the church. ◗