The home of life-saving
The headquarters of the Royal National Lifeboat Institution is the national centre for lifeboats – and it's in Poole. Nick Churchill takes us round.
Published in February '14
It is somehow fitting to be told there's little that's ordinary about the headquarters of the Royal National Lifeboat Institution, the charity that saves lives at sea. At the main office block on Poole's West Quay Road, in the Lifeboat Support Centre next door and the RNLI College opposite, hundreds of people go about their work, all of them to the same end – to support the volunteer crews who have saved more than 140,000 lives at sea since the RNLI's foundation in 1824.
'Ultimately it's all about the crews,' says despatch department section leader Julian Packard, who has worked for the RNLI for 34 years. 'On one side there are the thousands of fund-raising volunteers, from little old ladies running coffee mornings to school children doing sponsored runs. On the other side there's the paid staff at the HQ. All of us are there to make sure those crews can get out and save people in distress.
'You'll find most people who work here are united by that same idea and if they don't understand it when they get here, they soon learn it from their colleagues. It's not like other workplaces. I'm proud to say I work for the lifeboats and there's an attitude throughout the place that if something needs doing, you just get on and do it.'
In an organisation that performs 22 rescues at sea every day, that's the kind of thinking that makes what would otherwise be considered extraordinary almost routine.
The statistics speak for themselves – the RNLI's 237 lifeboat stations and 346 lifeboats cover 19,000 miles of coastline at a cost of more than £140 million a year. As well as training its own crews, the Institute also offers safety training for other sea-users and issues marine and coastal safety advice. Of every £1 donated, 83 pence goes to the rescue service.
Since moving to Poole in 1974, at a time when the town's maritime heritage was fast disappearing, the RNLI has been fully assimilated into the local economy and is one of the area's biggest employers. The assured architecture of the RNLI College has been part of the Holes Bay landscape for a decade now and is home to the top-rated hotel in Poole, according to the ubiquitous online review site, TripAdvisor, while work progresses apace on the £11 million All Weather Lifeboat Building Centre due to open in 2015.
'We're bringing lifeboat building back home to Poole,' asserts business development manager and trainer Perry Simpson. 'There's a harsh economic climate and the RNLI has had to make savings of £20 million through restructuring and cost-cutting. That's where the money is coming from for the All Weather Lifeboat Centre, which will save us more than £3 million a year.
'It demonstrates the RNLI's commitment to Poole that we're not going anywhere. Lifeboat crew from all over the country come here to train, but with the maintenance and engineering operations there is a considerable pool of experience and talent that has grown up around Poole and we've set up apprenticeships to ensure those skills don't disappear.'
Although the great majority of those who work for the RNLI – about 43,000 people – do so voluntarily, it employs around 1300 people, many of them in Poole. Almost all the RNLI's 4600 crew members are volunteers, as are the overwhelming majority of the 3000 shore crew who see that the boats get in and out of the water and stay on course. There are also more than 200 beaches in the UK patrolled by RNLI lifeguards. Behind them are tens of thousands of volunteers who raise funds and awareness, give safety advice, staff shops and help in museums and offices, as well as scores of other unpaid workers from researchers and historians to lawyers and piano-players.
Such a volunteer is 19-year-old Max Tams, who acts as a tour guide at the College, showing visitors around the £18 million, five-storey landmark and taking in the lunch-threateningly realistic lifeboat simulator and the sometimes terrifyingly impressive survival pool, where violent storms in day and night conditions are created as part of crew training.
'It is incredible to see the pool in action and even more so to be in it,' says Max. 'I was involved in a training exercise for the Flood Rescue Team when they set the pool up like a high street and flooded it. I had to play an injured casualty. The Flood Rescue Team, like this facility, is a great asset for the RNLI. We've had film crews in here, the Marines come here to train, then there are corporate team-building exercises. It's very versatile. And of course everyone loves the simulator, although we have to warn people about motion sickness. There's quite a range of people that come on tours, from committed fund-raisers and former Royal Navy personnel to people that have hardly heard of the RNLI. The challenge is to make the tours accessible to everyone.
'There's a sense of family about the RNLI that means crew come to the College and feel like it is their ancestral home,' Max goes on. 'I meet all kinds of people here, inspirational people, and there's a feeling of belonging that crosses countries, never mind individual crews. I grew up near a lifeboat station in Wales and when the maroons would go up for a shout, I used to run down to see the lifeboat launch. I've been in awe of lifeboats ever since.
'Lifeboat people are selfless and dependable, united by a desire to help others. It takes courage to go to sea, but it also takes courage to stand there all day with a collection tin. I have been fortunate enough to do a little training here, enough so that when two days after I finished I saw someone slip on the ice and bang their head, not only did I know what to do but I had the confidence to act on that knowledge.'
Julian Packard is responsible for dispatching parts and equipment to lifeboat stations all over the UK and Ireland, even abroad sometimes as decommissioned lifeboats have been sold as far afield as China and New Zealand. He used to regularly drive those deliveries overnight to ensure lifeboats are back 'on-station' as quickly as possible. 'I still keep an overnight bag packed and ready to go just in case I'm needed in an emergency,' he says.
Those emergencies have seen him given a blues-and-twos police escort through the Harrogate rush hour (and back out again the following morning), co-opted by Filey lifeboat as a first-aider ('That was a slipway launch,' he beams, 'absolutely amazing!'), spend all night stripping and re-assembling an engine at the Mumbles, join the RNLI Flood Rescue Team in Yalding, and experience countless other adventures, all in the line of duty. 'But no matter what time of the day or night I arrive, the crew is invariably there before me and they don't go until after I leave. Sometimes they get a shout when I'm still there, proving the need to get vital parts to them as quickly and efficiently as possible. People say the RNLI should be state-funded and I understand why they say that, but if it was it would be subject to cuts, just like the Coastguard is, for instance.'
Traditionally, lifeboat crew were men of the sea and fathers enlisted their sons to the crew. Not even twenty years ago, to visit the RNLI headquarters was to enter a world of its own where things happened because that was the way they had always been done. Today, though, it feels very different indeed.
When the College opened in 2004, it included accommodation primarily for crew on training courses, from spacious en-suite rooms to a west-facing restaurant and café-bar affording sunset-friendly views across the Harbour and the RNLI's training fleet below. Initially open only to members, it is now a public facility and a vital source of revenue for the charity. 'There has been a realisation that the traditional RNLI donor is changing, and we have to find new ways for the public to engage with us,' Perry Simpson explains. 'As well as the private functions and weddings that we host, we get a lot of corporate clients holding off-site meetings and conferences here. It satisfies their corporate social responsibility remit as all profits go back into the charity.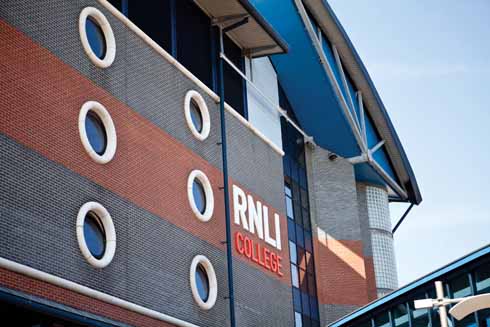 'We had a group of executives here from Mondelez, which is the Kraft Foods business that owns Cadbury, and at the end of each day they spent ages at the bar with crew members just listening to stories, the lessons from which they took away with them. This is an amazing place and the people that pass through it only make it more so.'
The RNLI's primary function is to save lives – some 449 last year alone – and it takes a particular type of person to play their part in being ready to do that day and night. Almost as an afterthought, Julian adds: 'When we have our open days there's never any shortage of people to staff them and no question of being paid, it's just something else we can do.We might speak to a member of the public and help explain something that might just make the difference to them deciding to make a donation.' ◗
Pic 1 credit Joe Mccarthy
Pic 3 credit RNLI
Pic 4-6 credit Andrew Fleming