Treasures of Dorset: The Beech Avenue, Kingston Lacy
John Newth reflects on an icon that is both man-made and natural
Published in December '13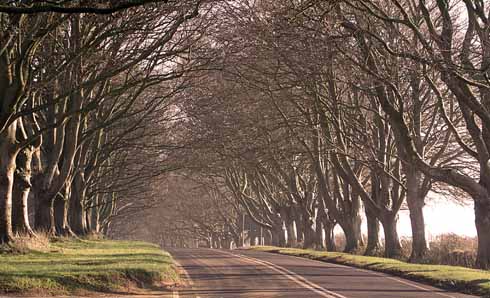 Born in 1776, William John Bankes was as a young man an aide-de-camp to the Duke of Wellington and became an active Member of Parliament. In 1835 he inherited Kingston Lacy. A good friend of Lord Byron from Cambridge days, he enjoyed liaisons with men and women indiscriminately and in 1841 he had to go into exile after being caught with a guardsman in St James's Park.
While in residence at Kingston Lacy, William John made many changes, including the installation of the Egyptian obelisk that may be seen in the gardens to this day. One of the first things he did was to plant a beech avenue lining the road from near the house's entrance drive to beyond Badbury Rings. The road was a turnpike, and the Bankes family enjoyed the revenue from it. The avenue was a birthday gift to William John's mother, Frances, and there were 365 trees on one side of the road for each day of the year and 366 on the other, for a leap year.
Today the road is the B3082, the main route between Wimborne and Blandford. The trees are not surprisingly showing signs of age and disease. The National Trust have so far replaced some seventy of them with hornbeams, which are just as attractive but are better able to withstand the disadvantages of being alongside a busy road.