A Dorset life for me
By Roger Guttridge; the illustration is by Becky Unwin
Published in December '13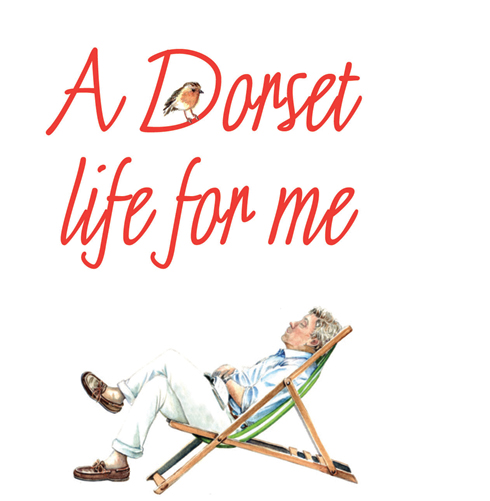 The weather outside was mild but the atmosphere in the Guttridge household turned decidedly frosty.
'I see someone is predicting a harsh winter,' said Mrs G, momentarily raising her eyes from the 21st-century oracle she calls
an iPad.
'Someone says that every year but they're not always right,' I replied. 'And nothing ever manages to compete with the Big Freeze of '62-63.'
'I don't think you had it as bad as we did in '62-63,' she claimed.
I could feel my hackles rising like soil after a hard frost: 'I should hardly think so!' I exclaimed. 'Corfe Mullen having more extreme winter weather than the Blackmore Vale? No way!'
'Oh, I think we did.'
'Never!'
In an attempt to prove the point, she proceeded to deliver an almost poetic account of the events that had begun to unfold in the early hours of 27 December 1962, and resumed with a ferocious blizzard seventy-two hours later.
'It was magical,' she said. 'And it's the reason I still love snow today. I woke up and there was that light coming through the curtains that you always get when there is snow. I pulled back the curtain and all I could see was snow to the top of the window. We had central heating but it was really cold.'
Sturminster Newton and I could compete so far but I sensed that, unlike her central heating, Mrs G was just warming up.
'Dad tried to open the front door but it was completely blocked by snow,' she continued. 'In the end he climbed through a window under the eaves and sledged down the snow on his tummy.'
'Lucky you lived in a bungalow – we had a two-storey house,' I interjected, lamely. I was tempted to say that my dad sledged down from a first-floor bedroom window, but that would have been a lie.
'We had an extra week off school and even when we did go back there weren't many children there. By then the snow that had been cleared was piled up on the sides of the pavement so it was a bit of a mountain trek going up and down the snow-piles. I lost my shoe in one of the drifts, never to be seen again.'
'I may be wrong but I don't remember having time off school,' I said, digging through the snowflakes of my mind in a desperate search for material with which to compete. 'We were made of hardy stuff in North Dorset.'
It was a feeble attempt but I still had an ace up my sleeve. 'Did you go ice skating on the Stour?' I asked. 'I thought not! The river was frozen for two or three months and the ice at Stur was nineteen inches thick. We kids played ice hockey from bank to bank while the grown-ups danced on the floodlit river to amplified music. Most memorably, a hindquarter of beef was roasted on the river, copying a similar event during another big freeze in 1895, when an ox was roasted a mile upstream.'
My tale was no match for the wife's dad sledging from a roof-high window but it did offer another perspective on the severity of the Big Freeze of 1962-63. 'Mind you,' I added, 'I think
West Dorset had it worse than any of us. I think people died down there.'
In fact an elderly Dorchester couple were found dead in the back of a car discovered on White Horse Hill, near Weymouth, after a schoolmaster prodding in the snow with a long pole found the vehicle buried in a 12-foot drift. The couple's daughter, her two-year-old son and the male driver were unconscious but survived.
On the Yeovil-Dorchester road, seventy passengers from two Bournemouth-bound motor coaches struggled through deep drifts and a driving blizzard to the tiny Clay Pigeon Café, where they were marooned for forty-eight hours. They included a disabled child, a five-week-old baby and a sixty-nine-year-old man with arthritis in both legs, who was briefly lost in snow which came up to his armpits. Public transport and emergency vehicles were severely disrupted and AA and RAC men had to dig themselves out of the snow before they could attempt to help the many other motorists whose vehicles had broken down. A Royal Navy helicopter flew a patient from Wimborne Hospital to his home in Purbeck, along with supplies for his marooned family. Bournemouth's trolley buses ground to a halt but in the same town two young sisters used a sledge to take milk and other supplies to the elderly and infirm.
Even the sea froze in places and the coldest winter for 200 years took an inevitable toll on wildlife. Seabirds were driven inland by hunger while many inland species took to visiting gardens where they had rarely been seen before. Some less hardy species were all but wiped out. The entire British population of the heath-dwelling Dartford warbler was reduced to ten pairs – most of them in Dorset and the New Forest.
Wherever you were in Dorset, the winter of '62-63 was like no other in living memory.