Why I love Sherborne: 'The quintessential English town'
Residents, visitors and traders explain why they love Sherborne
Published in October '13
Few towns can trace their past quite as readily as Sherborne; its history is on display for all to see as they walk around the town. When one tries to think of similar places, it is pretty difficult. Where else, for example, has two castles? How many towns have an abbey that survived the vicissitudes of the Henry VIII's reign? Which towns can name schools of the history and reputation to match those in Sherborne? How many towns have such an eclectic selection of independent high street retailers? How many have a direct rail link to London? There might be other places in Dorset or elsewhere that can answer in the positive to one, or possibly two, of these questions, but there is not one which can match Sherborne across the whole range.
The town's position as an education centre of excellence mean that somewhere in the region of half the working people in the town are employed by educational establishments in some way or other, and the town's educational institutions also permit many in the town to have access to arts, culture and sporting facilities which are not possible in other towns. All of which explains why Sherborne, more than many market towns, is very much the centre of life for those in surrounding hamlets and villages.
With an array of art and literature events, the Sherborne Castle Country Fair and a thriving collection of societies, this seems to be a town whose residents and visitors are keen on matters of arts and literature. It appears to be a town that has confidently survived over the centuries and which, collectively, seems to be able to ride out the ephemeral peaks and troughs of the wider economy, changing its face from time to time.
Claire Burden – works in Sherborne
I moved to Sherborne 34 years ago for work reasons and what I like about Sherborne is that it has different shops from many high streets. The Abbey festival is brilliant and the people are friendly and we never get much trouble in the town. The road closes off at 12, so you can walk around the town really quite easily.
John Dawson – works in Sherborne
I've lived here for three years and Sherborne really is the quintessential English town. It's got lots of independent stores, a beautiful old high street and, perhaps counter-intuitively, it has been really robust economically throughout the recession. The people are easy-going and everyone here is polite and laid back.
Helen and Richard Pugh – local residents
We moved here in the 1960s – back then, Dorset and Norfolk were the two cheapest places to live in the South, and we chose to come here. Sherborne has little cafés all over and they're all busy. You can meet up at Olivers and bump into all your friends. It's got a really nice community feel to it and there is a terrific historical society and there's always something going on; for example, you can get to see concerts with big name players for £2.
Janet Schofield – TIC manager
Sherborne is such an attractive place to visit, there's a huge amount for visitors to see and do. It's steeped in history and is a vibrant place to live. It's really well served with independent eateries and cafés, all of which are very good and there are some excellent events all through the year, but there's a huge amount just in the next month: the literary festival, the international film festival, the autumn colours at the castle, the traditional Pack Monday fair, and then there's always music at the Abbey.
Claire Browning – works in town
Sherborne really has everything you need in terms of shops including great butchers, bakers, greengrocers and so on – as well as excellent cafés which serve excellent food. Coming from London, where everything seems put in place to make your life harder, in Sherborne everything seems there to make your life easier. But it's not just a sleepy town, though as all the people involved with education keep the town young and vibrant.
Judy and Jason Parker – regular day visitors
We come to Sherborne for the shops – the are lots of independents and they all seem to have their sales on at the same time so you can get some real bargains. But we also come here for the children; they can go swimming at the boys' school or trampolining at the Gryphon during the holidays and lots of other activities too.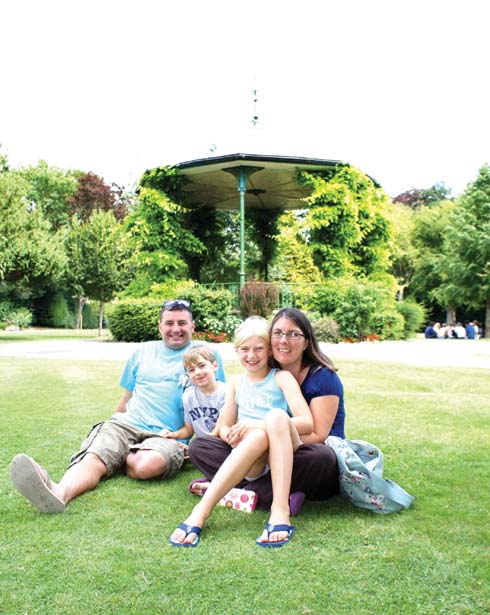 Wayne Winstone – works in Sherborne
Sherborne people are great readers and when I heard that the town's bookshop was closing, I decided to open one. We have a tailor-made range which we've created by looking at what people are asking for, and it's really quite interesting what people in Sherborne like. It's a very discerning customer base. The town is a very vibrant one and you get an indication as to the quality of people here from seeing them as they come and meet for coffee and cake.