A Dorset life for me: Beatlemania in Bournemouth
By Roger Guttridge; the illustration is by Becky Unwin
Published in October '13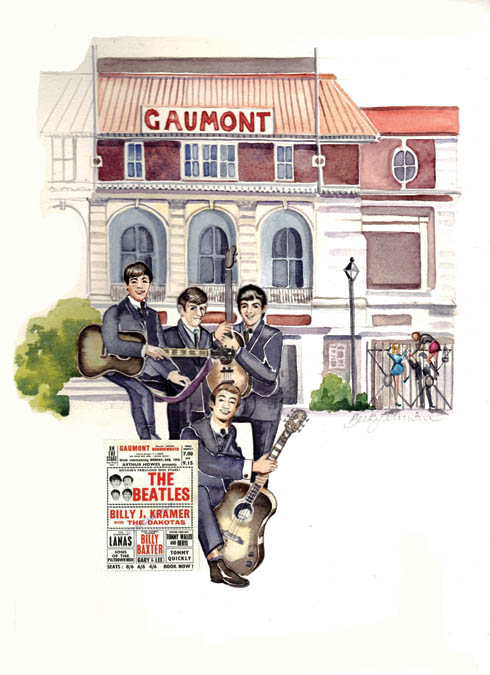 She's asked me not to use her name and who would blame her? Had I been such a total Beatlemaniac, I'm sure I too would seek to distance myself from these Sixties Shenanigans half-a-century later.
I had my moments, of course, but they were as nothing compared to the unbridled fanaticism displayed by my nameless sister-in-law. Not that I knew her then. Although we are only two months apart in age, we lived in different Dorset towns, went to different Dorset schools were not destined to meet until I met my wife – her younger sister – nine years later.
My wife was not a great Fab Four fan herself but insists this was really a reaction driven by the Beatle excesses of her senior sibling. Repetitive strain injury hadn't been invented then but I see it as a kind of RSI of the mind. 'I got fed up with having the Beatles stuffed down my throat every waking hour,' she says.
I myself was a Beatles fan but I could never have displayed the same level of devotion as said sister-in-law. Screaming was not in my repertoire of responses and the possibility of marrying Paul McCartney never crossed my mind.
'I was never going to marry anyone but Paul. I got that wrong twice,' the sister-in-law admits. 'And don't put that in Dorset Life.' You know you can rely on me, Sue.
'I remember reading that Paul was going to have a guitar-shaped swimming pool and striped silk wallpaper, and that quite appealed,' she adds. Seriously?
To paraphrase Messrs Lennon and McCartney, 'it was fifty years ago today, Brian Epstein brought the band to play'… in Bournemouth. Well, not exactly 'today' but it's close enough. The Awesome Foursome did a summer season at the Gaumont in Westover Road towards the end of August 1963 and returned in November for a one-night stand at the Winter Gardens. They returned again in 1964.
The 1963 summer season amounted to two performances a night for six nights with the Beatles headlining a line-up of several acts that also included Epstein stable-mates and fellow chart-toppers Billy J Kramer and the Dakotas (the same Billy J Kramer that I found myself interviewing more than twenty years later, by which time he was a Bournemouth resident and I was the Evening Echo's chief reporter – but that's another story).
Sue and I – both aged thirteen in 1963 – remember the Beatles' summer season well but from rather different perspectives. 'A whole group of us went together,' she recalls. 'We rang the Beatles Fan Club and they told us which entrance the group were going to arrive at. I don't know how they knew but they did. We waited by the right gate and one of my friends managed to touch the heads of all four of the Beatles. When she got home she washed her hands and kept the water. I touched Paul's head and didn't wash that hand for quite a while. I also remember being shoved by a policeman, who hurt my arm trying to push me back.
'We also tried getting into the theatre by climbing over the big gates at the side of the Gaumont. Some of my friends got into the toilets and were chased out by these big, burly men. I was straddled half over the gate because I wasn't very brave or very good at climbing.'
It was August but as they supervised the mini-skirted girls climbing back over the gates, the bouncers probably thought it was December 25.
Sue and her friend had a theory that if they asked for single tickets, they were more likely to get seats near the front on the grounds that there'd be more single seats left there. 'My friend was in the second row and I was in the third so it worked.'
Having screamed their way through the first performance, they queued for tickets for the second and enjoyed a second helping. 'Mum and Dad met us after the two concerts and took us for a cold drink because neither of us could speak, we had screamed so much.' According to my wife, they were also staring into space and appeared to be in trance.
When the Beatles returned to Bournemouth on a school day, Sue and friends skipped school. 'Mum wrote a sick note but the school didn't believe her so I got a detention along with the others.'
My Beatles experience was far more serene. It was my mother's idea but she was not Sixties savvy and thought she was buying tickets to see the Shadows. Cliff's clean-cut backing-band were much more to her taste than the long-haired lads from Liverpool, but there was no complaint from me – even if we did have to leave before the end to catch the bus back to Sturminster Newton. The Beatles were playing 'She Loves You', their fourth single, released that very week. As we left I noticed that the back two rows of the Gaumont were empty – surprising, although they did have 25,000 tickets to shift over the six days. And Beatlemania was still in the ascendant in 1963.