Dorset Garden: Old Down Farm, Horton
Chris Shaw and Colin Varndell visit a rural garden which borrows from its surrounding landscape
Published in May '13
Most people would be content with a sundial, a statue or even a modest obelisk to catch the eye in a long view across the garden. Pip and Colin Davidson can go one better, with the five-storey gothic folly of Horton's Tower in the middle distance. Their garden at Old Down House, charming in its own right, is further enhanced by borrowed landscape to which the couple have cleverly left open sight-lines to bring it into the garden.
After setting off down a farm track, one plunges into the depths of Dorset. Once through the gate, it is just a few strides on a meadow approach to reach the gravel drive with its box-edged shrub border giving privacy to the house. Rosa 'Buff Beauty' and honeysuckle, spiced up with deep magenta geraniums then cooled with fleshy ice-plants beneath, hint at an interesting visit ahead. The drive curves on, eventually becoming grass as it dips below the level of the main garden where plants cascade over a low retaining wall.
The house front, dripping with wisteria early in the season, is framed by two beds surrounded by low, gold-variegated euonymus. The planting is a picture, with white paeonies and stiff-stemmed phlomis with soft yellow whorls and accents of blue. 'Tall Story' which, despite its name, is a bushy dwarf shrub rose, is a beautiful addition with neat foliage and the added bonus of clusters of fragrant, semi-double flowers opening to cream from buff-yellow buds. The colour scheme is followed through with the rambling rose 'Seagull' nearby, with white allium beneath. The beech hedge which screens the main garden is, unusually, in alternating green and copper; a 'mistake' which has proved to be an eye-catching success.
Follow the sloping drive to get an alternative view of the main herbaceous borders with plants at eye-level. Big clumps of catmint cause instant envy – my own Nepeta 'Six Hills Giant' had fallen foul of a late frost. Scarlet poppies vie for attention with papery-white cistus. Then on to a Crambe cordifolia, an enormous clump of wide leaves beneath a positive volcano of small white flowers. Colin said it was probably one of the first things planted when they moved in twenty years ago, so it had had more than enough time to make itself very much at home. Crambe is deep-rooted and hates being moved. Get the siting right, though, and left to its own devices this drought-tolerant monster will attract attention (and bees) year after year.


The newest addition to Old Down House is the potager, built in 2009. It is at a higher level than the small paved terrace, built up with timber sleepers and steps. A central willow arbour has recently been planted with Cobea scandens, the cup-and-saucer vine, which will frame the stone and pebble water feature beneath. Decorative fruit cages and rose arches make this space both productive and pretty. A single large terracotta pot, with a standard variegated holly and white violas beneath, is a dainty addition, as are the sweet pea obelisks. The raised bed along one wall contains hostas and Rosa 'City of York', a white climber, with alliums and blue geraniums running rampant along the field hedge: the first place from which the wide-ranging views can really be enjoyed from this garden.
The garden to the front of the house sweeps round in a wide arc. Colin explains how some timely garden design advice had helped them to plan sight-lines to different features and views, including the one out to Horton Tower, or Sturt's Folly as it is sometimes known. As one relaxes on the stone terrace, there is a short view to a swing seat beneath a flowering cherry, with clematis 'Niobe' scrambling above.  Clipped box balls flank a narrow grass path to the seat, with herbaceous beds each side. Pink rose 'Jacques Cartier', one of the old Portland roses, has the most perfect flowers. Plum poppies are tucked in with alliums and the burgundy lacy foliage of Sambucus nigra echoes the deep, dark shade of Bourbon Rosa 'Gypsy Boy'. Wide-leaved hostas fill in below taller plants. Such is the planting, it is hard to see the soil in any part of this garden.
A small pergola leads off the lawn, down steps to the drive. The eye is drawn straight through to a gap in a yew hedge, where the line of the tennis court net follows on, extending the view out to the countryside beyond. The steps are flanked with more borders, all crammed with plants. Link stakes have been used to good effect but almost disappear amongst the profusion of plants. Tall yellow scabious, deep pink salvia, pale and dark blue tradescantia combine in a mass of colour. By the yew hedge, a corner of peach roses, grey foliage and white geraniums makes good use of a small area.
Tucked into another corner of the yew, where the drive swings round, a decorative seat – in an arbour of roses 'Ophelia' and 'Blanc Double de Coubert' – fills a space that many would have ignored. Framed by two hydrangeas and with a yellow hop scrambling behind, it is another example of the eye for detail that makes Old Down House such a success.
Tea is taken in an outbuilding where photographs show how the garden has developed over the years. Roofed with corrugated iron which would have been expensive to replace, the answer was to disguise it with a pergola, now covered with climbing roses and clematis. There is a lot to admire and Pip's eye for colour has played a part in most of it, as have Colin's efforts, which he modestly describes as part of his role as 'third under-gardener'.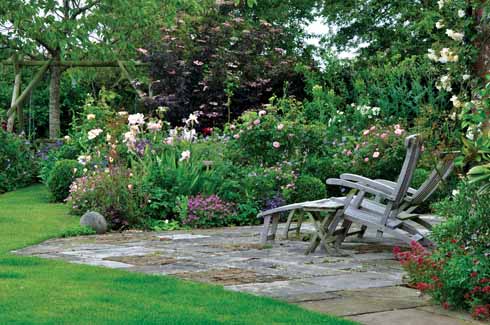 As one prepares to leave, a last colour combination catches the eye: the flowers of Rosa 'Sally Holmes' are described as creamy-white, but there is a definite peachy tint to the buds and petals that combines perfectly with a nearby iris – 'French Can-Can', a Cayeux iris with pinky-peach standards, light blue-lavender falls and long red beards.
• Before travelling to Horton, do check that the garden is included in the current edition of the NGS Yellow Book (or by visiting www.ngs.org.uk). Opening times do vary and some gardeners enjoy a year off from time to time.
SUPPORTING CAST
A herbaceous border shows off many plants that have starring roles in the garden and one of the tricks to ensuring it stays beautiful throughout the season is to provide adequate support. Clumps of perennials can be battered into submission by wind and rain and often fall into their neighbours with the weight of their own flowers. Smaller plants towards the front of the border can spill over grass edges, making mowing difficult.
There are many ways of achieving support but the object must be to keep it unobtrusive. To avoid damage to plant roots, supports are best placed in spring when the position of the plant is more obvious. Circular grid supports are available in different sizes and, if placed above the young plant, can be eased up gently as the plant grows.
Canes are more difficult to hide but are needed for tall perennials such as delphiniums. Soft twine tied in a loose figure of eight knot will keep the stems upright. As the plant grows, further tying in may be necessary. Tall clumps can also be restrained with pea sticks pushed in around them where other plants will disguise the supports.
A gardener I know spends much of the spring weaving willow 'lobster pots' throughout her large border.  It is a labour of love and depends on being able to estimate the eventual height of the plant. The results are spectacular, though, with the extensive border looking good throughout the season and the natural supports merging completely into the foliage.
Link stakes, single stem ring supports, even wire netting can all be used to good effect, with small woven panels available to prop the grass floppers at the edge of the border.