A Dorset Life for me
By Roger Guttridge. The illustration is by Becky Unwin
Published in April '13
Not too much happened in 1960s North Dorset without my knowing about it so I was shocked recently to discover something that does seem to have passed me by. It leapt off the page as I was reading the Goodbye Mr Chips section of my journalistic colleague Anwar Brett's book Dorset in Film.
'They misbehaved in the most extraordinary fashion,' chuckles George Baker, referring to the fifty boys from a London acting school who spent the summer of 1968 on location at Sherborne. 'The young ladies of Dorset took advantage of them in every hedgerow. It was extraordinary.'
I have a little experience of the 'young ladies' of 1960s Dorset and I am not entirely surprised that opportunity knocked for these trainee thespians. Not being one to hedge my bets, I'll wager that they thought their film careers and Christmases had all come at once.
As I recall, there were a few more Dorset hedgerows to choose from in those days, and they were well maintained by skilled hedgers and ditchers rather than grotesquely mutilated by the hacking machines that indiscriminately wield their blades across our county today. Despite the devotion of these professional hedge-layers, trial and error taught me that the Blackmore Vale barn is infinitely more welcoming than even the neatest piece of hedgerow. (And if a certain Ibberton farmer is still alive and reading this, please accept my belated gratitude that you did not carry out your threat to throw that bucket of water. I once saw that done to a mating pair of dogs and it looked most uncomfortable. Although the dogs didn't seem to notice at all.)
But I digress. It was not the activities of the young ladies and student actors that shocked me; nor am I overly concerned at any disturbance to the county's hedgerow-nesting birds, as their breeding season, unlike that of actors, is strictly seasonal and was probably all but over by the time the film-makers descended on Sherborne in the summer of sixty-eight.
What really upsets me, forty-four years on, is that all this hedgerow business completely escaped my attention. Where was I when these shenanigans were taking place? The answer – and it pains me to admit it – is that I was on the set of Goodbye Mr Chips. It was happening right under my Mr Chipping mortar board and spectacles and I had no idea. What kind of roving reporter was I destined to make?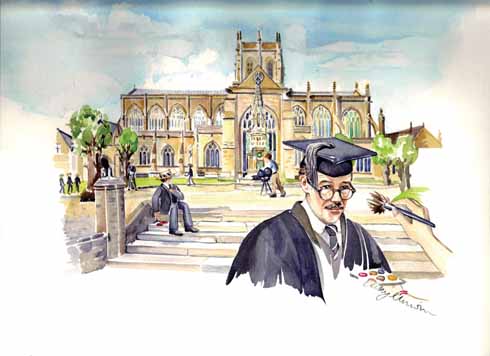 To be fair to myself, I was only involved in the later stages of filming. Like the Americans arriving for a world war, I came late to the scene. I was not fully aware of the reason for that until I read Anwar Brett's book. This reveals that when the summer term at Sherborne School ended, headmaster Bob Powell allowed 300 pupils to stay behind for a week to take part in the filming. 'The second week it was down to 150, and the third week it was fifty pupils and our fifty boys,' says photographic director Ossie Morris. 'From then on it was just our fifty boys.'
Oh, no, it wasn't! For I, and a few others, answered an advertisement in the Western Gazette for extras to fill the gap left by the departing Sherborne School boys. The pay was £3 a day for boys and £5 for adults; but there was no mention of optional extras to be found in the hedgerows. I could have done with a distraction or two, as much of the time was spent hanging around waiting for something to happen. One day we waited hours for Pete and Pet (O'Toole and Clark, my co-stars) to emerge from their mobile homes ready for a promotional photoshoot. Which took hours in itself.
Another day we adjourned to Sherborne Abbey for the wedding scene, where it took an entire afternoon, just to sing the first three lines of O Worship the King eleven times – one rehearsal and ten takes. And I'm pretty sure that at least one of those three lines ended up on the cutting-room floor.
Uncomfortable collar studs and long queues for costume and make-up are other memories for me, but I was in good company, as I now read that my fellow extras included headmaster's wife Charity Powell. 'She was wonderful,' Ossie Morris says. 'She queued up every morning, she'd do whatever was asked of her and queue up for her money at the end of the day – which was not much for a public school headmaster's wife, I suppose, but I was delighted with my £3 a day for pretending to be a scholar – something I'd been doing for the previous thirteen years without any remuneration whatsoever. And the pay was better and the 'work' more appealing than my usual school holiday employment of turning big cheeses at Okeford Fitzpaine, making poultry cages at Shillingstone station, stacking bales at Manor Farm, Shroton, or, for a few of the most boring days of my life in that same 1968 summer, shoving eggs by the dozen into boxes at Sturminster Newton.