Treasures of Dorset: Corfe Castle
Tom Burn captures the castle which gives the village its name
Published in March '13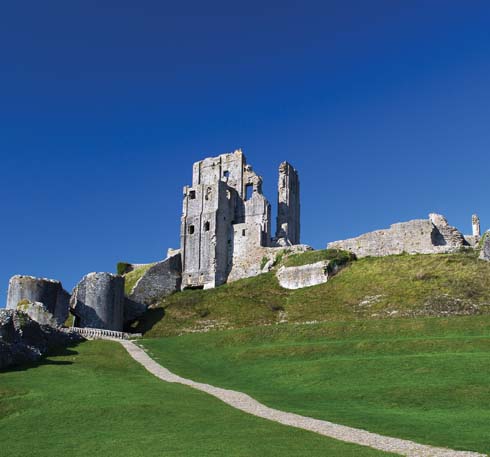 Poised in a natural gap in the Pubeck hills, Corfe Castle is an iconic Dorset landmark that is rich in history, intrigue, murder, betrayal and with links to three strong women: Saxon Queen Elfrida, Norman Empress Maude and Lady Bankes.
Queen Elfrida is said to have had Edward (thereafter known as Edward the Martyr) murdered at Corfe, to permit her son Ethelred (the Unready) to accede to the throne.
Corfe was unsuccessfully besieged twice – each time during a civil war. The first time was during the war between Empress Maude (Matilda) and King Stephen; Corfe was held for Matilda.
The second unsuccessful siege was during the English Civil War in the 1640s. It held was finally only seized by the Parliamentarian forces when the castle owner's wife, Lady Bankes, was betrayed by one of her guards, who permitted a troop of Parliamentarian soldiers in disguise to enter the castle.
On 5 March 1646, an Act of Parliament was passed ordering that Corfe Castle be 'slighted' – made unfit for purpose, which was achieved by placing barrels of gunpowder in mined tunnels under key parts of the castle, and blowing them up.
A third of a millennium later, the castle was bequeathed by the descendant of the same Bankes family to the National Trust, who have managed it ever since.