The one-hit wonder of 'Wareham' – William Knapp
William Knapp would be forgotten today if he had not composed one of the world's most singable melodies, the hymn tune Wareham. Tony Burton-Page tracks down his story.
Published in February '13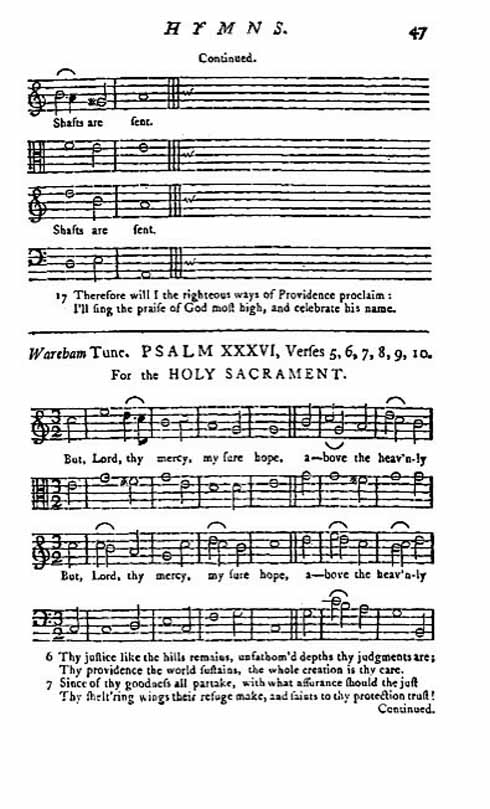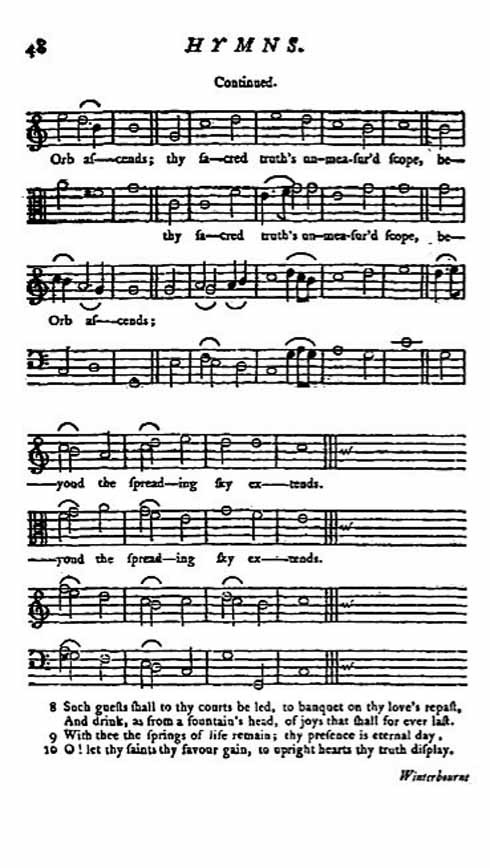 In 1962 an American pop singer called Bobby Pickett recorded a song called 'Monster Mash', which parodied current dance crazes such as the Twist and the Mashed Potato. Thanks largely to his narrations in the style of Boris Karloff and Bela Lugosi, the record reached the top of the hit parade. However, Pickett never had another such success, and in later years would appear at 1960s revival concerts with the delightfully self-deprecating introduction: 'Now I'm going to perform a medley of my hit.'
Almost two hundred years earlier, William Shrubsole wrote a tune for the hymn 'All hail the power of Jesus' name', which he called 'Miles Lane'. It is the only piece of music for which he is famous, but it is such a magnificent tune that Ralph Vaughan Williams wrote an entire article about it and its composer. Shrubsole, he says, was 'a "one tune" man. There are many such: people who get a glimpse of the eternal glory once in a lifetime for a few moments and, like Gerontius, are blinded by it and turn their faces away for ever; but in that one moment these Shrubsolian composers may have achieved something which neither Beethoven nor Bach could have bettered.'
Dorset has its own 'Shrubsolian composer' – what the pop music world would call a 'one-hit wonder'. His name is William Knapp, and his 'one tune' is arguably even more memorable than 'Miles Lane': it has to this day the reputation of being one of the easiest and most comfortable tunes for a congregation to sing. A remarkable feature of the tune is that, except in one place, it proceeds 'by step' (that is, one note up or down), and it is this that makes it so singable. The eminent theologian Dr James Moffatt described it as 'one of the best congregational tunes ever written'. Knapp called it 'Wareham' after the town where he was born. Thanks to him, the town's name has been perpetuated in hymn-books all over the world for nearly three hundred years.
It is Hutchins's History and Antiquities of the County of Dorset which tells us that William Knapp was born in Wareham. There is no evidence for this statement, as Wareham's parish records were destroyed in the town's Great Fire of 1762, but Hutchins was Rector of Wareham from 1744 until his death in 1773, so he had the benefit of local knowledge. The lack of parish records accounts for the sparsity of information about Knapp's early life, but a few facts can be gleaned from the second of his two publications. It has as its frontispiece an engraved portrait of Knapp himself. Around its border are the words 'Guli: Knapp Aetat. 54 A.D. 1753', and this is the sole evidence for giving his date of birth as 1698 or 1699. The portrait itself tells us little more, though: the man is clean-shaven, wearing a wig and elegantly dressed, so one may assume that by this time Knapp was reasonably successful.
However, there is further evidence for this. The 1751 Poole rate assessment reveals that Knapp possessed two tenements in the High Street of that town. Moreover, he purchased two more tenements, this time in Strand Street, in 1756, and another purchase is recorded in 1761. At this time Poole was a prosperous town, the trade with the North American colonies, particularly Newfoundland, being at its height. Knapp must himself have been prosperous to have such high standing there; it is known that he was a glover and that he was parish clerk at St James's Church in Poole from 1729 until his death in 1768, but such a combination was unlikely to have made him a wealthy man. There must have been another source for his wealth – and this must have been his two publications.
Both of these belong to a tradition of music books for use in country churches. John Chetham's A Book of Psalmody and William Tans'ur's The Harmony of Sion are similar collections, containing metrical psalms and anthems easy enough for the singers in a rural parish to cope with.
The first of these, A Sett of New Psalm-Tunes and Anthems, was published in 1738 and contains 'Wareham' (in its original version, setting words from Psalm 36: 'But, Lord, Thy mercy, my sure hope'). The first edition contained 22 other settings of biblical texts – Anglicans were supposed to keep to such texts (the word of God) and were not officially allowed to sing hymns (the words of men) until 1820 when they were sanctioned by the York Consistory Court, although Knapp's collection includes setting of metrical psalms (the 'New Version' of Tate and Brady). They are all set for voices only, with no mention of any kind of instrumental accompaniment. Knapp says in his introduction that they were all written for the use of some choirs he taught at that time, and he named many of the tunes after local places – Durweston, Dorchester, Bere, Poole, Morden, Sturminster, and of course Wareham: he had probably taught choirs in all of them in his capacity as an itinerant singing-master. He, like many other such, would go from place to place and instruct church choirs in the art of singing.
Such instruction was needed because rural church choirs were a recent development. By the end of the 17th century, the only music in most provincial parish churches was the unison chanting of psalms by the congregation, unaccompanied and, according to contemporary reports, unrhythmically and very slowly. The tedium must have been mind-numbing. As an antidote to terminal boredom, new choirs were started, with the original intention that they would be taught the psalm tunes and sit among the congregation, thereby strengthening its singing. However, the choirs preferred to sit together (as choirs do) and subsequently began to sing their own more interesting music. Much of this was provided by those same itinerant singing-masters, for in order to supplement their somewhat meagre income they frequently sold books compiled of psalm tunes and hymn tunes of their own composition.
Knapp's first book was so successful that it was reprinted only three years later, and it ran to seven editions. It was dedicated to 'John Saintloe of Little Fontmill', one of the distinguished St Lo family which had been living at Fontmell Parva since the late 17th century. Knapp's dedication mentions John's participation in verse-anthems and his flattering words suggest that this gentleman may have been his patron in some way. The book is also notable for containing an anthem 'composed for the Use of the People of Blandford, on the 4th of June, being the Day that Town was Destroyed by Fire', a reference to Blandford's Great Fire of 1731.
In 1753 Knapp was able to publish another collection. This one was entitled New Church Melody and was almost twice as large, with 43 items. His hit, 'Wareham', is there, but re-named 'Blandford' and with the rhythm changed from triple time to duple, which sounds as strange as 'God Save The Queen' would with only two beats to a bar. The tune labelled 'Langton' is actually the famous canon by Thomas Tallis, written two centuries earlier, but appropriation of other composers' tunes was a common occurrence at the time: the tune 'Weston Favel' was named after a village in Northamptonshire – hardly Knapp's territory – and became a favourite of the 18th-century American religious revivals, but it turns out to be Knapp's own 'Dorchester' from his first book. The traditional Wyresdale Carol, sung for two centuries in rural Lancashire, is named 'Leicester' but is actually Knapp's setting of 'While Shepherds Watched Their Flocks'. In that non-digital, pre-broadcasting era, music travelled astonishing distances if it was good enough – and Knapp's was. However, his bouncy rhythms and infectious jolliness were not stern enough for the Oxford Movement, who preferred the solemnity of Hymns Ancient and Modern, and the music of Knapp and his ilk faded into obscurity, apart from one-offs such as 'Wareham'. It was not until the comparatively recent revivals by 'West Gallery' groups (referring to themselves as 'quires' to separate themselves from the 'high' choral tradition) that such music was heard again. This time round it is an antidote to the worst excesses of 'happy-clappy'.
Knapp died in 1768, but no one knows where he is buried. There was no memorial to him until the Society of Poole Men erected a tablet to him in St James's Church, Poole, in 1934. However, Henry Price, an old friend of Knapp's, and a poet of some local repute – he was known by his contemporaries as 'the Poet Laureate of Poole' – is the probable author of the anonymous poem printed in the front of New Church Melody, which serves as a worthy epitaph for one of Dorset's finest musicians:
Long as the Sun's enliv'ning Glories shine,
So long shall last this Deathless Work of thine,
And future Worlds with one Consent agree,
Whene'er they sing to God, to mention thee.